Wed Jan 25 9:00PM
95
90
|   | 1 | 2 | 3 | T | ODDS |
| --- | --- | --- | --- | --- | --- |
| TULAN | 35 | 39 | 21 | 95 | 146.5 |
| WICHI | 48 | 26 | 16 | 90 | -1 |
Tulane vs Wichita St. Prediction & Best Bets
Published on
Tulane is on the road playing Wichita St. at the Charles Koch Arena stadium on Wednesday, 1/25/2023 @ 9:00pm EST. Wichita St. -1 was the opening favorite and line hasn't moved.
Tulane will try to snap its two-game losing streak when it travels to Wichita State on Wednesday night. The Green Wave had won five straight games before dropping back-to-back games against No. 1 Houston and Tulsa. Wichita State has won three of its last four games, including a 71-69 win at SMU on Sunday.
Green Wave relies on experience
Tulane has lost consecutive games for the first time this season, after coming back from its previous five losses with wins. The Green Wave opened AAC play with an 88-77 setback at Cincinnati on Dec. 29, but they bounced back with a five-game winning streak. They pulled off a pair of upsets during that stretch, beating Memphis as 4-point underdogs and Temple as 1-point underdogs. Tulane also picked up wins against Tulsa, SMU and UCF during that stretch. The Green Wave have been unable to maintain that momentum, losing to Houston and Tulsa in their last two games. They were 10.5-point underdogs against Houston, but they were 9-point favorites in their 81-79 loss to Tulsa. Tulane's strength has been on the offensive end of the court, as it is ranked No. 73 in KenPom's adjusted offensive efficiency. The Green Wave rank sixth in the country in turnover rate and have the second-best free-throw shooting percentage in college basketball.
From the perimeter, the Shockers struggle
With three losses in its first three AAC games, Wichita State has struggled in conference play. Over the last four games, the Shockers have won three, including victories over South Florida and Tulsa. In a game that pushed the 10-point spread, they ended their two-game skid last Thursday with an 88-78 loss to Memphis. As a 1.5-point underdog, Wichita State bounced back from that loss with a 71-69 win over SMU. Craig Porter Jr. made a pair of free throws with 35 seconds left to give the Shockers the lead.
In this matchup, Tulane is a road underdog, especially since the Green Wave have covered the spread five of their last seven games. Since they are experienced, do not turn the ball over, and make their free throws, they meet my criteria for a road team. Teams who excel in these categories are more likely to be successful away from home. Since Wichita State is a terrible shooting team, especially from the perimeter, I want to stay away from the Shockers. During the last five home games, they haven't covered the spread.
Tulane Highlights
With a power ranking of 185, Tulane is ranked #23 in offense (scoring an average of 80.58 per game), #310 in defense (allowing an average of 74.53 points to be scored against them per game) and are 12-7 (7-12 ATS) this season.
Wichita St. Highlights
Wichita St. Shockers has a power ranking of 287 and are #318 for offense (scoring an average of 66.06 per game), #43 for defense (giving up an average of 74.53 points per game) and 10-9 (8-9-2 ATS) overall. Tulane went 1-2 (1-2 ATS) in their last 3 matchups against Wichita St..
Curated Picks & Predictions
Based on the current lines, Oddsmakers predict the score to be TULAN 74.25, WICHI 72.25.
52% of SportsJaw users predict Tulane Green Wave to cover.
OddsShark's prediction is Tulane will win, cover the spread, and the total will go under.
60% picked Wichita St. Shockers on Covers.com
SportsJaw's ScoreCaster prediction: Green Wave 80 to Shockers 78.
Staff Prediction
Our prediction: Green Wave 80 to Shockers 78.
Written by SportsJaw Staff
Categorized as NCAAB Predictions
[+ More]
4

Latest Chatter

[ - ]
Make your picks
to play the
bankroll game
and showcase your betting acumen. Your relevant records will show on your posts.
Total
Over 146.5
Under 146.5
142.5
#1 in NCAAB L.30 (+$1,744)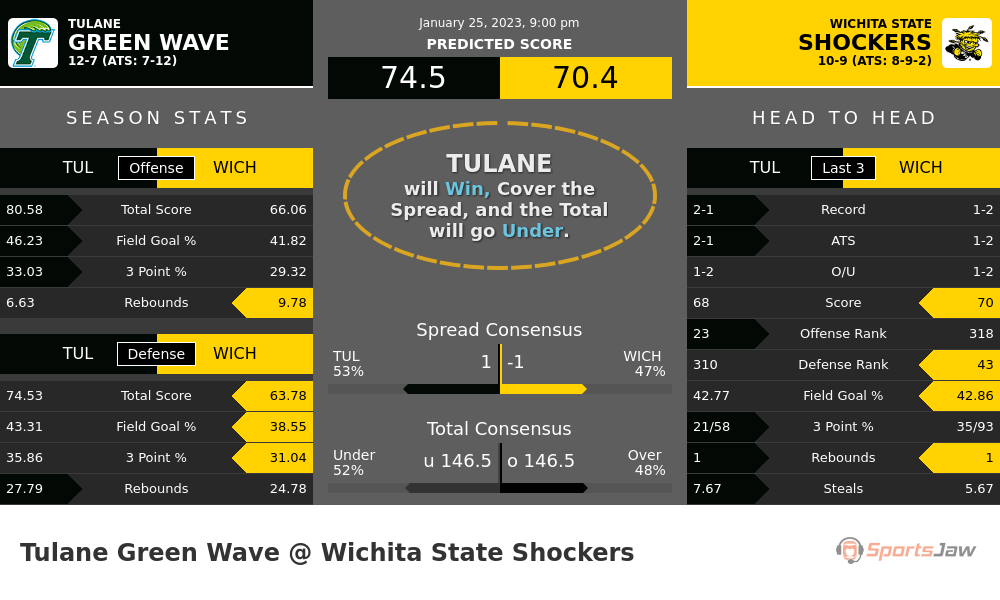 have a significantly better offense and the Shockers have a significantly better defense. The Green Wave won more games straight up and against the spread over their last 3 matchups. Adjusted score predictions based on power rankings and strength of schedule: Green Wave 75 to Shockers 70.
Tulane Injuries

F Kevin Cross Is upgraded to probable Wednesday vs Wichita State, Shoulder