Wed Jan 25 9:00PM
61
57
|   | 1 | 2 | T | ODDS |
| --- | --- | --- | --- | --- |
| INDY | 33 | 28 | 61 | 136.5 |
| MINN | 30 | 27 | 57 | +11.5 |
Indiana vs Minnesota Basketball Predictions & Best Bets
Published on
Indiana is on the road playing Minnesota at the Williams Arena stadium on Wednesday, 1/25/2023 @ 9:00pm EST. Indiana -9 was the opening favorite and current line is Indiana -10.
On Wednesday, January 25, the Indiana Hoosiers take on the Minnesota Golden Gophers in a Big Ten Conference showdown at Williams Arena in Minneapolis, Minnesota. Tipoff is set for 9:00 PM ET, and the Hoosiers are 9-point road favorites with 136.5 points. This is Indiana's sixth straight SU and ATS victory over Minnesota, and the total has been over in their last four meetings.
It is Trayce Jackson-Davis who is heavily relied upon by the Hoosiers
This past Sunday, the Indiana Hoosiers (13-6; 9-9-1 ATS; 4-4 conference) extended their winning streak to three games. The Hoosiers defeated the Michigan State Spartans 82-69 as 4.5-point home favorites after dismantling the No. The No. 18 Wisconsin Badgers won 63-45 at home and the Illinois Fighting Illini won 80-65. Michigan State was trailing by nine points at halftime when Indiana came back to win. As a team, the Hoosiers shot 9-15 from 3-point range and 21-24 from the charity stripe, while posting a 13/9 assist-to-turnover ratio. With 31 points, 15 rebounds, five assists, and five blocks, senior forward Trayce Jackson-Davis led the way, followed by sophomore guard Tamar Bates and junior guard Trey Galloway with 17 each.
The Wolverines almost upset the Gophers
This past Sunday, the Minnesota Golden Gophers (7-11; 8-10 ATS; 1-7 conference) extended their losing streak to three games with a 60-56 loss at Michigan after losing to Illinois 78-60 and Purdue 61-39 at home. In Ann Arbor, the Gophers covered a huge 12.5-point spread despite giving up a ten-point lead to the Wolverines in the first half. As a result, Minnesota held Michigan to a 36.7% field-goal percentage (2-for-14 from long distance). A 40.4% field goal percentage was achieved by the Golden Gophers (6-for-23 from deep), but they also committed 15 turnovers. Ta'Lon Cooper scored 15 points and had ten rebounds, while Jamison Battle had 14 points and five boards, and Dawson Garcia had 13 points, three assists, and seven turnovers.
It is a solid defensive unit for Minnesota. On 46.1% of their shots from inside the arc (59th in the country), the Golden Gophers allow 100.8 points per 100 possessions (111th in the country). Trayce Jackson-Davis will be difficult to contain, but the Gophers might not be able to handle the Hoosiers' defense. In contrast, Indiana allows just 95.9 points per 100 possessions (42nd) on 41.0% field goal shooting (62nd) to Minnesota. Over their last three games, the Hoosiers have played well, and I expect more of the same against the slumping Golden Gophers. The Hoosiers are 5-0 SU and ATS in their last five games against the Gophers, who have lost 1-8 ATS in their previous nine home games.
Indiana Highlights
With a power ranking of 177, Indiana is ranked #38 in offense (scoring an average of 79.00 per game), #140 in defense (allowing an average of 67.72 points to be scored against them per game) and are 13-6 (9-9-1 ATS) this season.
Minnesota Highlights
Minnesota Golden Gophers has a power ranking of 334 and are #345 for offense (scoring an average of 62.88 per game), #139 for defense (giving up an average of 67.72 points per game) and 7-11 (8-10 ATS) overall. Indiana went 0-3 (0-3 ATS) in their last 3 matchups against Minnesota.
Curated Picks & Predictions
From the lines set by Sportsbooks, they predict the score to be INDY 58.25, MINN 78.25.
The SportsJaw community predicts Indiana Hoosiers to cover (51%)
OddsShark predicts Indiana will win, cover the spread, and the total will go over.
61% picked Minnesota Golden Gophers on Covers.com
Our ScoreCaster predicts Hoosiers 85 to Golden Gophers 64.
Staff Prediction
Our prediction: Hoosiers 85 to Golden Gophers 64.
Written by SportsJaw Staff
Categorized as NCAAB Predictions
[+ More]
4

Latest Chatter

[ - ]
Make your picks
to play the
bankroll game
and showcase your betting acumen. Your relevant records will show on your posts.
Total
Over 136.5
Under 136.5
136.5
#1 in NCAAB L.30 (+$1,744)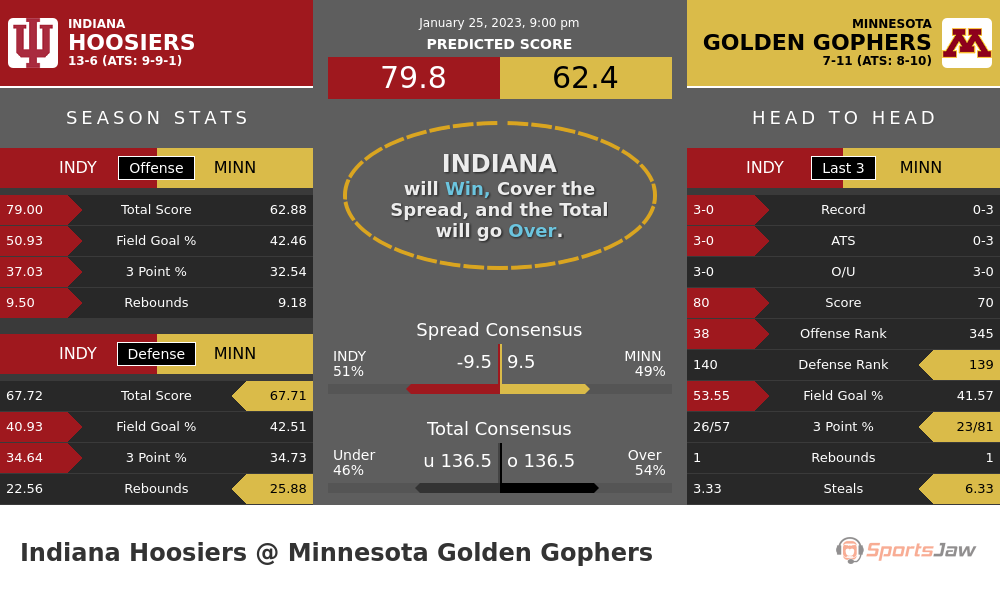 have a significantly better offense and both teams have a compariable defense. The Hoosiers won more games straight up and against the spread over their last 3 matchups. Adjusted score predictions based on power rankings and strength of schedule: Hoosiers 80 to Golden Gophers 62.
Minnesota Injuries

F Dawson Garcia Is "?", Ankle
G Braeden Carrington Is out indefinitely, Leg
F Pharrel Payne Is "?", Concussion