Wed Jan 25 9:00PM
65
75
|   | 1 | 2 | T | ODDS |
| --- | --- | --- | --- | --- |
| LOUIS | 35 | 30 | 65 | 132 |
| BC | 29 | 46 | 75 | -9.5 |
Louisville vs Boston College Prediction, Odds and Best Bets
Published on
Louisville is on the road playing Boston College at the Silvio O. Conte Forum stadium on Wednesday, 1/25/2023 @ 9:00pm EST. Boston College -9.5 was the opening favorite and current line is Boston College -10.5.
Under the shadow of Beantown, two programs now call the ACC home. On Wednesday night, the Louisville Cardinals will face the Boston College Eagles on the road. As a 9.5-point underdog, Louisville lost 75-54 to Pitt last Wednesday at home. Despite being five points underdogs, Boston College won 84-72 at Notre Dame in their previous game on the road. The all-time series between the teams is 10-4 in favor of Louisville, which has won the last three meetings. In the most recent matchup on January 19, 2022, the team won 67-54 at home.
In a lost season, the Louisville Cardinals try for a rare victory
In their most recent contest, Louisville was blown out at home by Pitt last Wednesday, continuing a trend of bad luck all year. With a 0-8 record, the Cardinals stand in the basement of the ACC with a 2-17 record. At 6:31 in the first half, Louisville was ahead of Pitt by four before giving up a 19-2 run that left them down 29-16. The Cardinals led by nine at halftime and never narrowed the margin below six after that. In the loss, Louisville shot 33.9% from the floor and turned the ball over 17 times. El Ellis led the way with 19 points and five assists.
Back-to-back wins for the Boston College Eagles
As a result of Saturday's victory over Notre Dame, Boston College snapped a four-game losing streak. Despite a 3-6 record in the ACC this season, the Eagles entered this game 9-11 overall. At halftime, Boston College led by one point after leading 6-0 early en route to a 6-0 lead. Despite a nine-point deficit in the first half, Boston College regrouped to lead by one point at the break. With 8:21 to play, after a 24-9 burst to trail 59-58, the Eagles took the lead with an 8-3 run that gave them a 66-62 lead to begin the second half. A two-point lead was never dropped below two by Boston College from there on. In the game, the Eagles shot 56.9% from the field, including 11 of 19 from beyond the arc. Quinten Post led the Eagles with 29 points and 14 rebounds.
We are looking at two teams that have struggled offensively, which contributes to their under-.500 records. It started the season with three straight one-point losses to mid-major programs and has never recovered. Entering this game, they have lost eight straight games and have yet to defeat a power conference opponent. As a team, the Cardinals have posted a 0-4 record on the road and a 0-3 record on neutral floors this season. The Eagles have struggled, but they just won on the road against Notre Dame. Taking advantage of a miserable Louisville team, the Eagles make it two straight wins at home.
Louisville Highlights
With a power ranking of 319, Louisville is ranked #348 in offense (scoring an average of 62.37 per game), #323 in defense (allowing an average of 75.21 points to be scored against them per game) and are 2-17 (6-13 ATS) this season.
Boston College Highlights
Boston College Eagles has a power ranking of 331 and are #334 for offense (scoring an average of 64.95 per game), #193 for defense (giving up an average of 75.21 points per game) and 9-11 (8-12 ATS) overall. Louisville went 0-3 (0-3 ATS) in their last 3 matchups against Boston College.
Curated Picks & Predictions
Based on the current lines, Oddsmakers predict the score to be LOUIS 77.25, BC 56.25.
50% of SportsJaw players predict Boston College Eagles to cover.
OddsShark's prediction is Boston College will win, louisville will cover, and the total will go over.
70% picked Louisville Cardinals on Covers.com
SportsJaw's ScoreCaster prediction: Cardinals 68 to Eagles 74.
Staff Prediction
Our prediction: Cardinals 68 to Eagles 74.
Written by SportsJaw Staff
Categorized as NCAAB Predictions
[+ More]
4

Latest Chatter

[ - ]
Make your picks
to play the
bankroll game
and showcase your betting acumen. Your relevant records will show on your posts.
Total
Over 132
Under 132
132.5
#1 in NCAAB L.30 (+$1,744)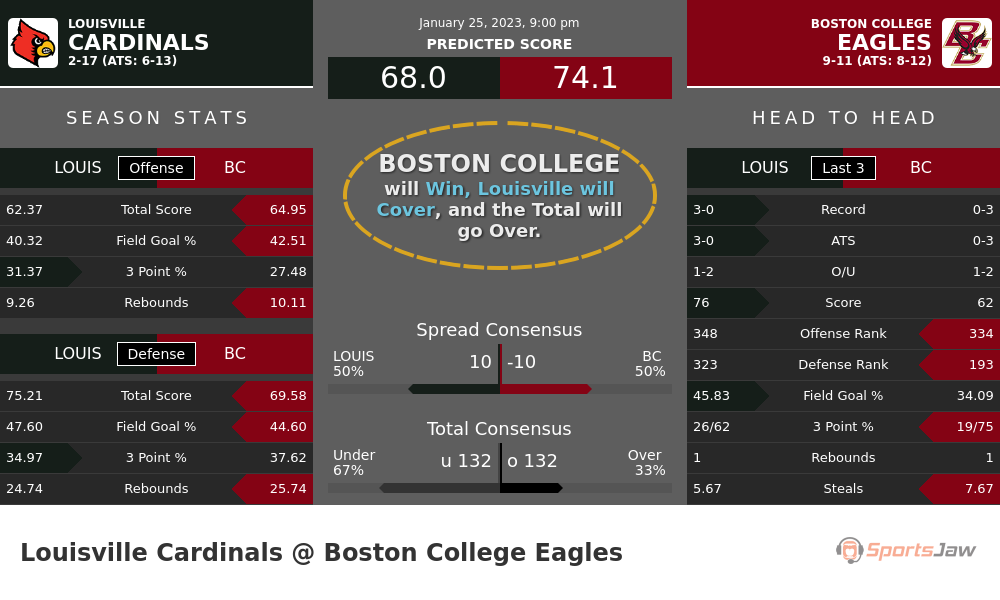 Both teams have a compariable offense and the Eagles have a slightly better defense. The Cardinals won more games straight up and against the spread over their last 3 matchups. Adjusted score predictions based on power rankings and strength of schedule: Cardinals 68 to Eagles 74.
Louisville Injuries

F Brandon Huntley-Hatfield Is downgraded to doubtful Wednesday vs Boston College, Foot