Wed Jan 25 9:00PM


79
63
|   | 1 | 2 | T | ODDS |
| --- | --- | --- | --- | --- |
| TXAM | 45 | 34 | 79 | 137.5 |
| AUBRN | 30 | 33 | 63 | -3.5 |
Texas A&M vs Auburn Prediction, Odds and Best Bets
Published on
Texas A&M is on the road playing Auburn at the Neville Arena stadium on Wednesday, 1/25/2023 @ 9:00pm EST. Auburn -6.5 was the opening favorite and current line is Auburn -4.5.
After losing at Kentucky last week, Texas A&M will travel to No. 15 Auburn on Wednesday night. In the seven games prior to their loss to the Wildcats, the Aggies were unbeaten. Trying to keep its lead in the SEC standings, Auburn is hoping to extend its winning streak to five games.
After losing their first game in the SEC, the Aggies look to bounce back
The Texas A&M Aggies started the season with high expectations, but they finished only 6-5. As well as setbacks against Colorado, Boise State, Memphis and Murray State, the Aggies suffered losses to Wofford and Murray State. To kickstart a seven-game winning streak, they won against Northwestern State and Prairie View A&M during the early non-conference portion of their schedule. After that, Texas A&M won five SEC games, including one over the then-#1 team in the country. Missouri 20. On Saturday, the Aggies lost 76-67 to Kentucky as 5-point underdogs, ending their winning streak. Wade Taylor IV leads Texas A&M with 14.8 points, 3.8 assists, and 2.8 rebounds per game. In addition to Radford and Marble, Tyrece Radford and Julius Marble both scored in double figures. Based on KenPom's adjusted offensive efficiency ratings, they rank No. 43. Shooting 52.6% from 2-point range and having the No. 11 offensive rebounding percentage in the country, Texas A&M excels in the paint.
Auburn is riding the nation's longest home winning streak
Auburn got off to a strong start this season, racing to an 8-0 record through its first eight games. The Tigers lost three of their next six games, falling to Memphis, USC and Georgia. Their loss to the Bulldogs came in stunning fashion, as they were 6.5-point favorites in that matchup. They have bounced back with a five-game winning streak, beating Arkansas, Ole Miss, Mississippi State, LSU and South Carolina. Auburn was a single-digit favorite in the first four games before covering the 12.5-point spread in its 81-66 win over the Gamecocks. The Tigers are now riding the nation's longest home winning streak (29). Veteran guard Wendell Green Jr. scored 16 points and dished out 12 assists for Auburn in the win over South Carolina, marking the program's first double-double with points and assists since he did so against Georgia one year before. Green has scored in double figures in five straight games and leads the team with 13.7 points per game. The Tigers have not been particularly productive offensively this season, though, ranking outside the top 210 nationally in effective field goal percentage (49.4) and turnover rate.
Texas A&M's ability to score points in this matchup. The Aggies have been a terrible 3-point shooting team this season, and they are facing an Auburn defense that ranks second in 3-point percentage. Texas A&M's strength has been inside the arc, but it is facing a tall Auburn defense that has shut teams down all season. The Tigers have had their fair share of struggles on the offensive end this season as well. However, they have been playing better of late, covering the spread in four of their last five games.
Texas A&M Highlights
With a power ranking of 60, Texas A&M is ranked #118 in offense (scoring an average of 74.94 per game), #80 in defense (allowing an average of 65.56 points to be scored against them per game) and are 13-6 (12-7 ATS) this season.
Auburn Highlights
Auburn Tigers has a power ranking of 117 and are #165 for offense (scoring an average of 72.17 per game), #29 for defense (giving up an average of 65.56 points per game) and 16-3 (9-10 ATS) overall. Texas A&M went 1-2 (1-2 ATS) in their last 3 matchups against Auburn.
Curated Picks & Predictions
Based on the current lines, Oddsmakers predict the score to be txam 73.25, AUBRN 64.25.
50% of SportsJaw players predict Auburn Tigers to cover.
OddsShark's prediction is Auburn will win, texas a&m will cover, and the total will go over.
66% picked Auburn Tigers on Covers.com
SportsJaw's ScoreCaster prediction: Aggies 70 to Tigers 77.
Staff Prediction
Our prediction: Aggies 70 to Tigers 77.
Written by SportsJaw Staff
Categorized as NCAAB Predictions
[+ More]
4

Latest Chatter

[ - ]
Make your picks
to play the
bankroll game
and showcase your betting acumen. Your relevant records will show on your posts.
Total
Over 137.5
Under 137.5
138.5
#1 in NCAAB L.30 (+$1,744)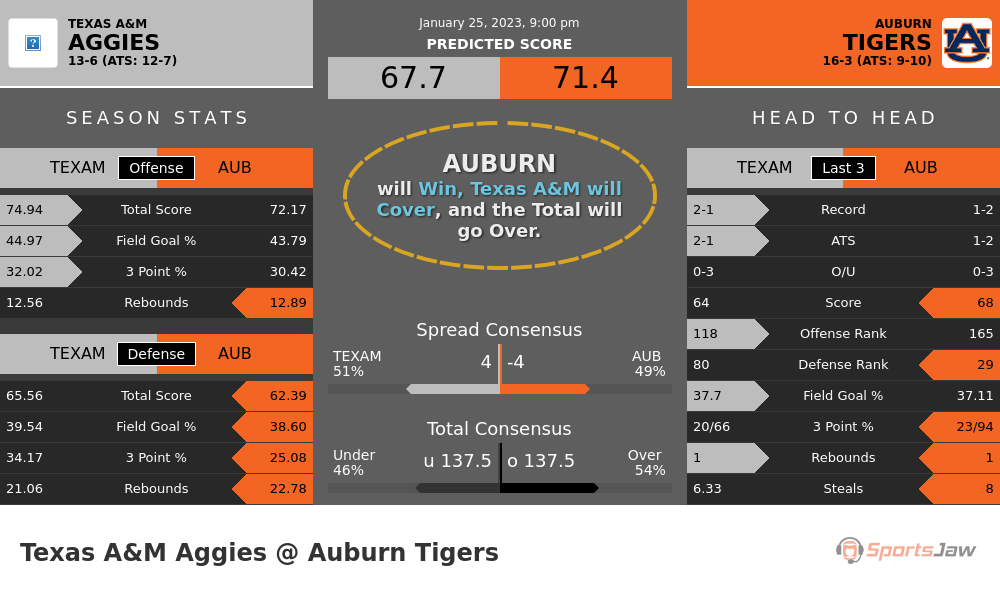 Both teams have a compariable offense and the Tigers have a slightly better defense. The Aggies won more games straight up and against the spread over their last 3 matchups. Adjusted score predictions based on power rankings and strength of schedule: Aggies 68 to Tigers 71.
Texas A&M Injuries

G Manny Obaseki Is out indefinitely, Hand
F Solomon Washington Is "?" Wednesday vs Auburn, Concussion