Wed Jan 25 9:00PM
63
66
|   | 1 | 2 | T | ODDS |
| --- | --- | --- | --- | --- |
| MISST | 36 | 27 | 63 | 143 |
| ALA | 29 | 37 | 66 | -11.5 |
Mississippi St. vs Alabama Basketball Predictions & Best Bets
Published on
Mississippi St. is on the road playing Alabama at the Coleman Coliseum stadium on Wednesday, 1/25/2023 @ 9:00pm EST. Alabama -11.5 was the opening favorite and current line is Alabama -12.5.
In an SEC contest, the Mississippi State Bulldogs (12-7, 1-6 SEC) will travel to Tuscaloosa, AL to face the No. 2 Alabama Crimson Tide (17-2, 7-0 SEC). A four-game losing streak has plagued the Bulldogs over the last five games, while the Crimson Tide has won eight straight games. These two teams will face each other twice this season.
A huge upset is on the cards for the Bulldogs
Mississippi State is coming off a four-game losing streak and faces one of its toughest opponents yet. As the No. 2 Alabama Crimson Tide, the Bulldogs come into this matchup looking for an upset. They have already suffered a big loss to the Crimson Tide. They last played Alabama at the end of December, losing 78-67. A 36.4% field goal rate, a 37.5% three-pointer percentage, and a 50% free throw percentage were all achieved by the Bulldogs. They also turned the ball over 15 times while recording 38 rebounds, 14 assists, nine steals, and three blocks. A lack of turnovers contributed to KeShawn Murphy's (11 PTS, 2 AST, 75% FG) and D.J. Jeffries' (11) points and 15 rebounds.
To extend its nine-game winning streak, the Crimson Tide hope to sweep the Bulldogs
It's been a dominant season for the Alabama Crimson Tide, who are 17-2 overall and undefeated in the SEC. There's no sign that they're about to slow down anytime soon after winning eight straight games. As they prepare to face the Bulldogs, they are looking to add their ninth consecutive win to the streak. Last time out, Alabama shot 45.6% from the field, 37.5% from beyond the arc, and 77.8% from the free throw line. Additionally, they collected 41 rebounds, 17 assists, six steals, and four blocks while turning the ball over 19 times. Mark Sears (20 PTS, 3 AST, 2 STL, 45.4% FG) and Brandon Miller (19 PTS, 11 REB, 3 AST, 46.6% FG) led the scoring.
The Alabama Crimson Tide has an elite offense that will tear down one of the finest college basketball defenses. They will be able to build a comfortable lead very quickly with their explosive, fast-paced play, causing Mississippi State to scramble for the lead. At their last meeting, Alabama had two players score 20 points and Miller scored 19 points and pulled down 11 rebounds. Watch for them to carry their team to their second win against the Bulldogs with a huge impact offensively and defensively. Moreover, the Crimson Tide will punish the Bulldogs' slow offensive style because of their low scoring offense. A solid margin of victory would be favorable for Alabama.
Mississippi St. Highlights
With a power ranking of 215, Mississippi St. is ranked #330 in offense (scoring an average of 65.28 per game), #6 in defense (allowing an average of 58.17 points to be scored against them per game) and are 12-7 (7-11-1 ATS) this season.
Alabama Highlights
Alabama Crimson Tide has a power ranking of 5 and are #11 for offense (scoring an average of 84.00 per game), #181 for defense (giving up an average of 58.17 points per game) and 17-2 (13-6 ATS) overall. Mississippi St. went 2-1 (1-2 ATS) in their last 3 matchups against Alabama.
Curated Picks & Predictions
From the lines set by Sportsbooks, they predict the score to be MISST 82.75, ALA 57.75.
54% of SportsJaw predicts Alabama Crimson Tide to cover.
OddsShark has not made their prediction yet.
71% picked Alabama Crimson Tide on Covers.com
Our ScoreCaster predicts Bulldogs 52 to Crimson Tide 95.
Staff Prediction
Our prediction: Bulldogs 52 to Crimson Tide 95.
Written by SportsJaw Staff
Categorized as NCAAB Predictions
[+ More]
3

Latest Chatter

[ - ]
Make your picks
to play the
bankroll game
and showcase your betting acumen. Your relevant records will show on your posts.
Total
Over 143
Under 143
136.5
#1 in NCAAB L.30 (+$1,744)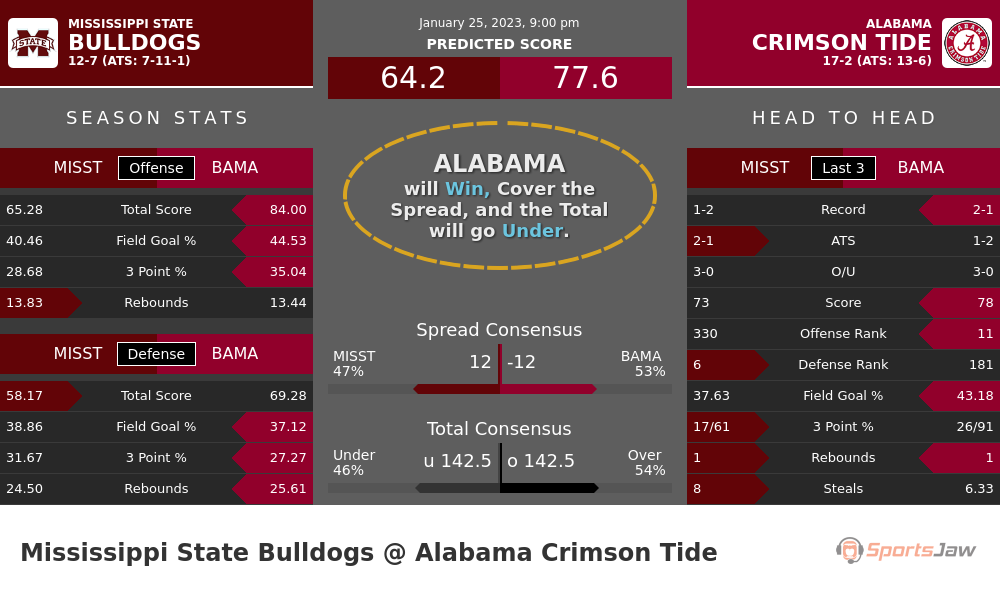 The Crimson Tide have a significantly better offense and the Bulldogs have a significantly better defense. The Crimson Tide won more games straight up while Bulldogs won more ATS over their last 3 matchups. Adjusted score predictions based on power rankings and strength of schedule: Bulldogs 64 to Crimson Tide 78.
Mississippi St. Injuries

G Shawn Jones Jr. Injured last game, is "?" Wednesday vs Alabama, Ankle