Wed Jan 25 8:30PM
58
79
|   | 1 | 2 | T | ODDS |
| --- | --- | --- | --- | --- |
| BUTLR | 26 | 32 | 58 | 138 |
| PROV | 36 | 43 | 79 | -9.5 |
Butler vs Providence Prediction & Best Bets
Published on
Butler is on the road playing Providence at the Amica Mutual Pavilion stadium on Wednesday, 1/25/2023 @ 8:30pm EST. Providence -8.5 was the opening favorite and current line is Providence -9.5.
Taking on the Butler Bulldogs (11-10 SU, 9-10-2 ATS, 3-7 Big East), the No. 23 Providence Friars (15-5 SU, 12-8-0 ATS, 7-2 Big East) will play at Amica Mutual Pavilion at 8:30 p.m. Eastern Time on Wednesday. The over/under total for this game is 140, with Providence as a 9.5-point favorite. On Dec. 29, Butler won 72-52 in the first meeting between these teams.
In the absence of Bates, Butler fares poorly in the Big East
Including last week's losses to Creighton and UConn, the Bulldogs have lost four of their past five games. Manny Bates, Butler's leading scorer, rebounder, and shot blocker, has been absent. Bates has missed the last three games with a knee injury, and he is listed as questionable for Wednesday's game. The Butler Bulldogs are only one game ahead of Georgetown in the Big East standings with a record of 3-7. This is Butler's opportunity to avenge its loss to Providence in December. Just 2-of-16 (12%) of the Bulldogs' three-pointers were made in that game. Their 39-28 rebounding deficit was caused by the Friars.
A win for Providence puts it back in the Big East race
Following two consecutive losses to Creighton and No. 20 Marquette, the Friars beat DePaul 75-64 on Saturday. During the win, senior guard Noah Locke buried seven three-pointers and scored 29 points, while sophomore forward Bryce Hopkins recorded his eighth double-double of the season with 20 points and 11 rebounds. One game separates Providence and the Xavier Musketeers atop the Big East standings. With 16.5 points and 9.2 rebounds per game, Hopkins is Providence's leading scorer and rebounder. Over nine points are averaged by five Friars players.
In the absence of Bates for Butler, this prediction is pretty clear-cut: Providence to cover. With him absent, the Bulldogs were unable to fill a huge void on the interior last week when they lost by 30 and 21 points, respectively. As he looks forward to this matchup, Providence's Bryce Hopkins, a double-double machine, can't help but salivate. As a matter of fact, the Friars have the best rebounding team in the Big East, while the Bulldogs just got wiped out on the glass by Creighton and UConn. The fact that Locke is coming off a career-high 29 points suggests the Friars will be okay without Bynum in their fifth game. The Butler Bulldogs are slumping and have covered the spread only twice in their last ten games. Among Providence's last 10 games, eight have been covered.
Butler Highlights
With a power ranking of 358, Butler is ranked #242 in offense (scoring an average of 69.00 per game), #104 in defense (allowing an average of 66.60 points to be scored against them per game) and are 11-10 (9-11-1 ATS) this season.
Providence Highlights
Providence Friars has a power ranking of 103 and are #41 for offense (scoring an average of 78.80 per game), #169 for defense (giving up an average of 66.60 points per game) and 15-5 (12-8 ATS) overall. Butler went 3-0 (1-2 ATS) in their last 3 matchups against Providence.
Curated Picks & Predictions
Based on the current lines, Oddsmakers predict the score to be BUTLR 79.25, PROV 60.25.
51% of SportsJaw players predict Providence Friars to cover.
OddsShark's prediction is Providence will win, butler will cover, and the total will go over.
66% picked Providence Friars on Covers.com
SportsJaw's ScoreCaster prediction: Bulldogs 63 to Friars 81.
Staff Prediction
Our prediction: Bulldogs 63 to Friars 81.
Written by SportsJaw Staff
Categorized as NCAAB Predictions
[+ More]
4

Latest Chatter

[ - ]
Make your picks
to play the
bankroll game
and showcase your betting acumen. Your relevant records will show on your posts.
Total
Over 138
Under 138
138.5
#1 in NCAAB L.30 (+$1,744)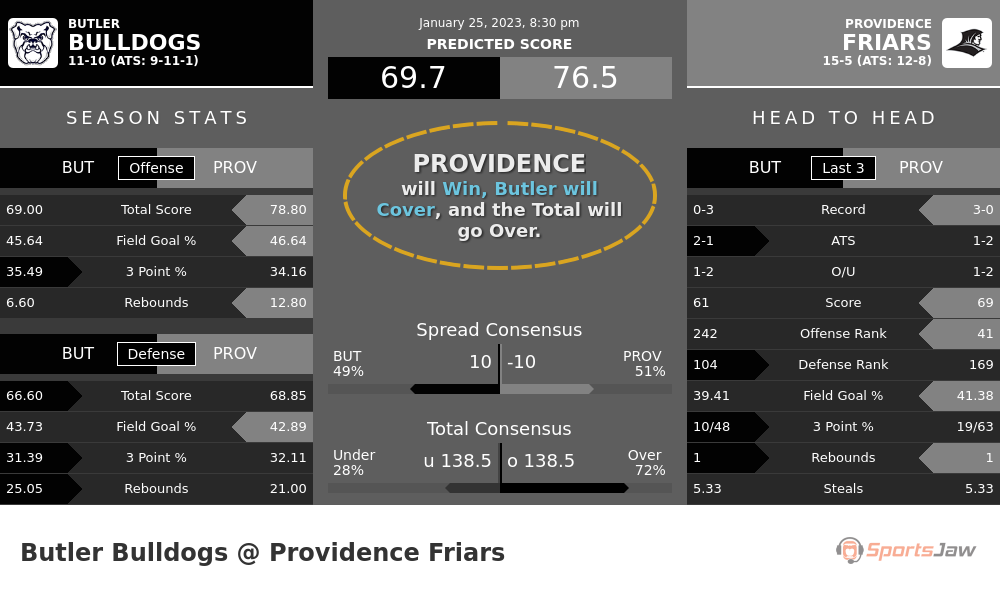 The Friars have a stronger offense and both teams have a compariable defense. The Friars won more games straight up while Bulldogs won more ATS over their last 3 matchups. Adjusted score predictions based on power rankings and strength of schedule: Bulldogs 70 to Friars 77.
Butler Injuries

F Manny Bates Is upgraded to probable Wednesday vs Providence, Knee
F/C John-Michael Mulloy Is "?" Wednesday vs Providence, Ankle
Providence Injuries

G Jared Bynum Is upgraded to probable Wednesday vs Butler, Abdominal