Wed Jan 25 8:00PM
75
79
|   | 1 | 2 | 3 | T | ODDS |
| --- | --- | --- | --- | --- | --- |
| ILLST | 40 | 29 | 6 | 75 | 130.5 |
| BRAD | 36 | 33 | 10 | 79 | -15 |
Illinois St. vs Bradley Prediction, Odds and Best Bets
Published on
Illinois St. is on the road playing Bradley at the Carver Arena stadium on Wednesday, 1/25/2023 @ 8:00pm EST. Bradley -12.5 was the opening favorite and current line is Bradley -14.5.
On Monday night, Memphis and Sacramento combined to score under the 244-point closing line, giving our players a best bet winning ticket. Tuesday will be a good day for our members, as we have an NBA pick we will be focusing on. A Missouri Valley Conference matchup will take place on Wednesday night between Illinois State and Carver Arena. As of Saturday, the Redbirds are on a three-game losing streak after losing 71-51 to the Valparaiso Beacons at home. As of right now, the Braves are 13-8 (6-4) and are coming off a 78-76 loss to the Belmont Bruins. This matchup will also take place on February 8 in Illinois, so it is sure to be an interesting one.
Improvements are needed for the Redbirds
A struggling Illinois State Redbirds team lost 71-51 at home to the Valparaiso Beacons. Their first half performance was dominated by Valparaiso, who outscored them 33-24. The team made 19-of-56 (33.9 percent) overall, 5-of-21 (23.8 percent) from three-point range, and 10 free throws. As a junior guard, Darius Burford led the team with 23 points, two rebounds, one steal, and two turnovers in 32 minutes. They have a lot of work to do on defense since they allowed 57.4 percent shooting from the floor and 56.3 percent from deep. As far as steals and blocks are concerned, Illinois State did well, finishing the game with six and three, respectively. Despite shooting a decent 42.6 percent from the floor and averaging 10.3 assists per game, the Illinois State Redbirds are struggling this season with 65.5 points per game. In terms of defense, they give up 68.2 points per game, which is 156th in the nation. With 3.6 blocks and 5.9 steals per game, they need to improve.
Having a feeling of bravery
Coming off a 78-76 home loss to the Belmont Bruins, the Bradley Braves allowed 37+ points in each half. It was a decent shooting performance as they finished the game shooting 48.2 percent, 33.3 percent from beyond the arc, and 22 free throws. In 31 minutes, junior forward Renk Mastled Bradley finished with 23 points, 11 rebounds, two assists, and four turnovers. They allowed the Bruins to shoot 42.4% from the floor, 44.4% from three, and make 12 free throws on defense. Over the course of the game, the Braves recorded eight steals and one block. With 71 points per game, the Braves rank 195th in the country, while dishing out 13.2 assists. The team has shot well from the field so far, hitting 46 percent of their shots. Additionally, they rank 21st in the nation with 61.5 points per game on defense. This season, they recorded four blocks and 7.4 steals per game.
Illinois State is ranked 265th in the sport with an -8.08 rating, while Bradley is 85th with an +8.65 rating. The Redbirds have scored just 57 points in their last three games while the Braves have averaged 78.8 points in their previous five games. In this game, we recommend going with the Bradley Braves to cover the spread.
Illinois St. Highlights
With a power ranking of 230, Illinois St. is ranked #310 in offense (scoring an average of 66.25 per game), #146 in defense (allowing an average of 68.05 points to be scored against them per game) and are 8-13 (8-13 ATS) this season.
Bradley Highlights
Bradley Braves has a power ranking of 43 and are #204 for offense (scoring an average of 70.75 per game), #16 for defense (giving up an average of 68.05 points per game) and 13-8 (11-9 ATS) overall. Illinois St. went 1-2 (0-3 ATS) in their last 3 matchups against Bradley.
Curated Picks & Predictions
From the lines set by Sportsbooks, they predict the score to be ILLST 79, BRAD 50.
53% of SportsJaw predicts Bradley Braves to cover.
OddsShark predicts Bradley will win, cover the spread, and the total will go over.
69% picked Illinois St. Redbirds on Covers.com
Our ScoreCaster predicts Redbirds 63 to Braves 85.
Staff Prediction
Our prediction: Redbirds 63 to Braves 85.
Written by SportsJaw Staff
Categorized as NCAAB Predictions
[+ More]
4

Latest Chatter

[ - ]
Make your picks
to play the
bankroll game
and showcase your betting acumen. Your relevant records will show on your posts.
Total
Over 130.5
Under 130.5
128
#1 in NCAAB L.30 (+$1,744)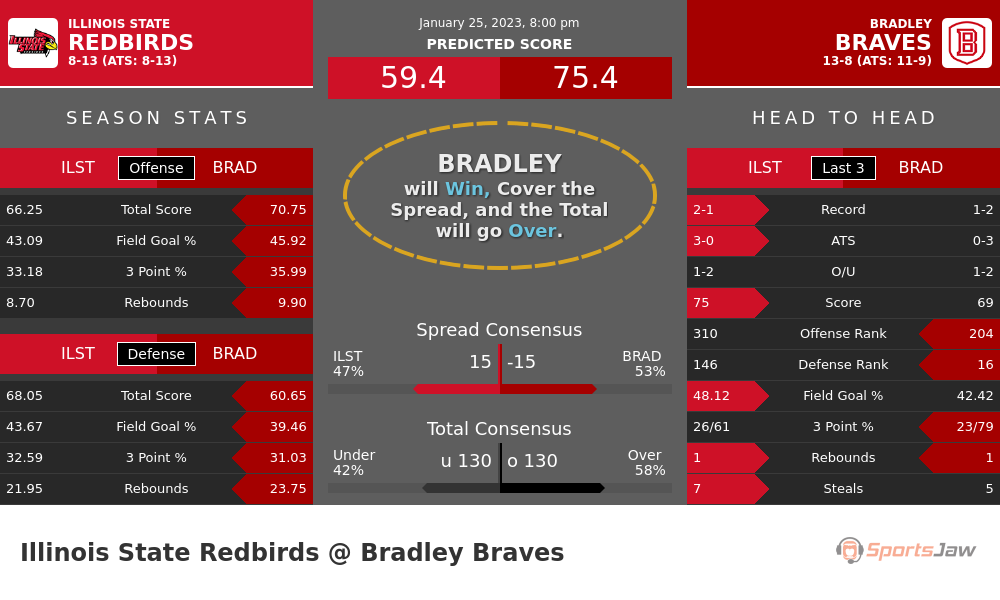 The Braves have a slightly better offense and the Braves have a stronger defense. The Redbirds won more games straight up and against the spread over their last 3 matchups. Adjusted score predictions based on power rankings and strength of schedule: Redbirds 59 to Braves 75.
Illinois St. Injuries

G Colton Sandage Is upgraded to probable Wednesday vs Bradley, Back
Bradley Injuries

F Ja'Shon Henry Is upgraded to probable Wednesday vs Illinois State, Concussion