Wed Jan 25 8:00PM
73
64
|   | 1 | 2 | T | ODDS |
| --- | --- | --- | --- | --- |
| BELMT | 36 | 37 | 73 | 145 |
| EVANS | 32 | 32 | 64 | +13 |
Belmont vs Evansville Basketball Picks & Predictions
Published on
Belmont is on the road playing Evansville at the Ford Center stadium on Wednesday, 1/25/2023 @ 8:00pm EST. Belmont -10.5 was the opening favorite and current line is Belmont -13.
This Wednesday, the Belmont Bruins will play the Evansville Purple Aces (4-17, 0-10 MVC) at the Ford Center in Evansville, Indiana. The Belmont Bears, who are tied for first in the MVC with Southern Illinois, defeated the Bradley Braves 78-76 on Saturday for their sixth consecutive win. Evansville is the polar opposite of Belmont, as the Purple Aces currently sit last in the MVC. The Drake Bulldogs defeated the Purple Aces 97-61 on Saturday. In the last eight games, Evansville has lost all eight. There are no players listed on the injury reports for Belmont or Evansville.
In defense, Belmont needs to make more stops
The Bruins are tied for first in the Missouri Valley Conference, but they are giving up too much on defense. Belmont allows 70.3 points (210th) per game, while opponents shoot 44.7% (267th) overall and 34.1% (223rd) from three-point range. The Belmont offense scores 74.8 points per game (121st), while shooting 46.3% (88th) from the field and 40.4% from three-point range (2nd). Sheppard averages 18.5 points per game for Belmont. His overall shooting percentage is 46.1% and his three-point shooting percentage is 41.6%. In 137 attempts, he has made 57 three-pointers. Averaging 13.0 points per game, Cade Tyson is the second leading scorer. His overall shooting percentage is 45.3%, and his long-range shooting percentage is 42.5%.
The Evansville basketball team is playing poorly on both ends of the court
Evansville scores only 61.9 (353rd) points per game, with a field goal shooting percentage of only 39.8% (351st) and a three-point shooting percentage of only 32.5% (264th). On defense, Evansville allows an average of 75.2 (322nd) points per game, while opponents score 47.1% (346th) overall and 37.7% (346th) from three-point range. Evansville's Kenny Strawbridge Jr puts up 15.4 points per game, but shoots only 38.6% from the field and 25.3% from distance. Coleman II is averaging 10.6 points per game on average for Evansville, but he makes 37.7% overall and 37.3% from long distance.
With a disappointing 4-17 straight up record and 15 losses against the spread, Evansville has struggled since the start of the season. However, Belmont is 15-6 straight up and leads the Missouri Valley Conference with Southern Illinois even though they are only 11-8-1 against the spread. The Purple Aces average 61.9 points per game, nearly 14 points more than Evansville's defense allows. The Belmont Tigers have covered the spread in each of their last two games, and in five of their last six, while Evansville has covered the spread just twice in ten games. Overall, Evansville's shooting percentage is 39.8%, which is one of the lowest in the country
Belmont Highlights
With a power ranking of 6, Belmont is ranked #127 in offense (scoring an average of 74.60 per game), #207 in defense (allowing an average of 70.00 points to be scored against them per game) and are 15-6 (12-8 ATS) this season.
Evansville Highlights
Evansville Aces has a power ranking of 359 and are #353 for offense (scoring an average of 61.90 per game), #305 for defense (giving up an average of 70.00 points per game) and 4-17 (7-14 ATS) overall. Belmont went 1-2 (1-2 ATS) in their last 3 matchups against Evansville.
Curated Picks & Predictions
Based on the current lines, Oddsmakers predict the score to be BELMT 59.25, EVANS 85.25.
51% of SportsJaw users predict Belmont Bruins to cover.
OddsShark's prediction is Belmont will win, cover the spread, and the total will go under.
66% picked Belmont Bruins on Covers.com
SportsJaw's ScoreCaster prediction: Bruins 70 to Aces 73.
Staff Prediction
Our prediction: Bruins 70 to Aces 73.
Written by SportsJaw Staff
Categorized as NCAAB Predictions
[+ More]
3

Latest Chatter

[ - ]
Make your picks
to play the
bankroll game
and showcase your betting acumen. Your relevant records will show on your posts.
Total
Over 145
Under 145
142.5
#1 in NCAAB L.30 (+$1,744)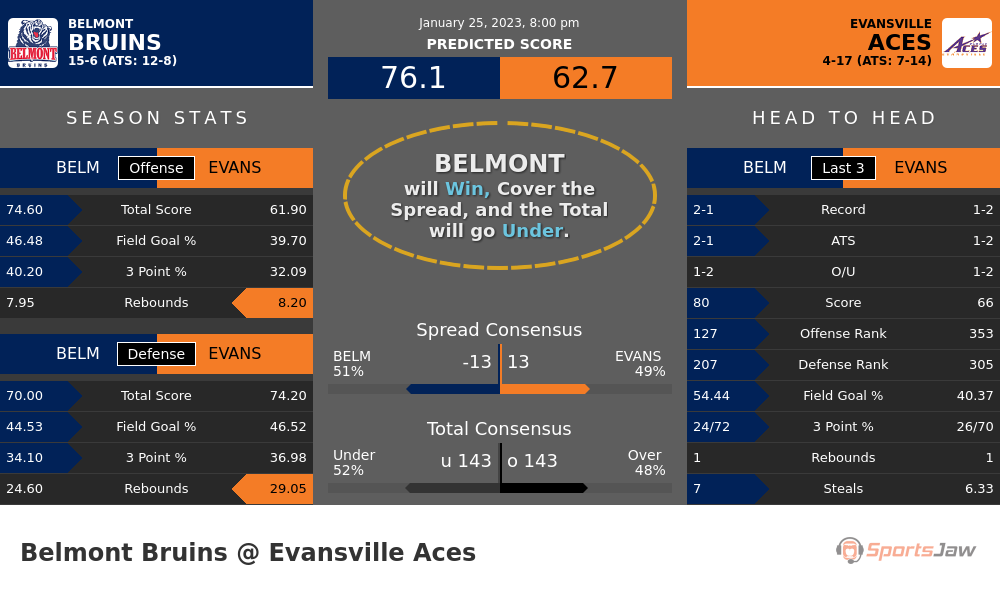 have a significantly better offense and the Bruins have a slightly better defense. The Bruins won more games straight up and against the spread over their last 3 matchups. Adjusted score predictions based on power rankings and strength of schedule: Bruins 76 to Aces 63.