Wed Jan 25 8:00PM


74
66
|   | 1 | 2 | T | ODDS |
| --- | --- | --- | --- | --- |
| CBU | 30 | 44 | 74 | 130.5 |
| TEXAR | 25 | 41 | 66 | +5 |
California Baptist vs Texas-Arlington Basketball Predictions & Best Bets
Published on
California Baptist is on the road playing Texas-Arlington at the College Park Center stadium on Wednesday, 1/25/2023 @ 8:00pm EST. California Baptist -3.5 was the opening favorite and current line is California Baptist -4.5.
The Cal Baptist Lancers (12-8, 4-3 WAC) travel in WAC action against the UT Arlington Mavericks (7-14, 2-6 WAC) on Wednesday, January 25, 2023 at 8:00 PM ET. Keep reading for betting insights and statistics for the Lancers' (-190 to win on the moneyline) matchup against the Mavericks (+155).
BAPTIST IMPACT PLAYERS IN CALIFORNIA
In addition to grabbing 7.3 rebounds per game, Hunter Goodrick also contributes 8.9 points and 2.2 assists per game. He blocks 0.3 shots and steals 0.5 shots defensively. The average point total for Riley Battin is 9.6, the average assist total is 1.2, and the average rebound total is 5.8. The average 3-pointer percentage for Joe Quintana is 30.3% with 2.1 made 3-pointers per game. Shooting 58.9% from the field, Timothy Ighoefe averages 5.9 points, 6.8 rebounds, and 0.6 assists per game.
PLAYERS IMPACTING UT ARLINGTON
A team high of 10.9 points and 8.3 rebounds are being posted by Shemar Wilson. Additionally, he contributes 0.7 assists while making 53.1% of his shots. Weaver averages 8.3 points, 4.7 rebounds, and 1.7 assists per game while shooting 41% from the field. In addition to his 3.6 assists per game, Kyron Gibson contributes 10.5 points and 2.1 rebounds for the Mavericks. Marion Humphrey averages 6.5 points, 2.5 rebounds, and 2.8 assists per game for the Mavericks. 1.4 steals and 0.4 blocked shots are also included in his stats. Walker averages 7 points, 4.2 rebounds, and 0.4 assists per game, making 40.7% of his shots from the field.
Betting trends for CAL BAPTIST vs UT ARLINGTON
In 19 games, the Lancers have beaten the spread eight times. Cal Baptist is 4-5-1 when it is a four-point favorite or more. The Lancers have played 19 games this year, and seven have been over. This season, Cal Baptist and its opponents have broken the 128.5-point mark 11 times. This season, Lancers games have averaged 131.9 total points, which is 3.4 points higher than the over/under. A 7-10-1 record against the spread has been posted by UT Arlington this season. Underdogs of four points or more have an ATS record of 6-6-1 for the Mavericks. Over the course of this season, seven Cal Baptist games (out of 19) have crossed over. There have been nine times this season when the Mavericks have scored more than 128.5 points in a game. It is estimated that UT Arlington will score 132.9 points on average, 4.4 points more than the over/under for this game.
California Baptist Highlights
With a power ranking of 24, California Baptist is ranked #270 in offense (scoring an average of 68.20 per game), #42 in defense (allowing an average of 63.70 points to be scored against them per game) and are 12-8 (8-8-3 ATS) this season.
Texas-Arlington Highlights
Texas-Arlington Mavericks has a power ranking of 322 and are #315 for offense (scoring an average of 66.24 per game), #109 for defense (giving up an average of 63.70 points per game) and 7-14 (7-10-1 ATS) overall. California Baptist went 0-0 (0-0 ATS) in their last 3 matchups against Texas-Arlington.
Curated Picks & Predictions
From the lines set by Sportsbooks, they predict the score to be CBU 59.5, TEXAR 68.5.
The SportsJaw community predicts California Baptist to cover (53%)
OddsShark predicts Cal Baptist will win, cover the spread, and the total will go over.
65% picked California Baptist on Covers.com
Our ScoreCaster predicts Lancers 78 to Mavericks 74.
Staff Prediction
Our prediction: Lancers 78 to Mavericks 74.
Written by SportsJaw Staff
Categorized as NCAAB Predictions
[+ More]
2

Latest Chatter

[ - ]
Make your picks
to play the
bankroll game
and showcase your betting acumen. Your relevant records will show on your posts.
Total
Over 130.5
Under 130.5
127.5
#1 in NCAAB L.30 (+$1,802)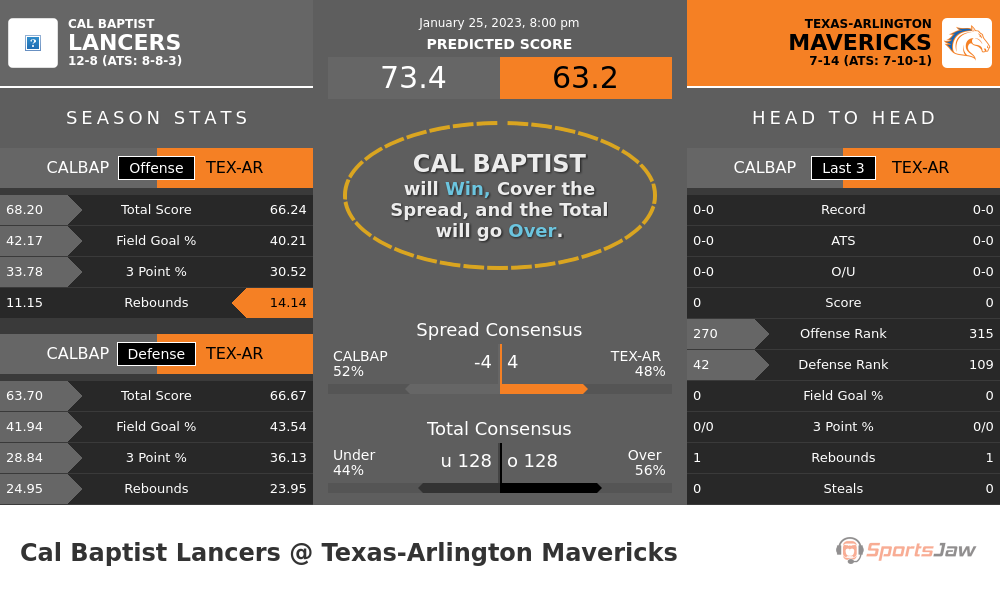 Both teams have a compariable offense and both teams have a compariable defense. The Lumberjacks won more over their last 3 matchups. Adjusted score predictions based on power rankings and strength of schedule: Lancers 73 to Mavericks 63.