Wed Jan 25 8:00PM
66
77
|   | 1 | 2 | T | ODDS |
| --- | --- | --- | --- | --- |
| VALPO | 28 | 38 | 66 | 138 |
| NIOWA | 45 | 32 | 77 | -8 |
Valparaiso vs Northern Iowa Prediction & Best Bets
Published on
Valparaiso is on the road playing Northern Iowa at the McLeod Center stadium on Wednesday, 1/25/2023 @ 8:00pm EST. Northern Iowa -9 was the opening favorite and line hasn't moved.
A three-game winning streak will be tested when the Valparaiso Beacons (9-12, 3-7 MVC) visit the Northern Iowa Panthers (11-9, 7-3 MVC) on Wednesday, January 25, 2023 at 8:00 PM ET. ESPN+ will broadcast the contest. Here are betting insights and statistics to help you place your bet on the Panthers (-469 to win on the moneyline) versus the Beacons (+351).
Statistics for Northern Iowa
Tytan Anderson leads his squad in rebounds per game (9.4), along with 13.4 points and 1.7 assists. As for his defensive statistics, he averages 1.8 steals per game and 0.6 blocked shots per game. Averaging 9.3 points, 4.8 rebounds, and 1.2 assists per game, Michael Duax makes 56.9% from the field. With 1.3 made 3-pointers per game, Trey Campbell scores 7.7 points, 3.4 rebounds, and 1.9 assists per game, shooting 41.5% from the field and 34.2% from downtown. Henry averages 5.6 points, 4.6 rebounds, and 1.9 assists per game, while shooting 49.4% from the field.
Statistics for VALPARAISO
The number of points Krikke scores (17.4) and the number of rebounds he grabs (5.9) are team highs. He also contributes 1.6 assists and makes 52.9% of his shots. King averages 17 points, 3.7 rebounds, and 1.5 assists per game to the Beacons. The team's top assist provider is Nick Edwards, who averages 4.9 per game. In addition, he contributes 8 points and 3.9 rebounds, while making 43.4% of his shots from the field. During each game, Quinton Green scores 11.2 points, draws 4 rebounds and assists 0.9 times. A steal and a blocked shot are also among his accomplishments. Each game, Jerome Palm contributes 2.5 points, 5 rebounds, and 0.4 assists to the Beacons. Additionally, he averages 0.1 steals and 0.4 blocked shots per game.
This season, the Panthers are 10-9-0 against the spread. This season, Northern Iowa has one ATS win (1-2) as a 9.5-point favorite or greater. So far this season, 10 Panthers games have gone over the total. Nine times in Northern Iowa's games this season, more than 137.5 points have been scored. There is an over/under of 137.5 points in this game, one more than the average total in Panthers games this season. Over the course of this season, Valparaiso has won eight games against the spread. As 9.5-point underdogs or more this season, the Beacons have won twice ATS (2-4). The total has been exceeded in 10 of Northern Iowa's 19 games so far this season. It has been over 137.5 points in 11 of the Beacons' games this season. According to Valparaiso's history, the average total for their games is 140.8 points, 3.3 points above the over/under for this game.
Valparaiso Highlights
With a power ranking of 204, Valparaiso is ranked #263 in offense (scoring an average of 68.45 per game), #286 in defense (allowing an average of 73.30 points to be scored against them per game) and are 9-12 (8-12 ATS) this season.
Northern Iowa Highlights
Northern Iowa Panthers has a power ranking of 88 and are #223 for offense (scoring an average of 69.74 per game), #89 for defense (giving up an average of 73.30 points per game) and 11-9 (10-9 ATS) overall. Valparaiso went 2-1 (1-2 ATS) in their last 3 matchups against Northern Iowa.
Curated Picks & Predictions
Based on the current lines, Oddsmakers predict the score to be VALPO 77.5, NIOWA 59.5.
51% of SportsJaw users predict Valparaiso Crusaders to cover.
OddsShark's prediction is Northern Iowa will win, valparaiso will cover, and the total will go over.
60% picked Northern Iowa Panthers on Covers.com
SportsJaw's ScoreCaster prediction: Beacons 64 to Panthers 74.
Staff Prediction
Our prediction: Beacons 64 to Panthers 74.
Written by SportsJaw Staff
Categorized as NCAAB Predictions
[+ More]
3

Latest Chatter

[ - ]
Make your picks
to play the
bankroll game
and showcase your betting acumen. Your relevant records will show on your posts.
Total
Over 138
Under 138
139.5
#1 in NCAAB L.30 (+$1,744)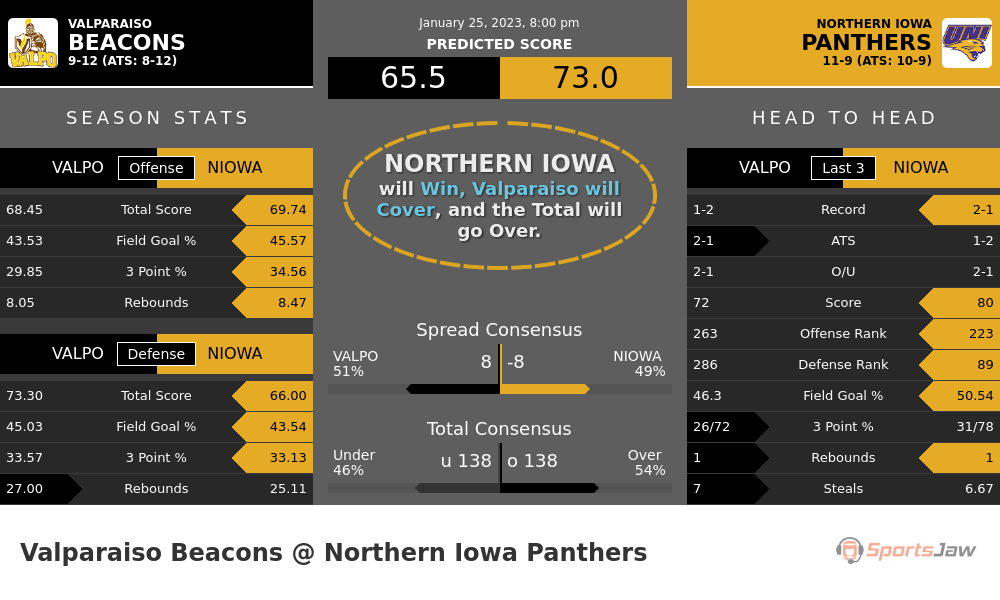 Both teams have a compariable offense and the Panthers have a stronger defense. The Panthers won more games straight up while Beacons won more ATS over their last 3 matchups. Adjusted score predictions based on power rankings and strength of schedule: Beacons 66 to Panthers 73.