Wed Jan 25 7:00PM
60
81
|   | 1 | 2 | T | ODDS |
| --- | --- | --- | --- | --- |
| S.CAR | 26 | 34 | 60 | 134.5 |
| FLA | 34 | 47 | 81 | -16 |
South Carolina vs Florida Basketball Predictions & Best Bets
Published on
South Carolina is on the road playing Florida at the Stephen C. O'Connell Center stadium on Wednesday, 1/25/2023 @ 7:00pm EST. Florida -14.5 was the opening favorite and current line is Florida -17.
There are two teams from the SEC taking the court in the Sunshine State hoping to earn a conference victory. As they travel to face the Florida Gators Wednesday night, the South Carolina Gamecocks are on the road. South Carolina lost 81-66 to #16 Auburn at home in their previous matchup on Saturday, falling 13.5 points short of covering the line. The Gators beat Mississippi State 61-59 in their most recent game, winning outright as 2.5-point underdogs. Among the all-time matches between the teams, the Gators hold a 40-20 advantage, including a 71-63 road victory on January 15, 2022.
Trying to get back on track for the South Carolina Gamecocks
After losing at home to #16 Auburn in their previous game Saturday, South Carolina lost their third straight game and fifth in the last six games. With a 1-5 mark in the conference, the Gamecocks are 8-11 overall and 11th in the conference. Against Auburn, South Carolina fell behind 9-2 less than three minutes into the game and never recovered. At halftime, the Gamecocks trailed by 17 and were down by as many as 26 in the second half. The Gamecocks shot 35.7% from the field, including seven of 28 three-point attempts, and allowed Auburn to shoot 50%. Gregory Jackson II led the Gamecocks with 30 points and eight rebounds.
The Florida Gators are looking to maintain their momentum
On the road, Florida slipped past Mississippi State in a defensive struggle to win for the fourth time in five games. As of this game, the Gators are 11-8 and tied for fifth in the conference with a 4-3 record. Against Mississippi State, Florida erased a 3-0 deficit with an 11-0 run and controlled the first half. At intermission, the Gators led by nine points and by as many as 16 before the Bulldogs rallied. With 4:02 remaining in the game, Florida saw Mississippi State tie the game at 43 only to take a 60-50 lead. After that, the Gators scored just one point but still won. The Gators shot 41.8% from the field, including 10 of 24 from three-point range, and made only five of 10 at the free throw line. Colin Castleton led the Gators with 13 points.
Two teams are heading in opposite directions as conference play continues. As a result of their offensive struggles, the Gamecocks have lost five of their last six games. In the meantime, Florida has won four of five, with their lone loss coming to Texas A&M last week by two points. The Gamecocks are 2-3 on the road this season, while the Gators are 6-3 at home. Despite losing to Georgetown in overtime and Kentucky by three points, they won both of their road games by three points. In addition to losing by 24 to George Washington and a 14-point loss to UAB, they've also lost by 43 to Tennessee and 41 to Texas A&M at home. It's impossible to trust the Gamecocks based on what we've seen from them so far. Take Florida on the road as they earn the victory.
South Carolina Highlights
With a power ranking of 349, South Carolina is ranked #341 in offense (scoring an average of 63.67 per game), #260 in defense (allowing an average of 72.17 points to be scored against them per game) and are 8-11 (9-10 ATS) this season.
Florida Highlights
Florida Gators has a power ranking of 123 and are #153 for offense (scoring an average of 72.94 per game), #83 for defense (giving up an average of 72.17 points per game) and 11-8 (10-9 ATS) overall. South Carolina went 2-1 (2-1 ATS) in their last 3 matchups against Florida.
Curated Picks & Predictions
From the lines set by Sportsbooks, they predict the score to be S.CAR 83.75, FLA 49.75.
50% of SportsJaw predicts Florida Gators to cover.
OddsShark has not made their prediction yet.
62% picked South Carolina Gamecocks on Covers.com
Our ScoreCaster predicts Gamecocks 53 to Gators 95.
Staff Prediction
Our prediction: Gamecocks 53 to Gators 95.
Written by SportsJaw Staff
Categorized as NCAAB Predictions
[+ More]
3

Latest Chatter

[ - ]
Make your picks
to play the
bankroll game
and showcase your betting acumen. Your relevant records will show on your posts.
Total
Over 134.5
Under 134.5
133.5
#1 in NCAAB L.30 (+$1,744)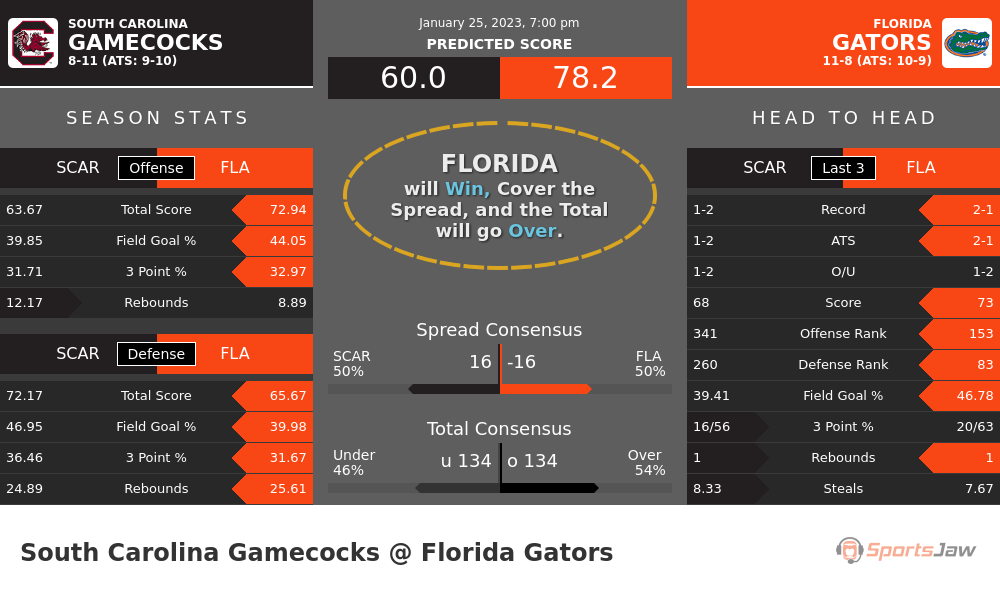 The Gators have a stronger offense and the Gators have a slightly better defense. The Gators won more games straight up and against the spread over their last 3 matchups. Adjusted score predictions based on power rankings and strength of schedule: Gamecocks 60 to Gators 78.