Wed Jan 25 7:00PM
81
70
|   | 1 | 2 | T | ODDS |
| --- | --- | --- | --- | --- |
| CITDL | 35 | 46 | 81 | 138.5 |
| W.CAR | 31 | 39 | 70 | -7 |
The Citadel vs Western Carolina Basketball Predictions & Best Bets
Published on
The Citadel is on the road playing Western Carolina at the Ramsey Center stadium on Wednesday, 1/25/2023 @ 7:00pm EST. Western Carolina -6 was the opening favorite and current line is Western Carolina -6.5.
PREVIEW OF BULLDOGS:
Citadel will play the Catamounts with an 8-12 overall record. The Bulldogs have played 11 games on the road, with a 4-7 record. In 15 games this season, Citadel has been the underdog, with a record of 4-11. The Bulldogs are currently listed as 6.5-point underdogs by the oddsmakers. The Bulldogs' leading scorer is Stephen Clark, who averages 16.9 points per game. At 6.7 rebounds per game, Clark is Citadel's top rebounder in addition to his scoring contributions. With an average of 14.95 points per game, Austin Ash is the team's second-leading scorer behind Clark. The average percentage of shots he hits is 37.8% and he averages 5.1 boards per outing.
PREVIEW OF CATAMOUNTS:
The Western Carolina Catamounts will compete against Citadel today for the 22nd time this season and have an overall record of 11-10. A record of 8-3 has been achieved by the Catamounts when they have been the home team 11 times. There is a betting line in favor of the Catamounts of -6.5 points. The Western Carolina Wildcats are 3-2 on the season and are favored to win in five games. The Catamounts' leading scorer, Tyzhaun Claude, averaged 15.05 points per game heading into today's game. Claude has not only contributed to Western Carolina's scoring, but he has also been the team's top rebounder at 8.33 boards per game. Vonterius Woolbright, who scores 14.0 points per game, is second on the team in scoring behind Claude. The average number of boards he adds per game is 7.2, and he makes 46.4% of his shots.
Our prediction is that the Western Carolina Catamounts will cover the spread and pick up the win in this matchup as -6.5 point favorites. It is expected that both teams will look to get shots from outside, as Western Carolina and Citadel are averaging 10.0 and 10.71 made 3's per game, respectively. One trend that we feel strongly about is the fact that Western Carolina has historically performed well against the spread at home, winning 6-4 ATS (last 10). Getting a wager down on the Catamounts at -6.5 before tonight's matchup is recommended.
The Citadel Highlights
With a power ranking of 355, The Citadel is ranked #235 in offense (scoring an average of 69.37 per game), #328 in defense (allowing an average of 75.63 points to be scored against them per game) and are 8-12 (9-8-2 ATS) this season.
Western Carolina Highlights
Western Carolina Catamounts has a power ranking of 184 and are #97 for offense (scoring an average of 75.60 per game), #166 for defense (giving up an average of 75.63 points per game) and 11-10 (9-9 ATS) overall. The Citadel went 1-2 (2-1 ATS) in their last 3 matchups against Western Carolina.
Curated Picks & Predictions
From the lines set by Sportsbooks, they predict the score to be CITDL 76, W.CAR 63.
50% of SportsJaw predicts Western Carolina Catamounts to cover.
OddsShark predicts Western Carolina will win, the citadel will cover, and the total will go over.
66% picked Western Carolina Catamounts on Covers.com
Our ScoreCaster predicts Bulldogs 79 to Catamounts 72.
Staff Prediction
Our prediction: Bulldogs 79 to Catamounts 72.
Written by SportsJaw Staff
Categorized as NCAAB Predictions
[+ More]
2

Latest Chatter

[ - ]
Make your picks
to play the
bankroll game
and showcase your betting acumen. Your relevant records will show on your posts.
Total
Over 138.5
Under 138.5
141
#1 in NCAAB L.30 (+$1,802)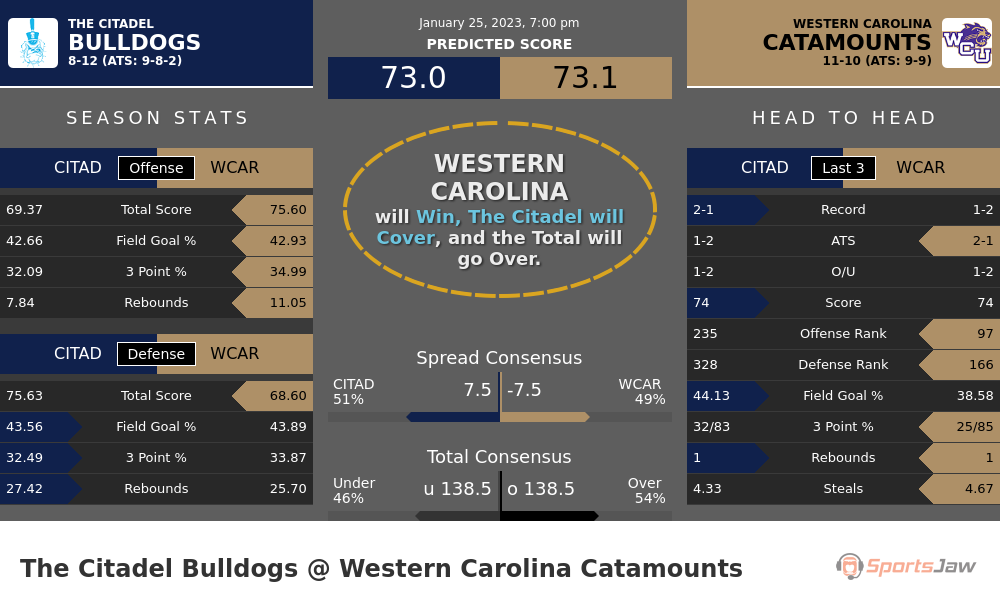 The Catamounts have a slightly better offense and the Catamounts have a stronger defense. The Bulldogs won more games straight up while Catamounts won more ATS over their last 3 matchups. Adjusted score predictions based on power rankings and strength of schedule: Bulldogs 73 to Catamounts 73.