Wed Jan 25 7:00PM
78
63
|   | 1 | 2 | T | ODDS |
| --- | --- | --- | --- | --- |
| NWEST | 43 | 35 | 78 | 128 |
| NEBRS | 30 | 33 | 63 | +2.5 |
Northwestern vs Nebraska Basketball Prediction & Picks
Published on
Northwestern is on the road playing Nebraska at the Pinnacle Bank Arena stadium on Wednesday, 1/25/2023 @ 7:00pm EST. Northwestern -1 was the opening favorite and current line is Northwestern -2.
Northwestern Betting
With a power ranking of 159, Northwestern is ranked #240 in offense (scoring an average of 68.94 per game), #16 in defense (allowing an average of 60.82 points to be scored against them per game) and are 13-5 (10-8 ATS) this season.
Nebraska Betting
Nebraska Cornhuskers has a power ranking of 353 and are #317 for offense (scoring an average of 66.15 per game), #126 for defense (giving up an average of 60.82 points per game) and 10-10 (7-13 ATS) overall. Northwestern went 0-3 (1-2 ATS) in their last 3 matchups against Nebraska.
Curated Picks & Predictions
From the lines set by Sportsbooks, they predict the score to be NWEST 63, NEBRS 67.
The SportsJaw community predicts Northwestern Wildcats to cover (56%)
OddsShark predicts Northwestern will win, cover the spread, and the total will go over.
65% picked Northwestern Wildcats on Covers.com
Rockets vs Wizards Prediction for Tonight's Game
Based on recent trends, the winning team model predicts Northwestern will win Wednesday's game with 58.6% confidence. Based on recent against-the-spread (ATS) trends, the model predicts Northwestern will cover the spread for Wednesday's game with 54.0% confidence. Northwestern Wildcats will win, Cover the Spread and the Total will Go Over.
PREDICTED SCORE: Northwestern 71.4 to Washington 65.7
Scorecasteralgorithmic predictions factor in up-to-date player injuries for both the Wizards and Rockets, plus recent team & player performances and defensive & offensive matchups from recent history.

Categorized as NCAAB Predictions
[+ More]
5

Latest Chatter

[ - ]
Make your picks
to play the
bankroll game
and showcase your betting acumen. Your relevant records will show on your posts.
Total
Over 128
Under 128
130.5
#1 in NCAAB L.30 (+$1,802)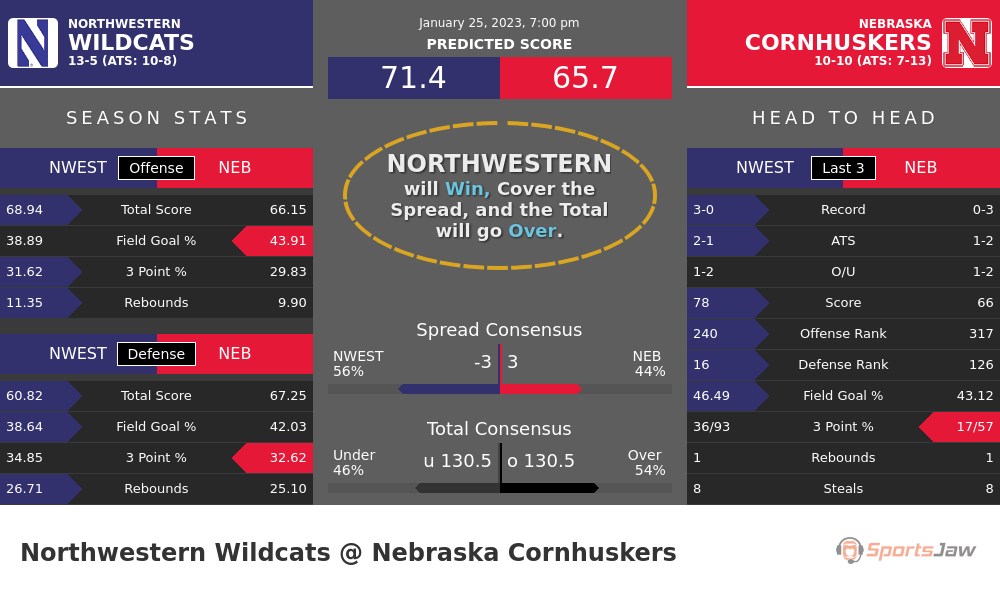 Both teams have a compariable offense and the Wildcats have a slightly better defense. The Wildcats won more games straight up and against the spread over their last 3 matchups. Adjusted score predictions based on power rankings and strength of schedule: Wildcats 71 to Cornhuskers 66.
Northwestern Injuries

G Ty Berry Is upgraded to probable Wednesday vs Nebraska, Ankle
G Julian Roper II Is downgraded to OUT Wednesday vs Nebraska, Ankle
F Luke Hunger Is out for season, Foot
Nebraska Injuries

F Juwan Gary Is out for season, Shoulder
G Emmanuel Bandoumel Is out for season, Knee
G Ramel Lloyd Jr. Is out for season, Redshirt
F Blaise Keita Is out indefinitely, Ankle