Wed Jan 25 7:00PM
58
72
|   | 1 | 2 | T | ODDS |
| --- | --- | --- | --- | --- |
| LOYCH | 40 | 18 | 58 | 138 |
| DUQU | 31 | 41 | 72 | -8 |
Loyola of Chicago vs Duquesne Prediction, Odds and Best Bets
Published on
Loyola of Chicago is on the road playing Duquesne at the UPMC Cooper Fieldhouse stadium on Wednesday, 1/25/2023 @ 7:00pm EST. Duquesne -10 was the opening favorite and current line is Duquesne -8.5.
When they face the Duquesne Dukes (13-7, 3-4 A-10) on Wednesday night, the Loyola-Chicago Ramblers (7-12, 1-6 A-10) will be looking for their second consecutive win. The Ramblers won 67-55 over St. Bonaventure as 1.5-point favorites. In their last game, the Dukes were seven-point favorites over Fordham, but lost 65-58.
The Ramblers are hoping to snap a four-game losing streak on the road
With a win over the Bonnies in their last game, they ended their seven-game losing streak. They will try to maintain momentum by beating the Dukes, which will give them their second win in a row and end their four-game losing streak on the road. There are 67.1 points scored per game by Loyola-Chicago. In their last game, they scored 67 points, making 51.1 percent of their field goals and 26.3 percent of their three-pointers. With 16 points and four rebounds, Tom Welch led the Ramblers. Wilson finished with 11 points and three rebounds, while Hutson had 10 points and three rebounds.
The Dukes are trying to snap a two-game losing streak
On the other hand, the Dukes have lost two straight games at the moment. They will try to snap their streak by winning against the Ramblers, giving them their fourth win in seven games. There are 74.1 points scored per game by Duquesne. The team scored 58 points in their last game, making 30.6 percent of their field goals and 18.8 percent of their three-point shots. Ten points and nine rebounds were recorded by Dae Dae Grant for the Dukes. The game was won by Jimmy Clark III, who had nine points and seven rebounds, and David Dixon, who had eight points and five rebounds. As a team, Duquesne has played well defensively, allowing 70.3 points per game. In their last game, they gave up 65 points, and must keep that up if they want to win.
Six of the Dukes' last 10 games have been won at home, and 11 of their last 14 have been at home. At home, they score more than 76 points per game, which is very good offensively. Over 70 percent of their free throws have been made at the charity stripe. At home, they grab more than 13 offensive rebounds per game, resulting in extra scoring chances. As well as protecting the ball well, they won't give the Ramblers a lot of chances to score. Despite giving up more than 73 points per game on the road, the Ramblers will have difficulty slowing down the Dukes. Four out of their last five road games have been losses for the Ramblers. The team has struggled offensively, especially on the road where they score fewer than 62 points per contest. Their free throw shooting isn't as good as the Dukes', and they have trouble rebounding the ball.
Loyola of Chicago Highlights
With a power ranking of 324, Loyola of Chicago is ranked #298 in offense (scoring an average of 67.11 per game), #282 in defense (allowing an average of 73.00 points to be scored against them per game) and are 7-12 (4-15 ATS) this season.
Duquesne Highlights
Duquesne Dukes has a power ranking of 93 and are #116 for offense (scoring an average of 74.95 per game), #223 for defense (giving up an average of 73.00 points per game) and 13-7 (11-9 ATS) overall. Loyola of Chicago went 0-0 (0-0 ATS) in their last 3 matchups against Duquesne.
Curated Picks & Predictions
Based on the current lines, Oddsmakers predict the score to be LOYCH 77.5, DUQU 60.5.
52% of SportsJaw players predict Duquesne Dukes to cover.
OddsShark's prediction is Duquesne will win, cover the spread, and the total will go over.
67% picked Duquesne Dukes on Covers.com
SportsJaw's ScoreCaster prediction: Ramblers 60 to Dukes 73.
Staff Prediction
Our prediction: Ramblers 60 to Dukes 73.
Written by SportsJaw Staff
Categorized as NCAAB Predictions
[+ More]
4

Latest Chatter

[ - ]
Make your picks
to play the
bankroll game
and showcase your betting acumen. Your relevant records will show on your posts.
Total
Over 138
Under 138
139
#1 in NCAAB L.30 (+$1,744)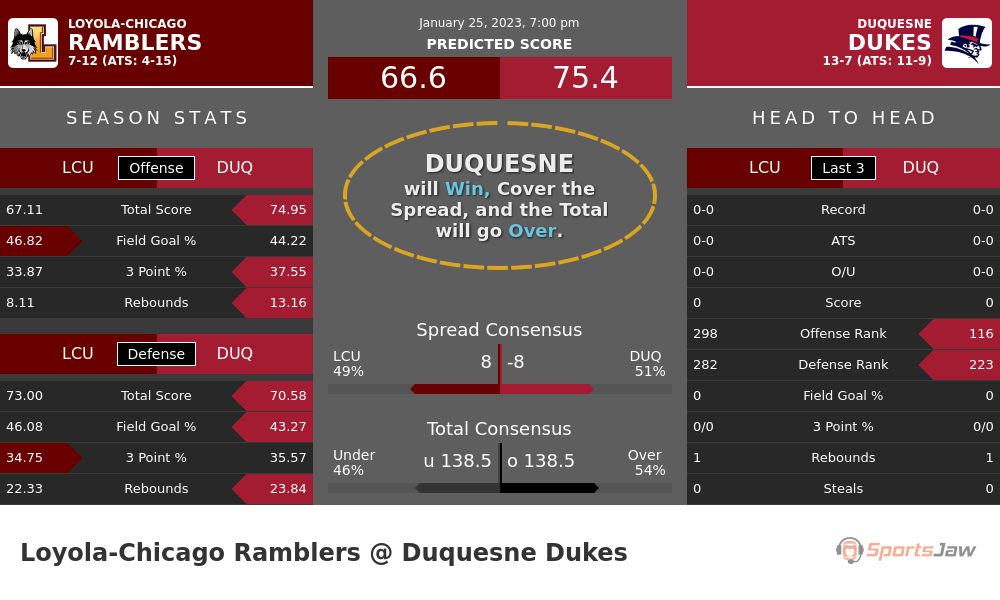 The Dukes have a stronger offense and both teams have a compariable defense. The Rams won more games straight up while Patriots won more ATS over their last 3 matchups. Adjusted score predictions based on power rankings and strength of schedule: Ramblers 67 to Dukes 75.
Loyola of Chicago Injuries

F Saint Thomas Is "?" , Undisclosed
G Jayden Dawson Is "?" , Hand