Wed Jan 25 7:00PM
79
81
|   | 1 | 2 | T | ODDS |
| --- | --- | --- | --- | --- |
| WAKE | 39 | 40 | 79 | 148.5 |
| PITT | 49 | 32 | 81 | -3 |
Wake Forest vs Pittsburgh Prediction, Odds and Best Bets
Published on
Wake Forest is on the road playing Pittsburgh at the Petersen Events Center stadium on Wednesday, 1/25/2023 @ 7:00pm EST. Pittsburgh -2 was the opening favorite and current line is Pittsburgh -3.
A traditional ACC power and an ACC upstart will square off when the Wake Forest Demon Deacons travel to Pittsburgh to take on the Pitt Panthers. Wake Forest has a 14-6 record on the season and a 6-3 conference record. In contrast, the Panthers have a 13-7 overall record and are 6-3 in the ACC. There will be an opening tap at 7:00 pm Eastern Standard Time.
It's time to get back
With a 25-win season and a trip to the NCAA Tournament last season, the Wake Forest Demon Deacons returned to form. In the highly competitive ACC this season, Wake seems to be a team that wants to get back to the NCAA Tournament with 14 wins overall. With four straight victories, including a win over #19 Clemson, the Deacons lost to #10 Virginia at home 76-67. Cameron Hildreth added 16 points and seven rebounds to Damari Monanto's 25 points for Wake Forest. The ACC is not even halfway over yet. We still have Pitt to play, and then we're only halfway through. Our fight was incredible. Although we didn't play very well on defense in the first half, the second half was really effective, and that's why the score was what it was. Even though we were only down 10 at halftime, we felt pretty confident.
Panthers with a lot of energy
In addition to winning 13 games this season, the Pitt Panthers have already matched last season's six conference wins. A chance to surpass last year's conference win total was lost to Florida State by a score of 71-64 on Saturday afternoon. In the Panthers' third conference loss this year, Florida State raked in 10 three-point field goals. Jamarius Burton and Blake Hinson combined for 36 points for the Panthers. It is the Panthers' defense that has done most of the damage, not Wake Forest's. Currently, Pitt's scoring defense is 116th. Panthers opponents are struggling to shoot at a high level, with their field goal percentage coming in 46th. Additionally, Pitt is ranked 74th in three-point defense. In terms of total rebounding, Pittsburgh comes in 52nd. The Pittsburgh Panthers are ranked 88th in scoring offense on the offensive side of the floor.
Even without last year's leading rebounder and scorer, Pitt has had a surprisingly successful season. They have done well against teams with length, such as North Carolina and Syracuse. The Panthers have had difficulty scoring and spreading the floor against teams that can score. This season, Pitt has lost to Clemson and Florida State, both of whom stretched the field. Also, Duke and Michigan, teams with length, were able to dispatch the Panthers by combining for 15 three-pointers. The 28th highest 3pt field goal percentage belongs to Wake Forest. In the same way that Florida State exploited the Panther, the Deacons will exploit the Panther as well. As a result, they will spread the floor and force the Panthers' big men to get out on shooters. Unfortunately, this formula won't work.
Wake Forest Highlights
With a power ranking of 57, Wake Forest is ranked #51 in offense (scoring an average of 77.89 per game), #259 in defense (allowing an average of 72.11 points to be scored against them per game) and are 14-6 (11-9 ATS) this season.
Pittsburgh Highlights
Pittsburgh Panthers has a power ranking of 139 and are #126 for offense (scoring an average of 74.63 per game), #131 for defense (giving up an average of 72.11 points per game) and 13-7 (14-5-1 ATS) overall. Wake Forest went 1-2 (1-2 ATS) in their last 3 matchups against Pittsburgh.
Curated Picks & Predictions
Based on the current lines, Oddsmakers predict the score to be WAKE 77, PITT 71.
50% of SportsJaw players predict Pittsburgh Panthers to cover.
OddsShark's prediction is Pittsburgh will win, wake forest will cover, and the total will go under.
65% picked Pittsburgh Panthers on Covers.com
SportsJaw's ScoreCaster prediction: Demon Deacons 77 to Panthers 88.
Staff Prediction
Our prediction: Demon Deacons 77 to Panthers 88.
Written by SportsJaw Staff
Categorized as NCAAB Predictions
[+ More]
4

Latest Chatter

[ - ]
Make your picks
to play the
bankroll game
and showcase your betting acumen. Your relevant records will show on your posts.
Total
Over 148.5
Under 148.5
145.5
#1 in NCAAB L.30 (+$1,744)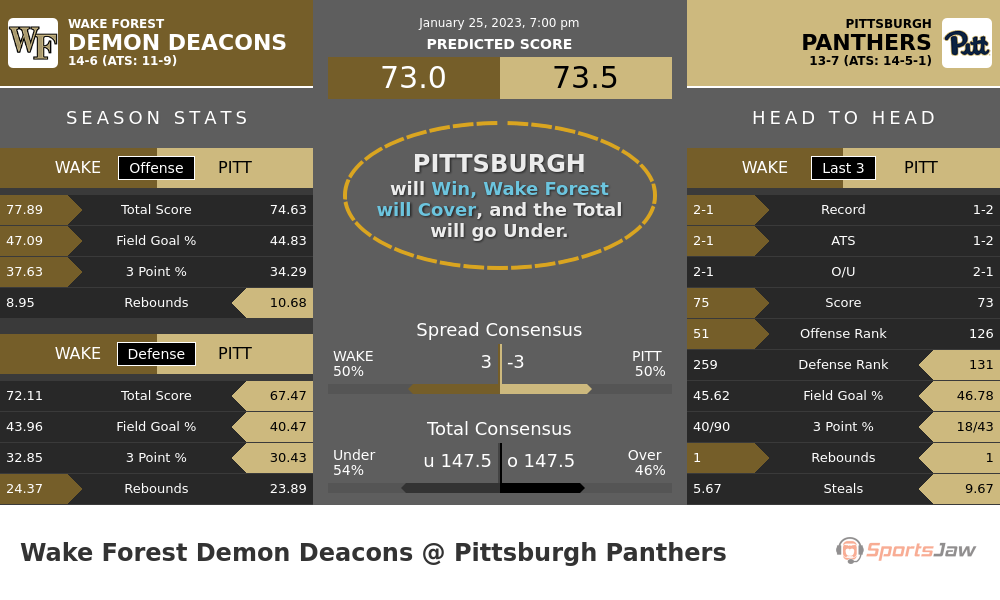 The Demon Deacons have a slightly better offense and the Panthers have a slightly better defense. The Demon Deacons won more games straight up and against the spread over their last 3 matchups. Adjusted score predictions based on power rankings and strength of schedule: Demon Deacons 73 to Panthers 74.
Pittsburgh Injuries

F John Hugley Is out for season, Illness
G/F William Jeffress Jr. Is out for season, Foot
G Dior Johnson Is out for season, Redshirt