Wed Jan 25 7:00PM
76
79
|   | 1 | 2 | 3 | T | ODDS |
| --- | --- | --- | --- | --- | --- |
| S.FLA | 34 | 36 | 6 | 76 | 138.5 |
| TEMPL | 34 | 36 | 9 | 79 | -5.5 |
South Florida vs Temple Basketball Predictions & Best Bets
Published on
South Florida is on the road playing Temple at the Liacouras Center stadium on Wednesday, 1/25/2023 @ 7:00pm EST. Temple -5.5 was the opening favorite and current line is Temple -6.
The Temple Owls and South Florida Bulls will face off on Wednesday at The Liacouras Center. There will be a 7:00 p.m. tip-off. Six-point favorites, the Owls are favored by 139.5 points. As a result of its victory over Central Florida in its last game, USF improved to 9-11 SU and 12-8 ATS. In conference play, it has a record of 2-5. A 12-9 SU and 13-7-1 ATS record led Temple to a win over Houston in its last game. In AAC competition, it is 6-2. The first meeting between these teams was won by South Florida, while the subsequent two were won by Temple. It is a 14-6 record for the Owls against the Bulls all-time.
Against UCF, USF picked up a key win
South Florida, which is 2-5 in the American Athletic Conference, is four games back of the lead. In the conference's preseason poll, the Bulls were predicted to finish ninth. After taking a five-game lead into halftime against the Golden Knights, USF won its last game by 13 points. In addition to shooting 44.3 percent from the field, the Bulls made 20-for-22 free throws. Additionally, they had 15 offensive rebounds, outrebounding their opponents 41-30. The Tigers scored 71.8 points on 44.2 percent shooting, including 33.7 percent from three-point range. Free throws are converted at 65.7 percent, and 33.1 rebounds are averaged, resulting in a +2.5 rebound margin.
In the AAC race, Temple is on the heels of Houston
The Temple Owls won a thrilling game against Houston, the number one team in the country, over the weekend. It was predicted that the Owls would finish fifth in the preseason AAC poll, but they now trail the Cougars by half a game. Temple shot just 31.1 percent from the field (14-for-45) against top-ranked Houston, but held its own on the glass and made 20-of-22 free throws. At halftime, the Owls were tied at 30 and didn't back down, showing the Philly toughness for which fans have cheered. On 41.8 percent shooting, the Owls scored 68.6 points, including 31.3 percent from beyond the arc. The team averages 32.4 rebounds and converts 77.9 percent of its free throws.
Overall, the Owls have gone 4-0 against the spread and have gone 5-1 against the spread after winning an ATS game. A key conference win on the road was one of their most impressive wins so far this season. A USF team that just picked up a decisive win of its own, they'll win and cover. South Florida will see Temple's hard-nosed defense in action, which may not be explosive offensively, but will surely get the job done. Despite keeping this game close for most of the game, the Bulls lack the offensive talent to defeat an Owls team that's committed to defense after a big win.
South Florida Highlights
With a power ranking of 214, South Florida is ranked #178 in offense (scoring an average of 71.80 per game), #206 in defense (allowing an average of 70.15 points to be scored against them per game) and are 9-11 (12-8 ATS) this season.
Temple Highlights
Temple Owls has a power ranking of 149 and are #238 for offense (scoring an average of 69.25 per game), #155 for defense (giving up an average of 70.15 points per game) and 12-9 (13-7-1 ATS) overall. South Florida went 2-1 (2-1 ATS) in their last 3 matchups against Temple.
Curated Picks & Predictions
From the lines set by Sportsbooks, they predict the score to be S.FLA 75.75, TEMPL 63.75.
The SportsJaw community predicts South Florida Bulls to cover (51%)
OddsShark predicts Temple will win, south florida will cover, and the total will go over.
69% picked Temple Owls on Covers.com
Our ScoreCaster predicts Bulls 67 to Owls 85.
Staff Prediction
Our prediction: Bulls 67 to Owls 85.
Written by SportsJaw Staff
Categorized as NCAAB Predictions
[+ More]
3

Latest Chatter

[ - ]
Make your picks
to play the
bankroll game
and showcase your betting acumen. Your relevant records will show on your posts.
Total
Over 138.5
Under 138.5
136.5
#1 in NCAAB L.30 (+$1,744)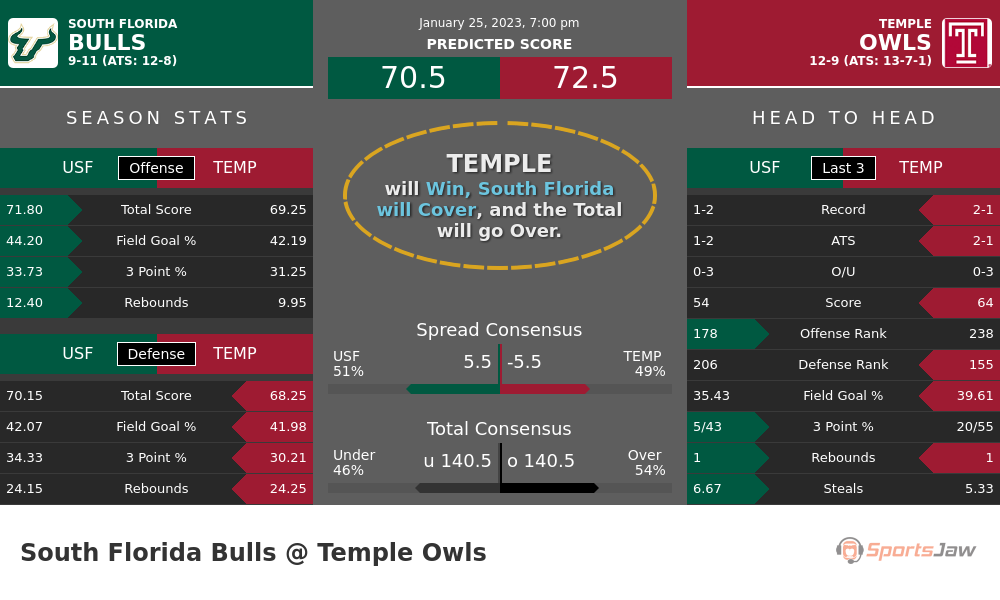 Both teams have a compariable offense and both teams have a compariable defense. The Owls won more games straight up and against the spread over their last 3 matchups. Adjusted score predictions based on power rankings and strength of schedule: Bulls 71 to Owls 73.