Wed Jan 25 7:00PM
82
71
|   | 1 | 2 | T | ODDS |
| --- | --- | --- | --- | --- |
| HOUST | 38 | 44 | 82 | 128 |
| UCF | 34 | 37 | 71 | +9.5 |
Houston vs Central Florida Prediction, Odds and Best Bets
Published on
Houston is on the road playing Central Florida at the Addition Financial Arena stadium on Wednesday, 1/25/2023 @ 7:00pm EST. Houston -7 was the opening favorite and current line is Houston -9.5.
The Houston Cougars travel to UCF on Wednesday night looking to bounce back from a disastrous loss. As a result of its 56-55 loss to Temple on Sunday, Houston lost its nine-game winning streak and was knocked off the top spot in the polls. Houston gave UCF everything it could handle on Dec. 31, losing by six points.
After a shocking loss, the Cougars hope to bounce back
As Houston is coming off just its second loss of the season, it is in an unfamiliar position heading into this game. In the first nine games of the season, the Cougars won nine games before losing to then-No. In the wake of their 71-65 loss to No. 8 Alabama, they proceeded on to win their next nine games. On Sunday, they lost to Temple as 19.5-point favorites, ending their nine-game winning streak. A 7-0 run by Houston tied the game with 1:30 left, but Damian Dunn split a pair of free throws to give Temple the victory. On Houston's final two possessions, Jamal Shead missed a 3-pointer and a driving layup.
Defense is also an imperative part of the Knights' game
The Knights have dropped consecutive games for the first time this season, losing to Tulane and South Florida on the road. Through the first 17 games of the season, the Knights were 13-4, losing to UNC Asheville, Miami, Missouri, and Houston - all by six or fewer points. Following the loss to the Cougars, they racked up a three-game winning streak, defeating East Carolina, SMU and Memphis. Trying to avoid falling back to .500 in conference play, this is their first home game since winning in double overtime against the Tigers.
Against a team that took Houston to the wire earlier this season, I'm not willing to lay nearly double digits on Houston. The Cougars are coming off their poorest performance of the season and will face a tough opponent on the road. Despite being a huge underdog, UCF easily covered the spread at Houston earlier this season. With their height and defensive tenacity, the Knights can disrupt Houston's offensive glass success. In a game this large, the pace will be snail's pace, adding some extra value.
Houston Highlights
With a power ranking of 2, Houston is ranked #81 in offense (scoring an average of 76.16 per game), #1 in defense (allowing an average of 53.26 points to be scored against them per game) and are 18-2 (13-7 ATS) this season.
Central Florida Highlights
Central Florida Golden Knights has a power ranking of 102 and are #166 for offense (scoring an average of 72.11 per game), #56 for defense (giving up an average of 53.26 points per game) and 13-6 (10-7-2 ATS) overall. Houston went 0-3 (1-2 ATS) in their last 3 matchups against Central Florida.
Curated Picks & Predictions
From the lines set by Sportsbooks, they predict the score to be HOUST 54.25, UCF 73.25.
The SportsJaw community predicts Houston Cougars to cover (55%)
OddsShark has not made their prediction yet.
55% picked Central Florida Golden Knights on Covers.com
Our ScoreCaster predicts Cougars 73 to Knights 55.
Staff Prediction
Our prediction: Cougars 73 to Knights 55.
Written by SportsJaw Staff
Categorized as NCAAB Predictions
[+ More]
4

Latest Chatter

[ - ]
Make your picks
to play the
bankroll game
and showcase your betting acumen. Your relevant records will show on your posts.
Total
Over 128
Under 128
122.25
#1 in NCAAB L.30 (+$1,744)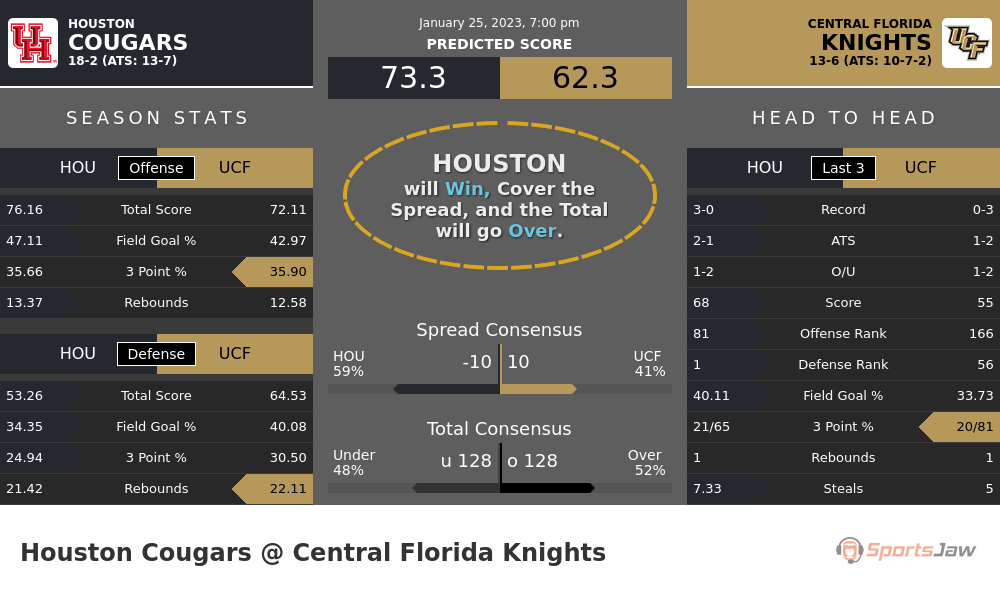 The Cougars have a slightly better offense and the Cougars have a significantly better defense. The Cougars won more games straight up and against the spread over their last 3 matchups. Adjusted score predictions based on power rankings and strength of schedule: Cougars 73 to Knights 62.