Wed Jan 25 7:00PM
75
81
|   | 1 | 2 | T | ODDS |
| --- | --- | --- | --- | --- |
| IUPUI | 40 | 35 | 75 | 139.5 |
| IU-FW | 40 | 41 | 81 | -18.5 |
IUPU-Indianapolis vs IPFW Basketball Picks & Predictions
Published on
IUPU-Indianapolis is on the road playing IPFW at the Allen County War Memorial Coliseum stadium on Wednesday, 1/25/2023 @ 7:00pm EST. IPFW -17.5 was the opening favorite and current line is IPFW -18.
Purdue Statistics
Thursday night, the Purdue Fort Wayne Mastodons conclude a short two-game homestand against IUPUI in Indianapolis, IN. Following a four-point loss to Milwaukee to end a two-game winning streak, PFW comes into Thursday five games above .500. As a result of making 48.3% of their shots in the game, Milwaukee scored 74 points against the Mastodons. Despite scoring 70 points, Purdue Fort Wayne only shot 38.7% from the floor and 68.4% from the free throw line. In addition to his team-leading 4.2 assists per game, Jarred Godfrey averages 16.5 points on 39.4% shooting from the field for Purdue Fort Wayne this season. Second on the team with 12.1 points is Bobby Planutis, and third with 9.9 points is Damien Chung Qui. Kpedi leads the team with 8.2 rebounds per game and averages 6.2 points.
IUPUI Statistics
IUPUI returns home Thursday night riding a four-game skid following a seven-point loss to Robert Morris as one of the lowest-ranked teams in the country. In the loss, IUPUI scored 70 points, including 41 in the second half on 46.2% shooting, but committed 17 turnovers. IUPUI struggled defensively as Robert Morris poured in 77 points after a 44-point first half on nearly 49% shooting. With 13.2 points on 49.1% shooting and 2.8 assists per game, Jlynn Counter leads the IUPUI offense this season. Only Bryce Monroe scores in double figures, while Vincent Brady II contributes a third-highest 9.8 points per game. Combined with his 9.6 points and 6.3 rebounds, Chris Osten leads the team in rebounding.
In this matchup, Purdue Fort Wayne is far superior to IUPUI, which is a bottom feeder. On both sides of the ball, Purdue Fort Wayne will dominate this game as they coast to an easy victory and cover. Get the job done Thursday night on the road with the Mastodons. The Purdue Fort Wayne Mastodons are predicted to win and cover 77-55 in the final score.
IUPU-Indianapolis Highlights
With a power ranking of 352, IUPU-Indianapolis is ranked #354 in offense (scoring an average of 61.85 per game), #311 in defense (allowing an average of 74.65 points to be scored against them per game) and are 3-18 (10-9 ATS) this season.
IPFW Highlights
IPFW Mastodons has a power ranking of 201 and are #86 for offense (scoring an average of 76.21 per game), #78 for defense (giving up an average of 74.65 points per game) and 13-7 (8-10 ATS) overall. IUPU-Indianapolis went 2-1 (0-3 ATS) in their last 3 matchups against IPFW.
Curated Picks & Predictions
Based on the current lines, Oddsmakers predict the score to be IUPUI 86.5, IU-FW 50.5.
51% of SportsJaw players predict IPFW Mastodons to cover.
OddsShark has not made their prediction yet.
56% picked IUPU-Indianapolis Jaguars on Covers.com
SportsJaw's ScoreCaster prediction: Jaguars 48 to Mastodons 86.
Staff Prediction
Our prediction: Jaguars 48 to Mastodons 86.
Written by SportsJaw Staff
Categorized as NCAAB Predictions
[+ More]
3

Latest Chatter

[ - ]
Make your picks
to play the
bankroll game
and showcase your betting acumen. Your relevant records will show on your posts.
Total
Over 139.5
Under 139.5
137.5
#1 in NCAAB L.30 (+$1,744)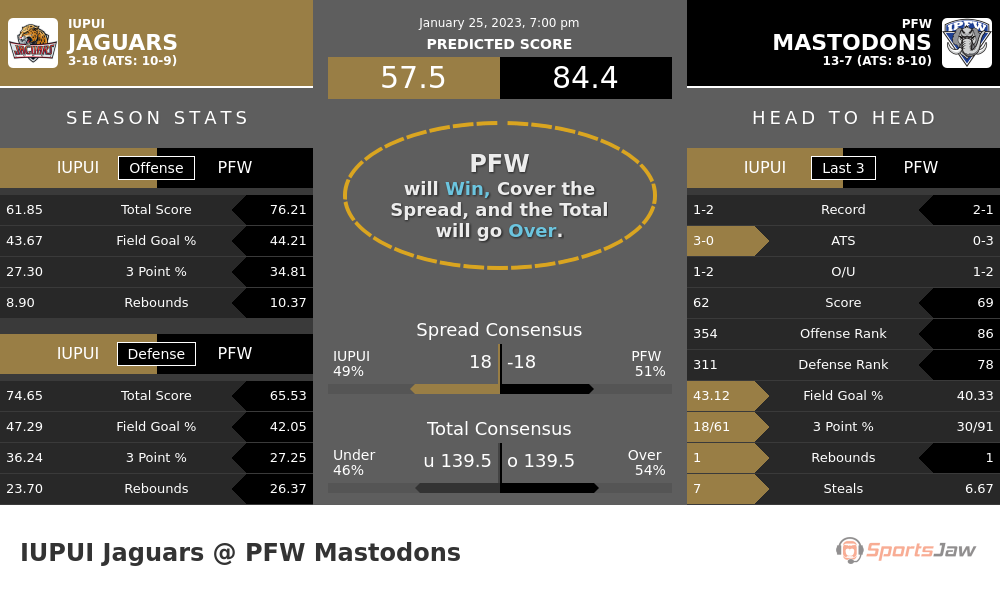 The Mastodons have a significantly better offense and the Mastodons have a stronger defense. The Mastodons won more games straight up while Jaguars won more ATS over their last 3 matchups. Adjusted score predictions based on power rankings and strength of schedule: Jaguars 58 to Mastodons 84.
IUPU-Indianapolis Injuries

G Daylan Hamilton Is "?" Wednesday vs IPFW, Undisclosed
G Amhad Jarrard Is "?" Wednesday vs IPFW, Undisclosed