Wed Jan 25 7:00PM
79
68
|   | 1 | 2 | T | ODDS |
| --- | --- | --- | --- | --- |
| FORDM | 28 | 51 | 79 | 131 |
| STBON | 30 | 38 | 68 | -4 |
Fordham vs St. Bonaventure Basketball Predictions & Best Bets
Published on
Fordham is on the road playing St. Bonaventure at the Reilly Center stadium on Wednesday, 1/25/2023 @ 7:00pm EST. St. Bonaventure -3 was the opening favorite and current line is St. Bonaventure -4.
The Fordham Rams and St. Bonaventure Bonnies will face off in New York on Wednesday night as they square off in the Atlantic 10 Conference. Fordham has a 15-4 overall record, but their conference record is just 3-3. Despite a 10-10 record, the Bonnies are 4-3 in the Atlantic 10. The opening tap will take place at 7:00 p.m. Eastern Standard Time.
A team of road warriors
Having already won 15 games this season, the Fordham Rams have shown toughness in the Atlantic Ten with some quality wins. The Fordham Rams defeated Duquesne 65-58 on the road on Saturday. Since 2007, Fordham has not won consecutive Atlantic 10 road games. As a result, Fordham is now .500 in league play for the first time since 2007. Khalid Moore led Fordham with 19 points and seven rebounds. In the second half, Darius Quisenberry scored 12 points, including 14 in the first half. Just 18% of Duquesne's 3pt attempts were made by Fordham's defense.
In the middle of the pack
Based on their current record, the St. Bonaventure Bonnies are in the middle of the pack so far this season. In their last five games, the Bonnies have lost three of ten. As far as the Atlantic 10 standings are concerned, they are around the middle. Loyola Chicago dropped a winnable game against the Bonnies on Saturday afternoon, 67-55. As a team, St. Bonaventure shot 31 percent from the field overall and 4-of-22 from long range. Chad Venning led the Bonnies with 16 points.
A 9-1 record at home compared to a 0-7 mark on the road shows the Bonnies' ups and downs this season. In 20 years of A-10 play, Fordham hasn't won three straight road games. The Rams have struggled to protect the basketball, and those turnovers will come back to haunt them against a Bonnies team that plays well at home. Fordham is likely to struggle on defense and St. Bonaventure will take advantage of turnovers to pick up its 10th home win of the season.
Fordham Highlights
With a power ranking of 130, Fordham is ranked #168 in offense (scoring an average of 72.11 per game), #135 in defense (allowing an average of 67.67 points to be scored against them per game) and are 15-4 (11-7-1 ATS) this season.
St. Bonaventure Highlights
St. Bonaventure Bonnies has a power ranking of 212 and are #284 for offense (scoring an average of 67.68 per game), #101 for defense (giving up an average of 67.67 points per game) and 10-10 (12-8 ATS) overall. Fordham went 3-0 (3-0 ATS) in their last 3 matchups against St. Bonaventure.
Curated Picks & Predictions
From the lines set by Sportsbooks, they predict the score to be FORDM 70.5, STBON 62.5.
54% of SportsJaw predicts St. Bonaventure Bonnies to cover.
OddsShark has not made their prediction yet.
64% picked St. Bonaventure Bonnies on Covers.com
Our ScoreCaster predicts Rams 65 to Bonnies 77.
Staff Prediction
Our prediction: Rams 65 to Bonnies 77.
Written by SportsJaw Staff
Categorized as NCAAB Predictions
[+ More]
2

Latest Chatter

[ - ]
Make your picks
to play the
bankroll game
and showcase your betting acumen. Your relevant records will show on your posts.
Total
Over 131
Under 131
131.5
#1 in NCAAB L.30 (+$1,744)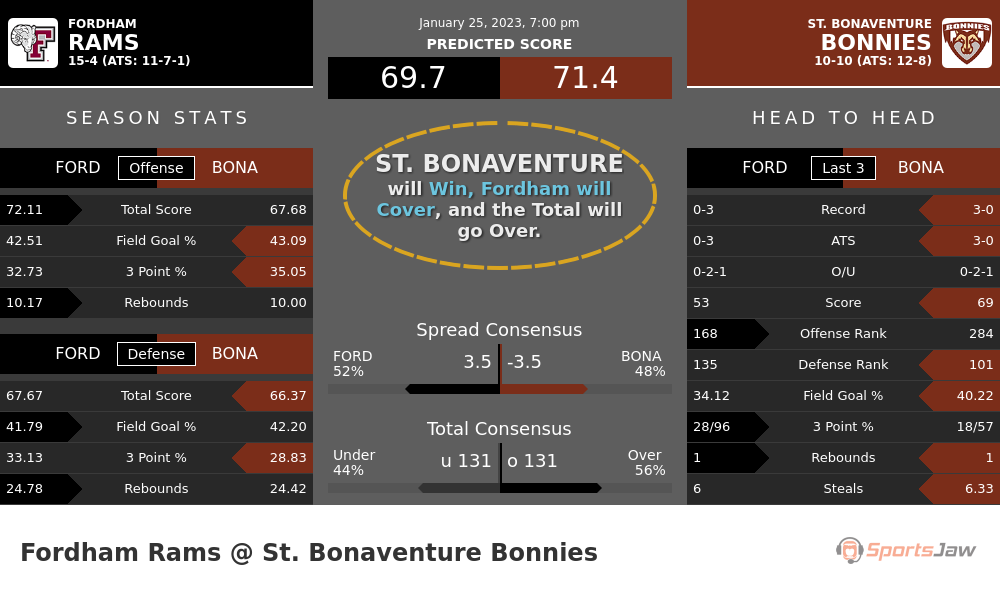 The Rams have a slightly better offense and both teams have a compariable defense. The Bonnies won more games straight up and against the spread over their last 3 matchups. Adjusted score predictions based on power rankings and strength of schedule: Rams 70 to Bonnies 71.