Wed Jan 25 7:00PM
52
72
|   | 1 | 2 | T | ODDS |
| --- | --- | --- | --- | --- |
| GMASN | 23 | 29 | 52 | 136.5 |
| VACOM | 39 | 33 | 72 | -8.5 |
George Mason vs Va. Commonwealth Basketball Predictions & Best Bets
Published on
George Mason is on the road playing Va. Commonwealth at the Stuart Siegel Center stadium on Wednesday, 1/25/2023 @ 7:00pm EST. Va. Commonwealth -8 was the opening favorite and line hasn't moved.
The George Mason Patriots will travel 90 minutes down I-95 to Richmond to take on the VCU Rams at the Siegel Center on ESPN+. GMU and VCU have met every season since 1981, and the Rams lead the series 43-20.
Statistics from George Mason University
After beating Rhode Island in Kingston, George Mason improved to 12-8. With a 15-point lead at halftime, the Patriots held on to defeat the Rams 79-72. As a team, GMU scores 71.5 points per game, allows 67.7 points per game, and shoots 47.1% from the field. With each of their first seven conference games traded, there's a chance the trend continues here against their in-state opponents. In A-10 play, the Patriots are 4-3, so they're in the mix. They just need to find some consistency. Kim English's team is led by Josh Oduro, who has been tearing up opponents of late. Three of the last four games have seen him score 22 points or more, and he posted a double-double against the Rams. With 14.9 points and 8.1 rebounds, Oduro leads the team. URI won by 20 points, and Devon Cooper now averages 11.1 points a game.
Statistics from the Virginia Commonwealth
After beating Richmond at the Robins Center, Virginia Commonwealth improved to 15-5. The Rams won the first Cap City Classic of the season by 14 points after jumping out to a double-digit lead at halftime. Currently, VCU is scoring 71.5 points per game, allowing 64.1 points per game, and shooting 45.9% from the field. As a team, VCU has won ten of its last eleven games since beginning the season 5-4. It will be a great opportunity for the Rams to double up on their in-state wins, as they currently stand atop the A-10. As usual, VCU defends well, and Adrian Baldwin Jr. is their third-year starter. He's averaging 12.1 points per game and a team-best 5.9 assists per game despite scoring 19 points against Davidson. Brandon Johns Jr., a Michigan transfer, scored 22 points against Duquesne and leads VCU in scoring (12.5 points per game), as well as grabbing 4.8 rebounds per game. Sophomore forward Jamir Watkins double-doubled in the win over UR, and he now averages 10.5 points and 5.3 rebounds per game.
This season, George Mason is 11-9 against the spread and 9-11 over/under. Against the spread, Virginia Commonwealth has a record of 9-10-1, while its over/under mark is 10-10. Over the past 11 Wednesday games played by GMU, the Over is 9-2. VCU's last five games against a team with a winning record have ended in defeat. Both VCU and GMU have enjoyed strong starts to conference play. I expect the Patriots to come down to Richmond with a chip on their shoulders and play well against the Rams. The number can be hit if GMU brings a fight, as it has in six of VCU's last eight games at home. This Atlantic 10 game should be taken over.
George Mason Highlights
With a power ranking of 161, George Mason is ranked #196 in offense (scoring an average of 71.11 per game), #130 in defense (allowing an average of 67.47 points to be scored against them per game) and are 12-8 (11-9 ATS) this season.
Va. Commonwealth Highlights
Va. Commonwealth Rams has a power ranking of 28 and are #183 for offense (scoring an average of 71.45 per game), #49 for defense (giving up an average of 67.47 points per game) and 15-5 (8-10-2 ATS) overall. George Mason went 2-1 (1-2 ATS) in their last 3 matchups against Va. Commonwealth.
Curated Picks & Predictions
From the lines set by Sportsbooks, they predict the score to be GMASN 76.25, VACOM 60.25.
54% of SportsJaw predicts Va. Commonwealth Rams to cover.
OddsShark has not made their prediction yet.
58% picked Va. Commonwealth Rams on Covers.com
Our ScoreCaster predicts Patriots 57 to Rams 86.
Staff Prediction
Our prediction: Patriots 57 to Rams 86.
Written by SportsJaw Staff
Categorized as NCAAB Predictions
[+ More]
3

Latest Chatter

[ - ]
Make your picks
to play the
bankroll game
and showcase your betting acumen. Your relevant records will show on your posts.
Total
Over 136.5
Under 136.5
138
#1 in NCAAB L.30 (+$1,744)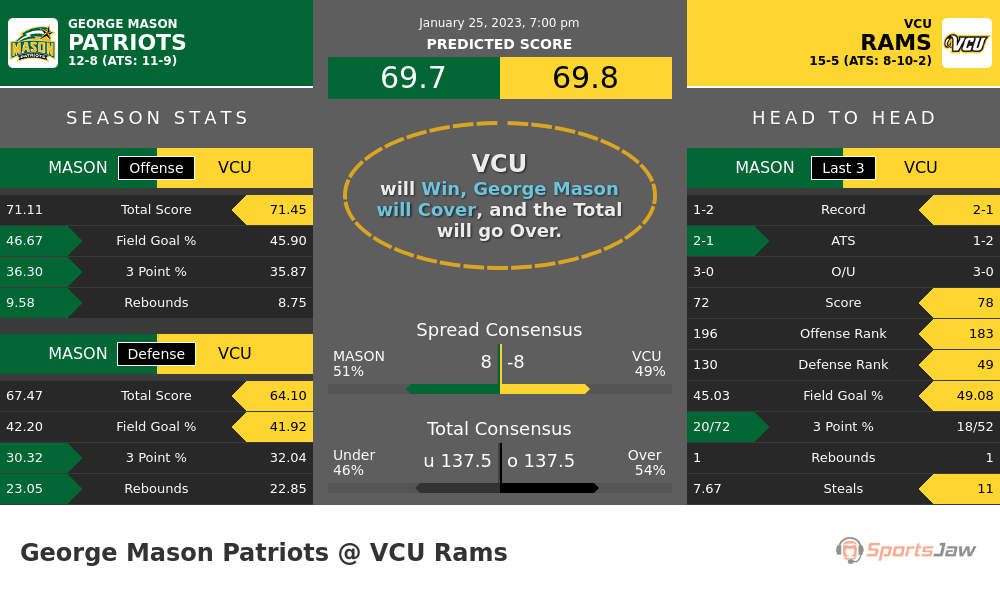 Both teams have a compariable offense and the Rams have a slightly better defense. The Rams won more games straight up while Patriots won more ATS over their last 3 matchups. Adjusted score predictions based on power rankings and strength of schedule: Patriots 70 to Rams 70.