Wed Nov 22 8:00PM
99
112
|   | 1 | 2 | 3 | 4 | T | ODDS |
| --- | --- | --- | --- | --- | --- | --- |
| PHI | 20 | 29 | 30 | 20 | 99 | 221 |
| MIN | 37 | 20 | 34 | 21 | 112 | -7 |
Philadelphia 76ers vs
Minnesota Timberwolves
Predictions & Preview
76ers Look to Extend Win Streak in Minnesota as Part of Back-to-Back Games
Philadelphia 76ers head to the Target Center Wednesday night for a road meeting with the Minnesota Timberwolves, making the second leg of a back-to-back. The Timberwolves are coming off a win against the New York Knicks, and tip-off is at 8:10 PM ET.
Game Info
When: Wednesday, 11/22/2023 @ 8:00pm EST
Where: Target Center Stadium
Betting Odds
Moneyline: 76ers +136 | Timberwolves -162
Spread: 76ers +3.5 (-110) | Timberwolves -3.5 (-110)
Total: Over/Under 220.5 (-110)
Based on the moneyline, the implied probability that Minnesota will win straight-up is 62%.
Philadelphia vs Minnesota Stats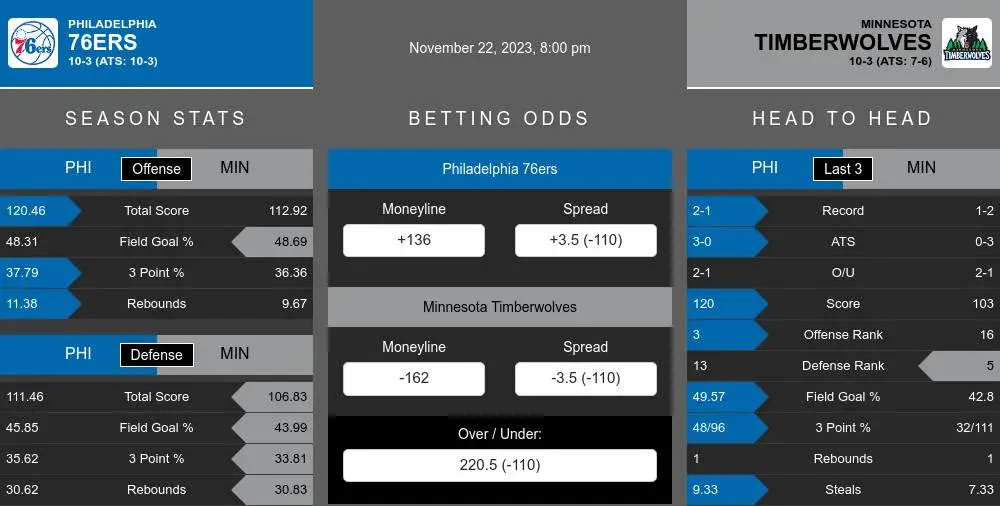 Philadelphia 76ers
The Philadelphia 76ers are in action Tuesday against the Cleveland Cavaliers; they come into the game with a power ranking of 4 and 10-3 record. On two nights ago, they recorded a 121-99 win over the Brooklyn Nets, closing the second quarter with a 23-7 run. They have won 10 of their first 13 games, and five consecutively against Brooklyn. Offensively, they are ranked 7th in field goal percentage (48.31%) and 1st in free throws (86.74%), as well as making an average of 37.79% of their three pointers ranking 7th in the NBA. Defensively, they allow field goals 45.85% of the time (8th) and free throws 77.52% (15th). They also make an average of 41.62 defensive rebounds per game (8th), 26.15 defensive assists per game (17th), and 13.54 turnovers per game (17th).
Minnesota Timberwolves Analysis
The Minnesota Timberwolves remain atop the Western Conference following their 117-100 win over the New York Knicks. Anthony Edwards and Karl-Anthony Towns combined for 43 points, while the Wolves never trailed by less than 11 after the third quarter. The team holds an impressive 10-3 (7-6 ATS) record, with #5 ranked defense (giving up an average of 106.83 points per game) and #16 ranked offense (scoring an average of 112.92 per game). On both ends, Minnesota makes an impressive 48.69% field goals (ranked #5), 77.54% free throws (ranked #13), 36.36% three pointers (ranked #14), 45.25 rebounds per game (ranked # 9), 24.67 offensive assists, 19 offensive turnovers per game (ranked # 23 and 10 respectively), 43.99% defensive field goals (ranked #3), 80.60% defensive free throws (ranked #25), 33.81% defensive three pointers (ranked #4), 41.58 defensive rebounds per game (ranked # 41.58), 25.33 defensive assists and 14.67 defensive turnovers per game (ranked # 14 and 10 respectively).
Philadelphia Takes on Cleveland in Back-to-Back Games before Visiting Minnesota
On Tuesday, Philadelphia will face off against Cleveland in the second leg of a back-to-back. Both the starting lineup and intensity are expected to be high due to a tournament-style game. The following night, Philadelphia will visit Minnesota with possible roster limitations due to fatigue as Joel Embiid and Tobias Harris may receive rest. Minnesota has had a strong start to the season and have the second-best defensive ratings and 48.7% field goal accuracy. It is likely the Timberwolves will be victorious and cover the spread in the home game.
Best Bets From The Most Profitable NBA Handicappers
Make Your Picks

[ - ]
Total
Over 221
Under 221
220.5
Make your predictions for Philadelphia 76ers vs Minnesota Timberwolves to showcase your betting acumen and earn tips for your winners!
Mon, 7:00 PM
Cleveland
Orlando
Mon, 7:00 PM
Miami Heat
Charlotte
Mon, 7:00 PM
Indiana
Detroit
Mon, 7:00 PM
WAS
PHI
Mon, 7:30 PM
Denver
Atlanta
Mon, 7:30 PM
Toronto
New York
Mon, 8:00 PM
Chicago
Milwaukee
Mon, 8:00 PM
Utah Jazz
OKC
Mon, 8:00 PM
Minnesota
NOP
Mon, 8:00 PM
Dallas
Memphis
Mon, 10:00 PM
Brooklyn
SAC
Mon, 10:30 PM
Portland
LAC
SportsJaw is verified safe by:
The information contained in this site is FOR ENTERTAINMENT PURPOSES ONLY. Any use of this information in violation of any federal, state and/or local laws is strictly prohibited.
Sportsjaw.com is not a gambling site, and does not accept or place wagers of any type. This website does not endorse illegal gambling. If you or someone you know has a gambling problem and wants help, call 1-800-GAMBLER.