Wed Nov 22 8:00PM
112
117
|   | 1 | 2 | 3 | 4 | T | ODDS |
| --- | --- | --- | --- | --- | --- | --- |
| SAC | 30 | 20 | 29 | 33 | 112 | 235 |
| NOP | 32 | 32 | 29 | 24 | 117 | +1.5 |
Sacramento Kings vs
New Orleans Pelicans
Predictions & Preview
Kings Face Off Against Pelicans Without McCollum, Matchup Favors the Home Team
The Sacramento Kings (8-5, 8-5 ATS) will take on the New Orleans Pelicans (7-7, 8-6 ATS) in a rematch of Monday's game. The Pelicans won that 129-93, bringing their season record to .500. This game sees the Kings, fifth in the Western Conference, 4-4 on the road playing the ninth ranked Pelicans, 5-4 at home. Tipoff is scheduled for 8:00 PM EST from the Smoothie King Center, with Sacramento being the favored team opening at -2 and the line remaining unchanged.
Game Info
When: Wednesday, 11/22/2023 @ 8:00pm EST
Where: Smoothie King Center Stadium
Betting Odds
Moneyline: Kings -115 | Pelicans -105
Spread: Kings -2 (-110) | Pelicans +2 (-110)
Total: Over/Under 232 (-110)
Based on the moneyline, the implied probability that Sacramento will win straight-up is 53%.
Sacramento vs New Orleans Stats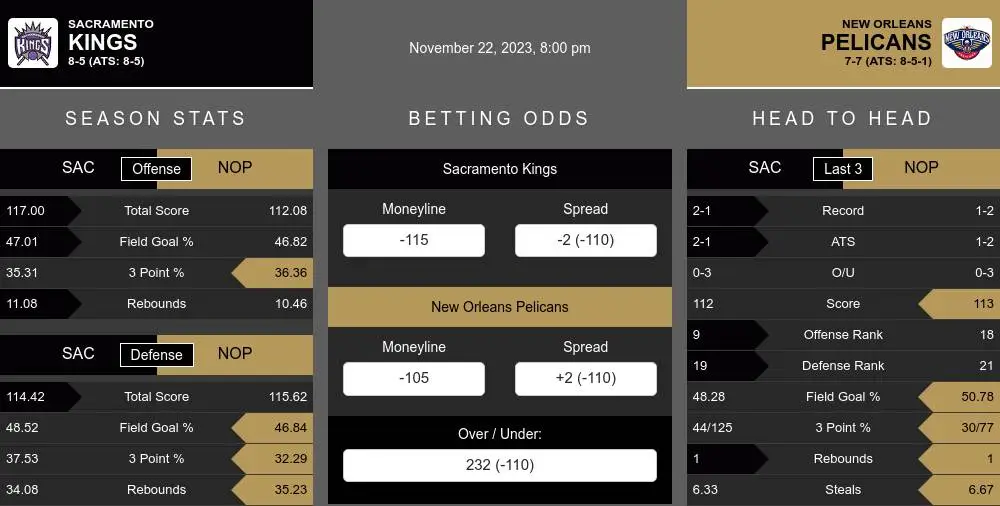 Sacramento Kings
Sacramento Kings had a poor performance in their last game against the Pelicans, scoring 98 points off of 37.9% shooting from the field and 24.4% from three and committing five turnovers. Defensively, the Kings allowed 129 points, the most they have surrendered all season. This season they have an 8-5 record and are ranked ninth in offense, averaging 115.2 PPG and 46.3% shooting from the field. Defensively, the Kings are allowing 115.5 PPG and allowing opponents to shoot 49% from the field and 37.9% from three. They are 21st in the NBA in defensive rating and have a fifth best assist/turnover ratio.
New Orleans Pelicans Analysis
New Orleans Pelicans had an impressive performance in their last meeting with the Sacramento Kings, where they scored 129 points, their second highest total of the season. Lead by Brandon Ingram's 31 points and Zion Williamson's 26 points, the Pelicans had 38 assist and a 55-36 advantage in rebounds. The Pelicans held the Kings to their lowest offensive performance of the season with only 93 points and 37.9% shooting from the field.
Kings Lack Offensive Rhythm to Combat Strengths of Plucky Pelicans Without McCollum
The Kings have not been playing well as of late, struggling on both ends of the court. Over the past few years, they have been known for their high-paced offense, relying heavily on the three-point shot. Facing the Pelicans, who have been very strong defensively, the Kings have had difficulty countering their strengths. The Pelicans have been without CJ McCollum due to a lung injury for the last eight games, but have still been able to take away the Kings' offensive strengths through their improved offensive rhythm over their last four games. While the Kings will be more competitive tying to keep up with the Pelicans' offense, ultimately, the Pelicans will be too strong, and the Kings will struggle to counter their defensive strengths.
Sources:
Best Bets From The Most Profitable NBA Handicappers
Make Your Picks

[ - ]
Total
Over 235
Under 235
232
Make your predictions for Sacramento Kings vs New Orleans Pelicans to showcase your betting acumen and earn tips for your winners!
Mon, 7:00 PM
Cleveland
Orlando
Mon, 7:00 PM
Miami Heat
Charlotte
Mon, 7:00 PM
Indiana
Detroit
Mon, 7:00 PM
WAS
PHI
Mon, 7:30 PM
Denver
Atlanta
Mon, 7:30 PM
Toronto
New York
Mon, 8:00 PM
Chicago
Milwaukee
Mon, 8:00 PM
Utah Jazz
OKC
Mon, 8:00 PM
Minnesota
NOP
Mon, 8:00 PM
Dallas
Memphis
Mon, 10:00 PM
Brooklyn
SAC
Mon, 10:30 PM
Portland
LAC
SportsJaw is verified safe by:
The information contained in this site is FOR ENTERTAINMENT PURPOSES ONLY. Any use of this information in violation of any federal, state and/or local laws is strictly prohibited.
Sportsjaw.com is not a gambling site, and does not accept or place wagers of any type. This website does not endorse illegal gambling. If you or someone you know has a gambling problem and wants help, call 1-800-GAMBLER.