Wed Nov 22 7:00PM
114
117
|   | 1 | 2 | 3 | 4 | T | ODDS |
| --- | --- | --- | --- | --- | --- | --- |
| WAS | 24 | 32 | 35 | 23 | 114 | 241 |
| CHR | 21 | 28 | 29 | 39 | 117 | -3.5 |
Washington Wizards vs
Charlotte Hornets
Predictions & Preview
Washington Reckons with Hornets for Third Time This Month--Can They Take the Lead?
Washington, looking to snap their six game losing streak, faces off against Charlotte on Wednesday at the Spectrum Center. Tip-off is at 7:00 p.m. ET. This will be the second meeting for these teams this season, with Charlotte picking up a seven-point victory over Washington in the first matchup. Washington outshot Charlotte from the field, three-point range, and at the foul line, but was dominated on the glass, leading to the Hornets outscoring them in the paint. However, Washington picked up a 132-116 victory two days earlier. Injury Report: PG Delon Wright (knee) is out. PG Frank Ntilikina (leg), SF Cody Martin (knee), SG James Bouknight (knee), and PG Terry Rozier (groin) are out. C Nick Richards (concussion) is questionable. On Wednesday, Washington will face off against Charlotte Hornets at the Spectrum Center for the second time this season. Washington currently holds a 2-11 SU and 5-8 ATS record, while the Hornets stand at 4-9 SU and 6-7 ATS. Charlotte is the betting favorite opening at -3.5 with a 7:00 p.m. ET tip-off. The Hornets come into this matchup having snapped a four-game losing streak with a 121-118 victory over Boston, preceded by Washington's sixth-straight loss, a 142-129 defeat to Milwaukee. In the previous matchup, Charlotte used offensive rebounds to their advantage, outscoring the Wiz 74-54 in the paint. Two days before though, Washington had managed to pick up a 132-116 victory over the Hornets. Injury Report: PG Delon Wright (knee) is out. PG Frank Ntilikina (leg), SF Cody Martin (knee), SG James Bouknight (knee), and PG Terry Rozier (groin) are out. C Nick Richards (concussion) is questionable.
Game Info
When: Wednesday, 11/22/2023 @ 7:00pm EST
Where: Spectrum Center Stadium
Betting Odds
Moneyline: Wizards +145 | Hornets -175
Spread: Wizards +3.5 (-110) | Hornets -3.5 (-110)
Total: Over/Under 242.5 (-110)
Based on the moneyline, the implied probability that Charlotte will win straight-up is 64%.
Washington vs Charlotte Stats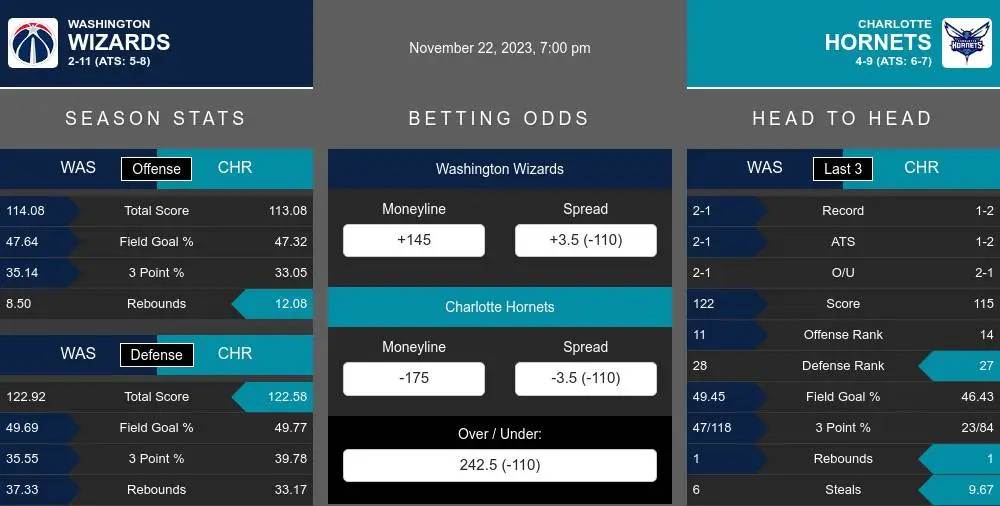 Washington Wizards
The Washington Wizards have a power ranking of 27th, with an 11th ranked offense averaging 114.08 points per game and 28th ranked defense allowing 122.92 points per game. They have a 5-8 against the spread (ATS) record. Offensively, they are shooting 47.64% from the field (10th), 76.31% from the free throw line (19th) and 35.14% from the three-pointer line (21st). They average 38.83 rebounds per game (30th) and 27.33 offensive assists. Defensively, they allow their opponents to shoot 49.69% from the field (27th), 77.15% from the free throw line (11th) and 35.55% from the three-pointer line (14th). Additionally, they average 50.33 defensive rebounds and 29.17 defensive assists.
Charlotte Hornets Analysis
The Charlotte Hornets had an impressive overtime win over the Boston Celtics earlier this week. Led by LaMelo Ball's 36 points, nine rebounds, and eight assists, SF Miles Bridges' three-pointer with 6.6 seconds left sealed the win. Gordon Hayward added 20 points and the Hornets made 16 of their 17 foul shots. Charlotte averages 113.7 points per game (13th) and shoots 47.0 percent from the field (16th). Defensively, their opponents score 122.2 points (27th) and shoot 49.1 percent from the field (27th), including 38.9 percent from deep (28th). The Hornets rank 23rd in schedule-adjusted offensive efficiency, 25th in adjusted defensive efficiency, and 9th in pace. This power ranking gives Charlotte the advantage over Boston.
Hornets and Wizards Take to the Court for Third Matchup of the Month: Can Charlotte Produce Another Cover?
The previous two matchups between Washington and Charlotte have seen the underdog cover, with Washington covering in the first and Charlotte in the second. Following their victory over Boston in a taxing overtime affair, I'm not convinced the Hornets will be able to produce another cover against Washington, whom they have already met twice this month. While Charlotte's offense should provide a challenge for the 30th-ranked Washington defense, their own defense is ranked 25th in efficiency. On the other hand, Washington's high-scoring offense, spearheaded by a 67.2% rim FG% (second highest in the league) makes them well-equipped to remain competitive this Wednesday.
Best Bets From The Most Profitable NBA Handicappers
Make Your Picks

[ - ]
Total
Over 241
Under 241
242.5
Make your predictions for Washington Wizards vs Charlotte Hornets to showcase your betting acumen and earn tips for your winners!
Mon, 7:00 PM
Cleveland
Orlando
Mon, 7:00 PM
Miami Heat
Charlotte
Mon, 7:00 PM
Indiana
Detroit
Mon, 7:00 PM
WAS
PHI
Mon, 7:30 PM
Denver
Atlanta
Mon, 7:30 PM
Toronto
New York
Mon, 8:00 PM
Chicago
Milwaukee
Mon, 8:00 PM
Utah Jazz
OKC
Mon, 8:00 PM
Minnesota
NOP
Mon, 8:00 PM
Dallas
Memphis
Mon, 10:00 PM
Brooklyn
SAC
Mon, 10:30 PM
Portland
LAC
SportsJaw is verified safe by:
The information contained in this site is FOR ENTERTAINMENT PURPOSES ONLY. Any use of this information in violation of any federal, state and/or local laws is strictly prohibited.
Sportsjaw.com is not a gambling site, and does not accept or place wagers of any type. This website does not endorse illegal gambling. If you or someone you know has a gambling problem and wants help, call 1-800-GAMBLER.