Tue Nov 21 9:00PM
107
120
|   | 1 | 2 | 3 | 4 | T | ODDS |
| --- | --- | --- | --- | --- | --- | --- |
| POR | 21 | 30 | 31 | 25 | 107 | 223.5 |
| PHO | 34 | 22 | 38 | 26 | 120 | -12 |
Portland Trail Blazers vs
Phoenix Suns
Predictions & Preview
Portland Trail Blazers Aim to Cover 13-Point Spread Against Phoenix Suns in Tuesady Night Matchup
The Portland Trail Blazers will face the Phoenix Suns on Tuesday at the Footprint Center with the tip-off at 6:00 p.m. PT. Phoenix enters the game 7-6 in the SU standings, 5-7-1 in ATS, and 9-4 in O/U. Portland stands 3-10 SU, 5-8 ATS, and 6-7 O/U. Phoenix is the betting favorite opening at -13 with the current line standing at -12.5. Portland currently has Anfernee Simons, Robert Williams III, Scott Henderson, Ish Wainwright, and Malcolm Brogdon out due to various injuries. Phoenix has Damion Lee and Bradley Beal out, while Yuta Watanabe is questionable.
Game Info
When: Tuesday, 11/21/2023 @ 9:00pm EST
Where: Footprint Center Stadium
Betting Odds
Moneyline: Trail Blazers +395 | Suns -538
Spread: Trail Blazers +12.5 (-110) | Suns -12.5 (-110)
Total: Over/Under 225 (-110)
Based on the moneyline, the implied probability that Phoenix will win straight-up is 84%.
Portland vs Phoenix Stats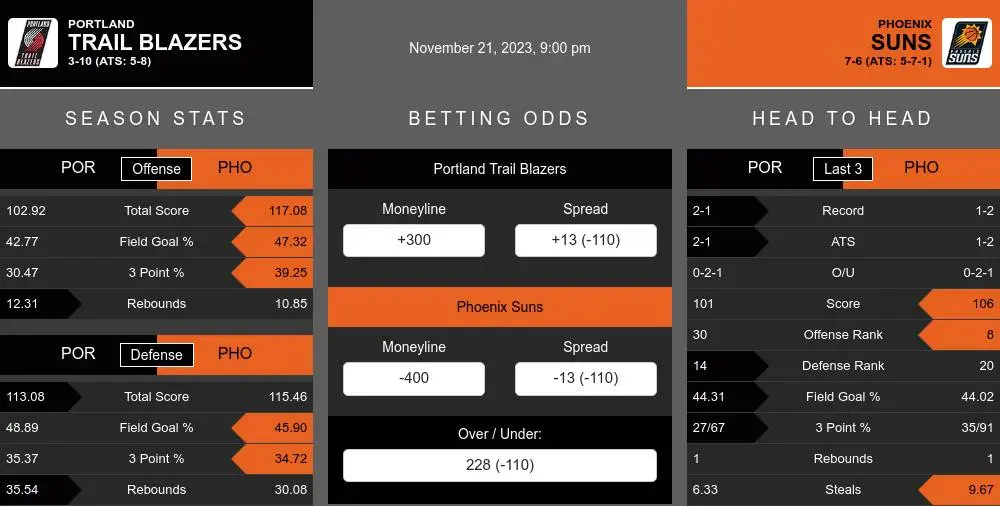 Portland Trail Blazers
The Portland Trail Blazers are having a season to forget, as they have lost their seventh consecutive game on Sunday. The Thunder led in field goal percentage, three-point percentage, rebounds, and points in the paint, leading the Blazers to score just 40% from the field, and 32.6% from the three. The Trail Blazers are ranked 30th in schedule-adjusted offensive rating, 23rd in adjusted defensive rating, and 24th in pace. Offensively, they have a field goal percentage of 42.77% and are ranked 30th, as well as converting 78.31% of their free throws (ranked #12). Defensively, they are ranked 24th in field goal percentage (allowing an average of 48.89%), and 12th in three-point percentage (allowing an average of 35.37%). This season, they have a record of 3-10 (5-8 ATS).
Phoenix Suns Analysis
The Phoenix Suns have earned high expectations this season with their 'Big Three' composed of SG Bradley Beal, F Kevin Durant, and SG Devin Booker. They display impressive offensive performance with 8th place rank for points per game and 14th rank for field goal percentage. Phoenix is also 5th for free throws percentage and 2nd for three-pointers percentage. The defense for Phoenix lies in the top 10 of the league, ranking 20th for points per game and 9th for field goal percentage. Their game against Utah resulted in a win, but at a cost of being outrebounded and outscored in the paint.
Possibility of Portland Blazers Covering 13-Point Spread Against Phoenix Suns High
Considering the Phoenix Suns (5-7-1 ATS) have a 13-point spread against the Portland Blazers (5-8 ATS) who currently have several players out, the spread maybe a bit too large. Phoenix is relying on Grayson Allen and Eric Gordon to carry the team in the absence of Bradley Beal and Damion Lee, while Portland big man Jusuf Nurkic has been shooting at 42.9%. With Portland aiming to not let consecutive opponents shoot 60%, the chances of them covering the spread is high. Therefore, it would not be surprising to see the Blazers come out on top.
Best Bets From The Most Profitable NBA Handicappers
Make Your Picks

[ - ]
Total
Over 223.5
Under 223.5
228
Make your predictions for Portland Trail Blazers vs Phoenix Suns to showcase your betting acumen and earn tips for your winners!
Mon, 7:00 PM
Cleveland
Orlando
Mon, 7:00 PM
Miami Heat
Charlotte
Mon, 7:00 PM
Indiana
Detroit
Mon, 7:00 PM
WAS
PHI
Mon, 7:30 PM
Denver
Atlanta
Mon, 7:30 PM
Toronto
New York
Mon, 8:00 PM
Chicago
Milwaukee
Mon, 8:00 PM
Utah Jazz
OKC
Mon, 8:00 PM
Minnesota
NOP
Mon, 8:00 PM
Dallas
Memphis
Mon, 10:00 PM
Brooklyn
SAC
Mon, 10:30 PM
Portland
LAC
SportsJaw is verified safe by:
The information contained in this site is FOR ENTERTAINMENT PURPOSES ONLY. Any use of this information in violation of any federal, state and/or local laws is strictly prohibited.
Sportsjaw.com is not a gambling site, and does not accept or place wagers of any type. This website does not endorse illegal gambling. If you or someone you know has a gambling problem and wants help, call 1-800-GAMBLER.