Tue Nov 21 7:30PM
157
152
|   | 1 | 2 | 3 | 4 | T | ODDS |
| --- | --- | --- | --- | --- | --- | --- |
| IND | 34 | 39 | 46 | 38 | 157 | 252.5 |
| ATL | 40 | 46 | 28 | 38 | 152 | -3.5 |
Indiana Pacers vs
Atlanta Hawks
Predictions & Preview
Indiana Pacers vs Atlanta Hawks: Big Implications On Tuesday for Eastern Conference Group A
The Indiana Pacers and Atlanta Hawks will face off on Tuesday with massive implications for the Eastern Conference's Group A in the In-Season Tournament. A win for the Pacers (7-5; 7-5-0 ATS), who are the only undefeated team in the Group, would propel them to a dominant 3-0. Meanwhile, a victory for the Hawks (6-6; 4-8-0 ATS) would force the teams into a three-way tie atop the group, depending on the outcome of the Tuesday's other game. The matchup will take place on Tuesday, November 10th at 7:30 p.m. EDT at the State Farm Arena with the Hawks being the betting favorite opening at -4.
Game Info
When: Tuesday, 11/21/2023 @ 7:30pm EST
Where: State Farm Arena Stadium
Betting Odds
Moneyline: Pacers +160 | Hawks -185
Spread: Pacers +4 (-110) | Hawks -4 (-110)
Total: Over/Under 250.5 (-110)
Based on the moneyline, the implied probability that Atlanta will win straight-up is 65%.
Indiana vs Atlanta Stats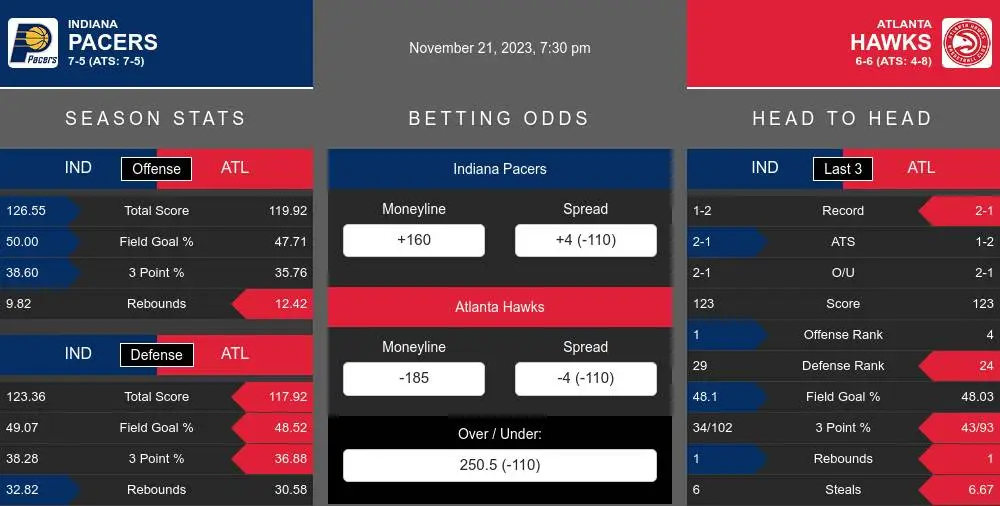 Indiana Pacers
Despite their subpar defense, the Pacers have been able to generate a lot of success on the offensive end this season, outscoring opponents with their fast paced offense and strong shooting from the field and beyond the arc.
Atlanta Hawks Analysis
The Atlanta Hawks have an overall record of 6-6 (4-8 ATS) and have a #4 ranking in offense (scoring an average of 119.92 points per game) and #24 ranking for defense (allowing an average of 117.92 points per game). Their offense is successful thanks to 47.71% field goal percentage, 83.18% free throw percentage and 35.76% three point percentage. Defensively, they are allowing 48.52% field goal percentage, 79.18% free throw percentage and 36.88% three point percentage. They are also averaging 44.17 rebounds, 26.50 offensive assists, 14.83 turnovers, 42.08 defensive rebounds, 27.67 defensive assists and 15.25 turnovers per game.
Indiana Poised to Secure Victory Thanks to Strong Offense and Glasswork
Indiana is predicted to win, keeping the game within one possession. With an efficient offense and effective defensive tactics, Indiana has the advantage over Atlanta. Despite being weaker defensively, Indiana is superior at forcing unwanted shots. Additionally, the Pacers can compete on the glass. Ultimately, Indiana is the safest bet.
Best Bets From The Most Profitable NBA Handicappers
Make Your Picks

[ - ]
Total
Over 252.5
Under 252.5
250.5
Make your predictions for Indiana Pacers vs Atlanta Hawks to showcase your betting acumen and earn tips for your winners!
Mon, 7:00 PM
Cleveland
Orlando
Mon, 7:00 PM
Miami Heat
Charlotte
Mon, 7:00 PM
Indiana
Detroit
Mon, 7:00 PM
WAS
PHI
Mon, 7:30 PM
Denver
Atlanta
Mon, 7:30 PM
Toronto
New York
Mon, 8:00 PM
Chicago
Milwaukee
Mon, 8:00 PM
Utah Jazz
OKC
Mon, 8:00 PM
Minnesota
NOP
Mon, 8:00 PM
Dallas
Memphis
Mon, 10:00 PM
Brooklyn
SAC
Mon, 10:30 PM
Portland
LAC
SportsJaw is verified safe by:
The information contained in this site is FOR ENTERTAINMENT PURPOSES ONLY. Any use of this information in violation of any federal, state and/or local laws is strictly prohibited.
Sportsjaw.com is not a gambling site, and does not accept or place wagers of any type. This website does not endorse illegal gambling. If you or someone you know has a gambling problem and wants help, call 1-800-GAMBLER.