Tue Nov 21 7:00PM
107
126
|   | 1 | 2 | 3 | 4 | T | ODDS |
| --- | --- | --- | --- | --- | --- | --- |
| TOR | 23 | 33 | 26 | 25 | 107 | 215.5 |
| ORL | 30 | 37 | 33 | 26 | 126 | -1.5 |
Toronto Raptors vs
Orlando Magic
Predictions & Preview
Magic To Take On Raptors in Conference Showdown Featuring League's Top-Rated Defense
On Tuesday, the Toronto Raptors and Orlando Magic will faceoff in a conference showdown. The Raptors are coming off a home win against the Pistons while the Magic earned a road win against the Pacers. The Magic are the betting favorite and the line hasn't changed since it opened. Last year, each team won two games in the season series between the two.
Game Info
When: Tuesday, 11/21/2023 @ 7:00pm EST
Where: Amway Center Stadium
Betting Odds
Moneyline: Raptors +120 | Magic -140
Spread: Raptors +0.75 (-110) | Magic -0.75 (-110)
Total: Over/Under 216 (-110)
Based on the moneyline, the implied probability that Orlando will win straight-up is 58%.
Toronto vs Orlando Stats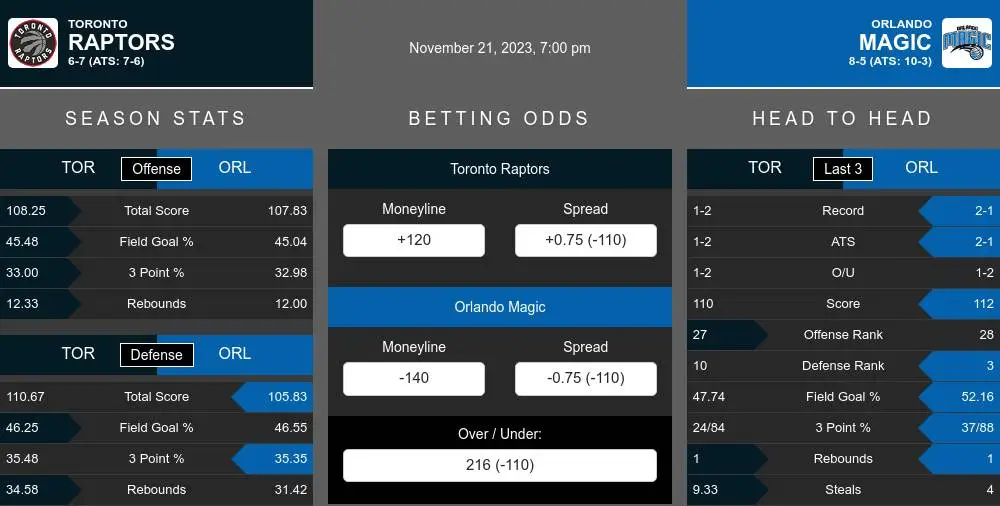 Toronto Raptors
The Raptors have been competitive on the road, with a record of 2-3 so far this season, covering the spread in three of the five road games. Scottie Barnes and Pascal Siakam have been outstanding, and Dennis Schroder, in his first season as a member of the Raptors, has improved his season average to 15.6 points per game and leads the squad with 7.3 assists per game.
YEAHHH SCOTTIE 👌

12 PTS & counting for @ScottBarnes561 pic.twitter.com/mgcII0Qo53

— Toronto Raptors (@Raptors) November 19, 2023
Orlando Magic Analysis
The Orlando Magic have targeted their fourth consecutive victory, and are currently even with the Heat for the top spot in the division. The Magic boast an 8-5 performance (10-3 ATS) this season and are ranked #3 for defense, averaging 106.6 points per game. On offense, they hit 45.04% of their field goals and make an average of 32.98% of their three pointers. On defense, opponents are averaging 46.55% of their field goals and 73.53% of their free throws. They are averaging 44.67 rebounds, 23.75 offensive assists and 15.33 turnovers per game. They have only played 4 home games this season, with a 3-1 record with 3 covers.
YEAHHH SCOTTIE 👌

12 PTS & counting for @ScottBarnes561 pic.twitter.com/mgcII0Qo53

— Toronto Raptors (@Raptors) November 19, 2023
Magic Feature League's Top-Rated Defense, Raptors Struggle Offensively and Defensivley Against Streaking Magic
The Raptors have experienced recent inconsistency, with two losses in the past three games and the only win in that span a blowout victory against the Pistons. Meanwhile, the Magic have shown marked improvement and won four of their last five, including a win against Milwaukee. Unsuited offensively, ranking 27th in three-point shooting, Toronto fails to keep pace with the Magic in the defensive end, which feature the league's top-rated defense, only conceding 106.5 points per 100 possessions. In contrast, the Raptors' defense concedes 110.3 points per 100 possessions. The Magic have also had considerable home-court success, 3-1 on the season, and have only allowed an average of 105.6 points in their last five games.
Best Bets From The Most Profitable NBA Handicappers
Make Your Picks

[ - ]
Total
Over 215.5
Under 215.5
216
Make your predictions for Toronto Raptors vs Orlando Magic to showcase your betting acumen and earn tips for your winners!
Mon, 7:00 PM
Cleveland
Orlando
Mon, 7:00 PM
Miami Heat
Charlotte
Mon, 7:00 PM
Indiana
Detroit
Mon, 7:00 PM
WAS
PHI
Mon, 7:30 PM
Denver
Atlanta
Mon, 7:30 PM
Toronto
New York
Mon, 8:00 PM
Chicago
Milwaukee
Mon, 8:00 PM
Utah Jazz
OKC
Mon, 8:00 PM
Minnesota
NOP
Mon, 8:00 PM
Dallas
Memphis
Mon, 10:00 PM
Brooklyn
SAC
Mon, 10:30 PM
Portland
LAC
SportsJaw is verified safe by:
The information contained in this site is FOR ENTERTAINMENT PURPOSES ONLY. Any use of this information in violation of any federal, state and/or local laws is strictly prohibited.
Sportsjaw.com is not a gambling site, and does not accept or place wagers of any type. This website does not endorse illegal gambling. If you or someone you know has a gambling problem and wants help, call 1-800-GAMBLER.