Thu Jan 26 7:30PM
96
111
|   | 1 | 2 | 3 | 4 | T | ODDS |
| --- | --- | --- | --- | --- | --- | --- |
| CHI | 36 | 19 | 24 | 17 | 96 | 236.25 |
| CHR | 32 | 15 | 30 | 34 | 111 | +3 |
Bulls vs Hornets Prediction, Odds and Best Bets
Published on
Chicago is on the road playing Charlotte at the Spectrum Center stadium on Thursday, 1/26/2023 @ 7:30pm EST. Chicago -5.25 was the opening favorite and current line is Chicago -5.
Chicago Team Statistics
The Chicago Bulls enter the game with a record of 22-25. They average 114.6 points per game (13th in the league) while shooting 48.8% from the field. The Bulls are shooting 36.8% from 3-point range (503 of 1,368) and 81.5% from the charity stripe. On the season, Chicago has collected 42.4 rebounds per game and passed for an assist 1,144 times, ranking 22nd in the NBA. As a team, they commit 19.7 fouls per game and turnover the ball 13.7 times per game.
Defensively, the Bulls force 15.0 turnovers and draw 19.0 fouls per game. As a team, they allow 36.3% on 3-pointers and allow 114.7 points per game. As a team, the Bulls allow a field goal percentage of 47.3% (1,963 of 4,146) and 43.9 boards per contest. With 1,236 assists surrendered this year, they rank 22nd in the NBA.
With a power ranking of 29, Chicago is ranked #13 in offense (scoring an average of 114.62 per game), #18 in defense (allowing an average of 114.72 points to be scored against them per game) and are 22-25 (24-21-2 ATS) this season.
Charlotte Team Statistics
For the year, Charlotte is 13-36. The Hornets are hitting 45.2% of their field goals, which ranks 28th in the league. So far this year, Charlotte has scored 5,490 points (112.0 per game) and averaged 44.8 rebounds. They earn assists 25.2 times per game (13th in basketball) and lose possession 13.7 times per game due to turnovers. Each game, the Hornets commit 21.1 fouls and shoot 74.9% from the charity stripe.
On defense, the Hornets give up 119.1 points per game. As a team, they force 15.2 turnovers per game and allow teams to shoot 48.3% from the floor (26th in the NBA). Charlotte's defense allows 36.9% on 3-point shots (647 of 1,753) and opponents are making 78.8% of their free throws. As a team, they give up 26.8 dimes and 46.2 boards per game, ranking 30th and 28th in the league, respectively.
Charlotte Hornets has a power ranking of 27 and are #25 for offense (scoring an average of 112.04 per game), #28 for defense (giving up an average of 114.72 points per game) and 13-36 (19-27-3 ATS) overall. Chicago went 1-2 (1-2 ATS) in their last 3 matchups against Charlotte.
Curated Picks & Predictions
From the lines set by Sportsbooks, they predict the score to be CHI -5, CHR 5.
The SportsJaw community predicts Chicago Bulls to cover (55%)
OddsShark has not made their prediction yet.
split down the middle on Covers.com
Our ScoreCaster predicts Bulls 5 to Hornets -6.
Staff Prediction
The Bulls come into this one playing good basketball as of late, having won 3 of their last 4 games. DeMar DeRozan is having another great season for Toronto and scored 33 points in his last game out. The Hornets come into this matchup having lost their last 2 games. They are coming off of a 31-point blowout loss to the Suns last time out. The Bulls are playing well and the Hornets are coming off an embarrassing loss so I expect Chicago to win and cover the 5 points.
Staff Pick CHI ATS (-5)
Written by SportsJaw Staff
Categorized as NBA Predictions
[+ More]
4

Latest Chatter

[ - ]
Make your picks
to play the
bankroll game
and showcase your betting acumen. Your relevant records will show on your posts.
Total
Over 236.25
Under 236.25
N/A
Won 70% of last 10 NBA predictions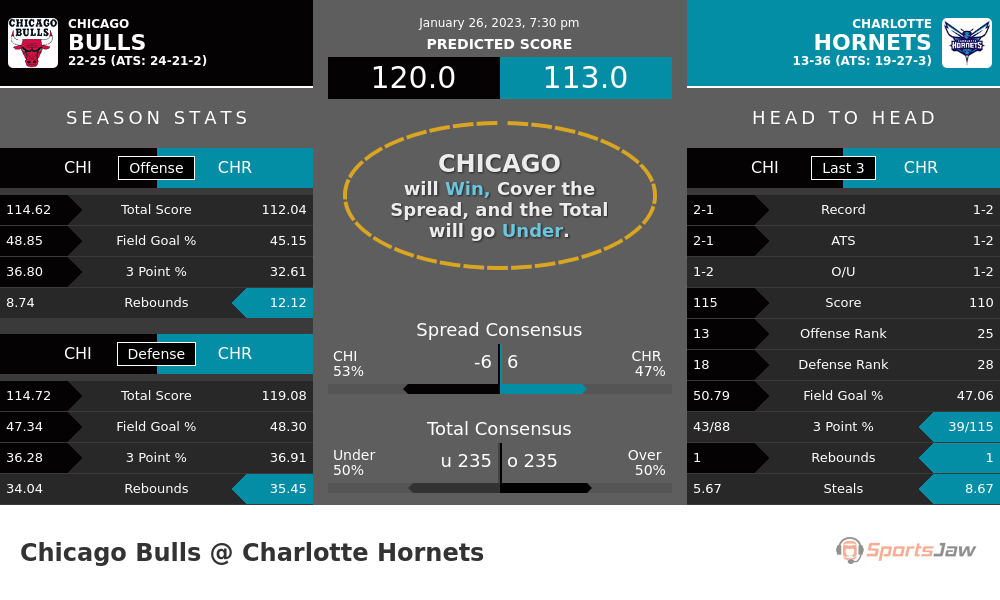 Both teams have a compariable offense and the Bulls have a slightly better defense. The Bulls won more games straight up and against the spread over their last 3 matchups. Adjusted score predictions based on power rankings and strength of schedule: Bulls 120 to Hornets 113.
Bulls Injuries

PG Goran Dragic Is downgraded to OUT Thursday vs Charlotte, Conditioning
PG Lonzo Ball Is out indefinitely, Knee
PG Javonte Green Is out indefinitely, Knee
C Marko Simonovic Is downgraded to OUT Thursday vs Charlotte, Cervical Strain
Hornets Injuries

SF Gordon Hayward Is upgraded to probable Thursday vs Chicago, Hamstring
PG Terry Rozier Is probable Thursday vs Chicago, Illness
SF Kelly Oubre Jr. Is out indefinitely, Hand
SF Cody Martin Is downgraded to OUT Thursday vs Chicago, Knee
PG LaMelo Ball Is upgraded to probable Thursday vs Chicago, Ankle