Wed Sep 20 7:05PM
6
1
|   | 1 | 2 | 3 | 4 | 5 | 6 | 7 | 8 | 9 | T | ODDS |
| --- | --- | --- | --- | --- | --- | --- | --- | --- | --- | --- | --- |
| TOR | 0 | 0 | 1 | 0 | 0 | 0 | 0 | 2 | 3 | 6 | 7 |
| NYY | 0 | 0 | 0 | 0 | 0 | 0 | 0 | 0 | 1 | 1 | +103 |
Preview & Predictions

Toronto Blue Jays vs
New York Yankees
Toronto Blue Jays Look to Extend Lead Over Yankees in Tuesday Night Showdown
The two teams face off Tuesday night for the first of six remaining head to head matchups. Toronto Blue Jays (83-67) and New York Yankees (76-74) will play on Tuesday at 7:05 PM EDT at Yankee Stadium for the first matchup. Kevin Gausman vs Michael King, with the Blue Jays being the betting favorites, with the line has not changing. The second clash of the three-game set will decide who gets closer to their final fate.
Game Info
When: Wednesday, 9/20/2023 @ 7:05pm EST
Where: Yankee Stadium Stadium
Blue Jays vs Yankees Betting Odds
Moneyline: Blue Jays -116 | Yankees +106
Spread: Blue Jays -1.5 (+150) | Yankees +1.5 (-180)
Total: Over/Under 7.5 (-110)
Based on the moneyline, the implied probability that Toronto will win straight-up is 54%.
Toronto vs New York Score Prediction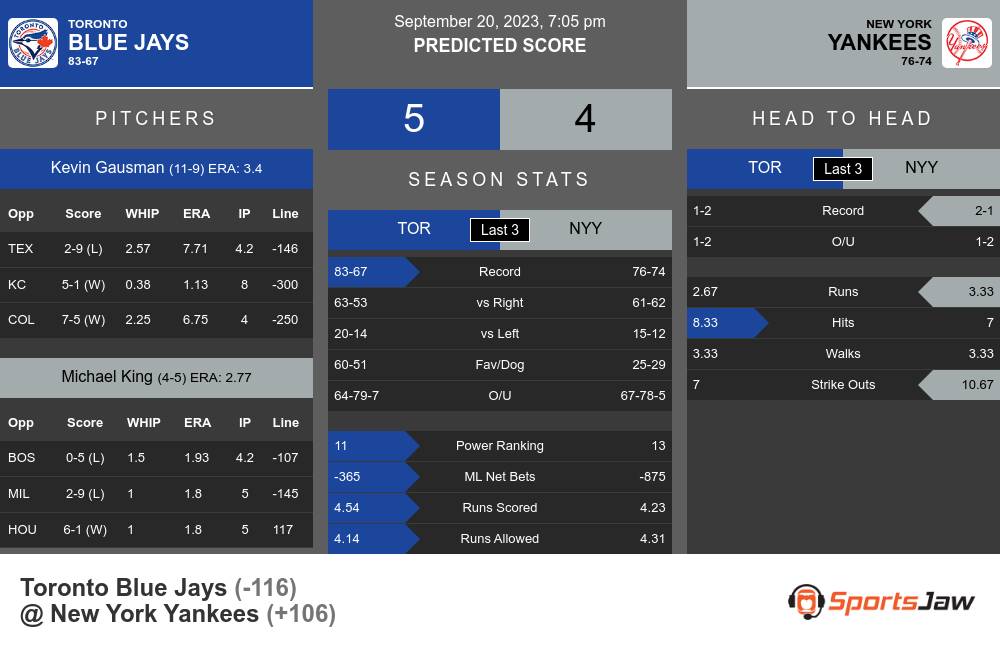 Toronto Blue Jays
Holding a 1.0-game edge over the Mariners and Rangers, Toronto's playoff spot is far from secure.
Kevin Gausman will take the mound for Wednesday's matchup and has been one of the AL's top starters in 2023.
Toronto also has a strong bullpen with a .767 team OPS on the road.
Toronto ranks 6th in strikeout rate, 6th in OBP, 10th in batting average, 12th in walk rate, 16th in runs scored, and 21st in hard-hit rate.
Toronto is ranked 11th overall with a record of 83-67 and 16th in offense, scoring an average of 4.54 points per game.
Toronto is ranked 5th in defense, allowing an average of 4.14 points to be scored against them per game.
New York Yankees Analysis
New York Yankees have a power ranking of 13 and are #23 for offense (scoring an average of 4.23 per game), #10 for defense (giving up an average of 4.31 points per game) and 76-74 overall.
Toronto went 2-1 in their last 3 matchups against New York.
New York has had difficulty getting hits which has hindered run-production.
Despite a top-10 walk and home run rate, New York ranks in the bottom for batting average, on-base-percentage, and slugging percentage.
Pitching has been New York's primary plan; they have the MLB's best ERA, groundball rate, and LOB%.
Michael King has pitched at least 4.0 innings in his last five starts with 26 strikeouts and two walks.
Gausman Pitches Gem at Yankee Stadium, Toronto Favored in Game Two
Kevin Gausman's first start of 2023 at Yankee Stadium saw seven innings of three-hit ball with no runs. Toronto's relievers have had success in recent games, and New York's lack of offensive performance suggests that trend may continue. With the second-lowest MLB team batting average, the Yankees are 23rd in runs per game. The Blue Jays have performed well away from home, owning a .265/.335/.432 slash line, and certain batters enjoy hitting in the Bronx, such as Vladimir Guerrero Jr., who has a .968 OPS. Accounting for these factors, Toronto is favored in game two.
Written by Bjenkins
Published on
Category: MLB Picks
About the Author: Benny Jenkins is the most consistent handicapper across all sports that the industry has to offer. Consistently beating the books for the last 10 years.
Sun, 3:05 PM
LA
SF
Sun, 3:10 PM
Minnesota
Colorado
Sun, 3:10 PM
Cleveland
Detroit
Sun, 3:10 PM
New York
KC
Sun, 3:10 PM
Chicago
Milwaukee
Sun, 3:15 PM
CIN
St. Louis