Wed Sep 20 4:10PM
2
3
|   | 1 | 2 | 3 | 4 | 5 | 6 | 7 | 8 | 9 | T | ODDS |
| --- | --- | --- | --- | --- | --- | --- | --- | --- | --- | --- | --- |
| COL | 2 | 0 | 0 | 0 | 0 | 0 | 0 | 0 | 0 | 2 | 8.5 |
| SD | 1 | 0 | 0 | 0 | 0 | 0 | 2 | 0 | 0 | 3 | -250 |
Preview & Predictions

Colorado Rockies vs
San Diego Padres
Colorado Rockies and San Diego Padres Clash in Series Finale at Petco Park
The game will start at 4:10PM ET on Wednesday at Petco Park, the finale of a three-game series.
Game Info
When: Wednesday, 9/20/2023 @ 4:10pm EST
Where: Petco Park Stadium
Rockies vs Padres Betting Odds
Moneyline: Rockies +230 | Padres -260
Spread: Rockies +1.5 (+110) | Padres -1.5 (-130)
Total: Over/Under 9 (-110)
Based on the moneyline, the implied probability that San Diego will win straight-up is 72%.
Colorado vs San Diego Score Prediction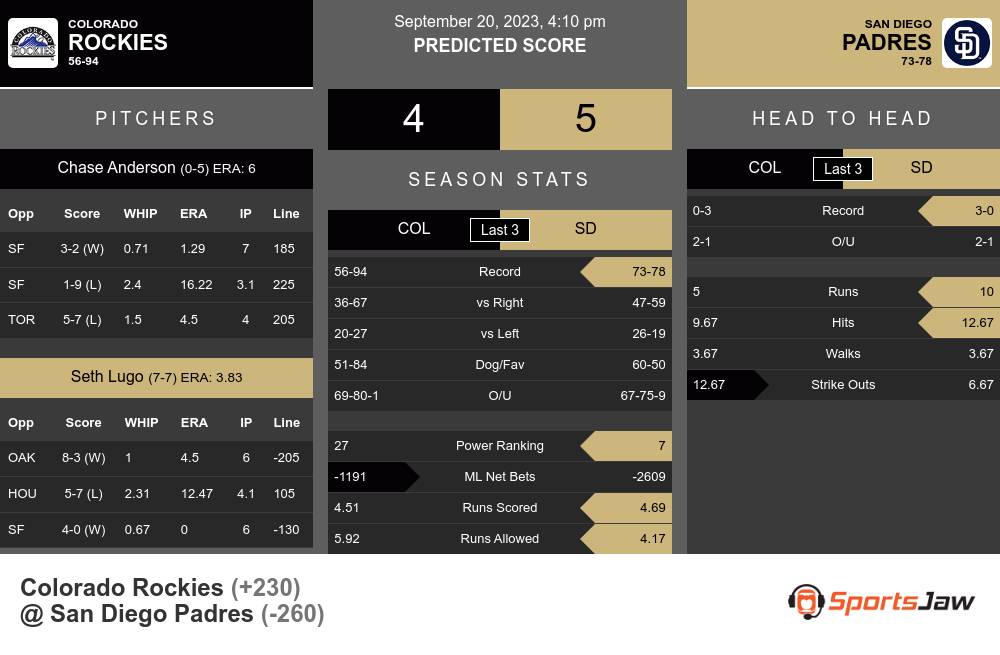 Colorado Rockies
The last-place Colorado Rockies will start Chase Anderson in the finale of this series with San Diego.
Offensively, they are averaging 4.51 points per game.
Defensively, they are allowing an average of 5.92 points to be scored against them per game.
Anderson threw just 53 of 101 pitches for strikes, but retired 12 consecutive batters beginning in the third as he tied his season best with seven strikeouts.
Anderson still owns an ugly 6.00 ERA with a 57:29 K:BB through 75 innings.
Pitching has been a disaster all year, and they are now 56-94 on the season.
San Diego Padres Analysis
The San Diego Padres, who are far out of playoff contention, will trot out Seth Lugo in the finale of a lifeless series with the Rockies.
Lugo allowed three runs on five hits and a walk while striking out seven over six innings to earn the win Friday over the Athletics.
Lugo has been consistent contributor for the Padres this season, with a 3.83 ERA, 1.22 WHIP, and 126:31 K:BB through 131.2 innings over 24 starts.
However, it is their production at the plate that has led to the Padres' demise.
The Padres have power ranking of 7 and are #13 for offense (scoring an average of 4.69 per game), #6 for defense (giving up an average of 4.17 points per game).
Colorado went 3-0 in their last 3 matchups against San Diego.
Seth Lugo Leads Padres in Hopes of Defeating Chase Anderson and Rockies in Series Finale'
The San Diego Padres will take to the field with Seth Lugo in the finale of their series with the Rockies. Lugo secured a win last week after allowing three runs on five hits and a walk while striking out seven in six innings. Despite having a strong roster, including excellent starting pitching, the Padres have failed to meet expectations and presently trail the third wild-card spot by six games. This year has been a letdown, but San Diego looks to prevent further disappointment by taking out their frustrations on Chase Anderson and obtaining a victory. Predicted result: San Diego by two.
Written by Gsimms
Published on
Category: MLB Picks
About the Author: I use a private handicapping system that I've created and adjusted over the last 20 years. My betting philosophy is discipline and bankroll management.
Sun, 3:05 PM
LA
SF
Sun, 3:10 PM
Minnesota
Colorado
Sun, 3:10 PM
Cleveland
Detroit
Sun, 3:10 PM
New York
KC
Sun, 3:10 PM
Chicago
Milwaukee
Sun, 3:15 PM
CIN
St. Louis