Wed Sep 20 3:40PM
1
7
|   | 1 | 2 | 3 | 4 | 5 | 6 | 7 | 8 | 9 | T | ODDS |
| --- | --- | --- | --- | --- | --- | --- | --- | --- | --- | --- | --- |
| SF | 1 | 0 | 0 | 0 | 0 | 0 | 0 | 0 | 0 | 1 | 7.5 |
| ARI | 1 | 0 | 2 | 0 | 0 | 0 | 4 | 0 | 0 | 7 | -102 |
Preview & Predictions

San Francisco Giants vs
Arizona Diamondbacks
Giants Take 6-5 Series Lead in Crucial Matchup with Diamondbacks to Decide Outcome
Giants have a 6-5 lead in the season series against the Diamondbacks and the matchup will determine the out.
Game Info
When: Wednesday, 9/20/2023 @ 3:40pm EST
Where: Chase Field Stadium
Giants vs Diamondbacks Betting Odds
Moneyline: Giants +110 | Diamondbacks -120
Spread: Giants -1.5 (+160) | Diamondbacks +1.5 (-192)
Total: Over/Under 8.5 (-110)
Based on the moneyline, the implied probability that Arizona will win straight-up is 55%.
San Francisco vs Arizona Score Prediction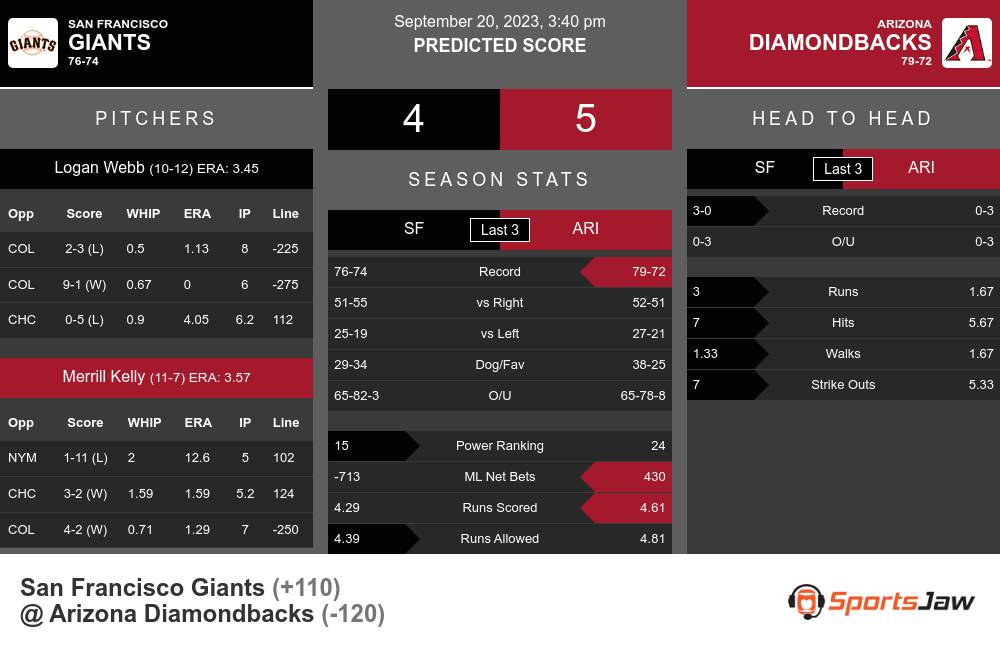 San Francisco Giants
•The Giants will send Logan Webb to the mound. Webb has a 3.31 ERA and a 1.05 WHIP with a 10-12 record in 201 innings. His ERA in three starts against Arizona this season is 2.57. •J.D Davis has recorded 18 homers, 69 RBIs, and a .751 OPS. He has seven RBIs against the D-Backs this season. •San Francisco is posting an average of 4.33 runs, marking them 21st, and the pitching staff has recorded a 4.01 team ERA, good for 10th. •The power ranking is 15 and they are 76-74 this season.
Eight and left no crumbs 😋 pic.twitter.com/FMHrhARV3j

— SFGiants (@SFGiants) September 17, 2023
Arizona Diamondbacks Analysis
-Merrill Kelly will get the nod on Wednesday, and is sporting a 3.45 ERA, 1.21 WHIP, and has an 11-7 record in 159 innings on the season -Christian Walker has been a tough out against the Giants this season, recording 10 RBIs and a .907 OPS -Arizona Diamondbacks rank 24th in power rankings, with an average of 4.61 runs per game and 4.81 points given up per game -Arizona is 79-72 overall and has won two of their last three series -San Francisco went 0-3 in their last 3 matchups against Arizona
Not wasting any time putting up a crooked number! pic.twitter.com/Z956UcKDgs

— Arizona Diamondbacks (@Dbacks) September 17, 2023
Giants Look to Logan Webb to Secure Win Streak Against Diamondbacks
Logan Webb's performance on the mound provides the San Francisco Giants with a good chance to win. In his last game against the Rockies, Webb only allowed one run in eight innings. He's also held the Diamondbacks to six runs in 21 innings this season. In contrast, Merrill Kelly has struggled lately, allowing seven runs to the Mets in his last outing and 16 runs in his last four spanning 22.2 innings. Arizona has only been successful in four of Kelly's last 10 outings. The Giants have won their past three games against the Diamondbacks.
Sources: [ 1 ] [ 2 ] [ 3 ] [ 4 ]
Written by Jtpham
Published on
Category: MLB Picks
About the Author: I apply several statistical and situational models to find the best probable winners with the highest percentage odds of winning and that offers the best chance of making a profit.
Sun, 3:05 PM
LA
SF
Sun, 3:10 PM
Minnesota
Colorado
Sun, 3:10 PM
Cleveland
Detroit
Sun, 3:10 PM
New York
KC
Sun, 3:10 PM
Chicago
Milwaukee
Sun, 3:15 PM
CIN
St. Louis