Wed Sep 20 2:10PM
2
6
|   | 1 | 2 | 3 | 4 | 5 | 6 | 7 | 8 | 9 | T | ODDS |
| --- | --- | --- | --- | --- | --- | --- | --- | --- | --- | --- | --- |
| CLE | 0 | 0 | 0 | 2 | 0 | 0 | 0 | 0 | 0 | 2 | 8.5 |
| KC | 3 | 0 | 0 | 1 | 0 | 0 | 1 | 1 | 0 | 6 | +128 |
Preview & Predictions

Cleveland Guardians vs
Kansas City Royals
Kansas City Royals Catcher Salvador Perez Out Indefinitely with Concussion
Royals catcher Salvador Perez is out indefinitely with a concussion.
Game Info
When: Wednesday, 9/20/2023 @ 2:10pm EST
Where: Ewing M. Kauffman Stadium Stadium
Guardians vs Royals Betting Odds
Moneyline: Guardians -144 | Royals +132
Spread: Guardians -1.5 (+108) | Royals +1.5 (-128)
Total: Over/Under 9 (-110)
Based on the moneyline, the implied probability that Cleveland will win straight-up is 59%.
Cleveland vs Kansas City Score Prediction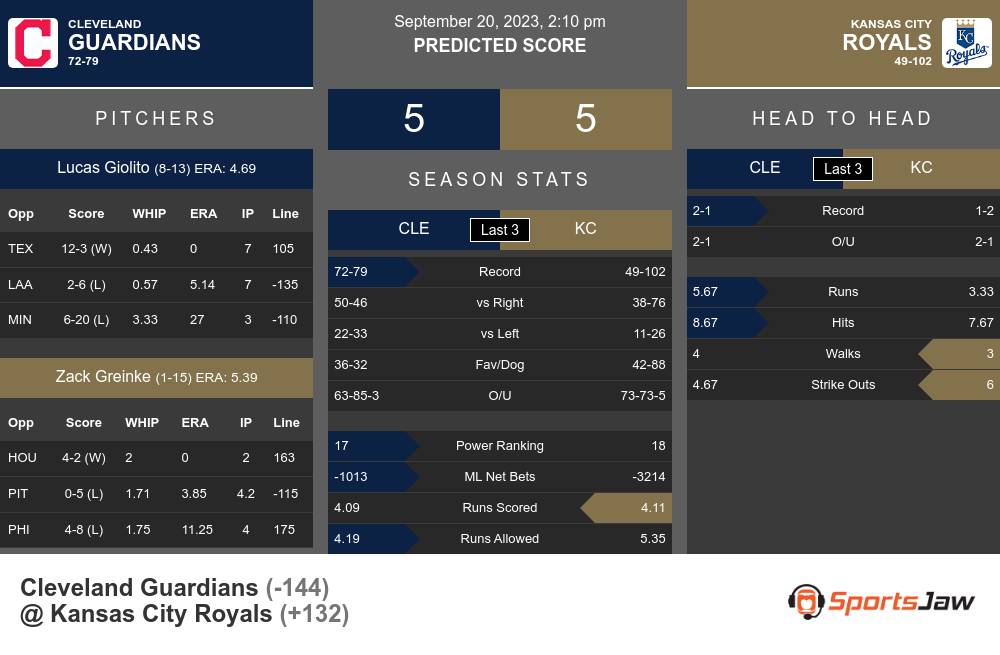 Cleveland Guardians
Cleveland swept Texas in its last series, outscoring the Rangers 23-6 in three games.
Cleveland has not been able to replicate its 2018 postseason run and will not make it to the playoffs.
The Guardians score an average of 4.09 runs per game (27th) and have a .250 batting average (15th) with a .694 OPS (27th).
They have 116 home runs (30th) and 139 stolen bases (5th) this year.
The Cleveland pitching staff has a 3.91 ERA (6th) and a 1.28 WHIP (15th) with 55 quality starts (12th).
Giolito (3-9, 5.97 ERA, 1.51 WHIP in 16 road outings) will be pitching on Wednesday.
In his last start against the Rangers, he held them scoreless with 12 Ks in seven innings.
He earned two victories over Kansas City in May, holding them to three total runs with 13 strikeouts in 12 combined innings.
Cleveland has a power ranking of 17 and is 72-79 this season.
They're ranked 27 in offense and 7 in defense.
Kansas City Royals Analysis
Kansas City Royals: 18th power ranking; 26th for offense (scoring an average of 4.11 per game); 28th for defense (giving up an average of 5.35 points per game); 49-102 overall
Recent performance: Won 5 of its last 6 overall, 6.5 runs/game average, .242 batting average, .697 OPS, 150 HRs, 152 stolen bases
Pitching staff: 5.22 ERA, 1.41 WHIP, 31 quality starts
Cleveland vs Kansas City: Cleveland went 1-2 in their last 3 matchups
Wednesday's series finale: Greinke will start - last start held Houston to zero runs/3 hits in 2 innings
Giolito Looks to Deliver Momentum Versus Kansas City Royals on Wednesday, Despite Poor Bullpen Performance
Giolito has had success in his two starts against Kansas City this season, and after an outstanding performance against Houston, looks to have the momentum needed for Wednesday. Greinke, with a near-concluding career, will have little influence if he takes the mound, as he is only expected to pitch four innings with a Royals bullpen (5.21 ERA, 1.48 WHIP) being one of the worst in MLB. Despite their lack of potency (.266 BA/.335 OBP/.387 SLG/.722 OPS in September) the Guardians are favored at -142 odds, making them a safe bet at five units.
Written by Jtgarcia
Published on
Category: MLB Picks
About the Author: Sports nut and professional bettor. I win more than I lose, follow me for winners this season in NCAAB and NBA hardwood.
Sun, 3:05 PM
LA
SF
Sun, 3:10 PM
Minnesota
Colorado
Sun, 3:10 PM
Cleveland
Detroit
Sun, 3:10 PM
New York
KC
Sun, 3:10 PM
Chicago
Milwaukee
Sun, 3:15 PM
CIN
St. Louis