Wed Sep 20 2:05PM
5
15
|   | 1 | 2 | 3 | 4 | 5 | 6 | 7 | 8 | 9 | T | ODDS |
| --- | --- | --- | --- | --- | --- | --- | --- | --- | --- | --- | --- |
| BOS | 3 | 1 | 0 | 0 | 0 | 0 | 0 | 0 | 1 | 5 | 9 |
| TEX | 0 | 6 | 2 | 2 | 3 | 2 | 0 | 0 | 0 | 15 | -150 |
Preview & Predictions

Boston Red Sox vs
Texas Rangers
Red Sox Lead Rangers in AL Wild Card Race as Teams Face Off in Showdown Series
At this point, the Red Sox and Rangers have a three-game series at Globe Life Field in Texas, with the Red Sox currently leading 1-0 after a 4-2 win on Monday night. With both teams vying for playoff position, Wednesday's game is critical for both sides.
Game Info
When: Wednesday, 9/20/2023 @ 2:05pm EST
Where: Globe Life Field Stadium
Red Sox vs Rangers Betting Odds
Moneyline: Red Sox +122 | Rangers -139
Spread: Red Sox +1.5 (-163) | Rangers -1.5 (+135)
Total: Over/Under 9 (-110)
Based on the moneyline, the implied probability that Texas will win straight-up is 58%.
Boston vs Texas Score Prediction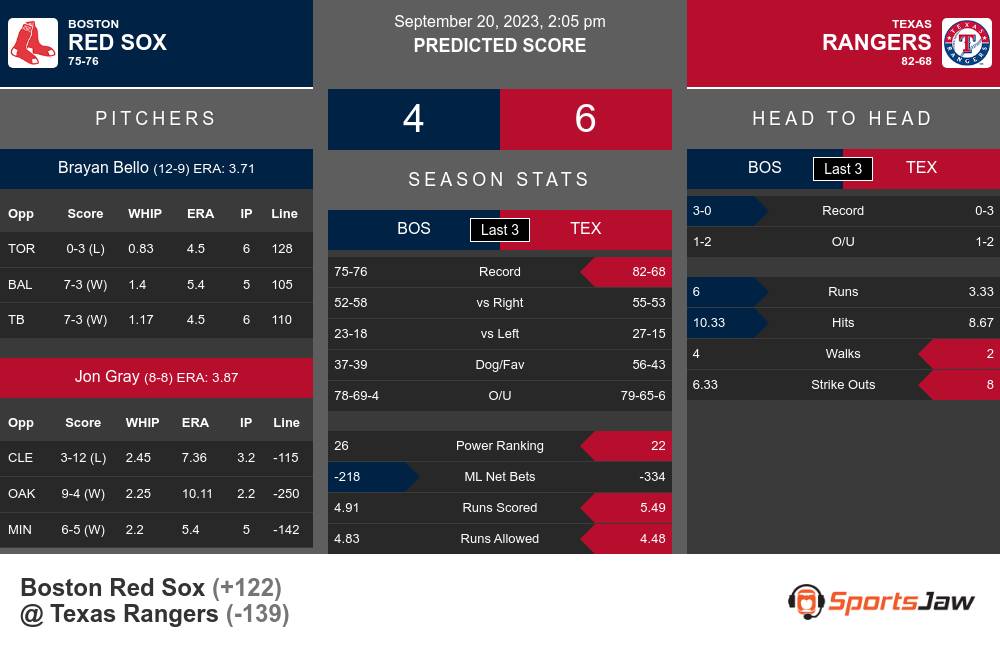 Boston Red Sox
Boston rallied to take the opening game of the series Monday night amid a four-game losing streak and six out of their last seven games.
Rafael Devers, Bobby Dalbec and Luis Urias each got two hits in the contest.
Kutter Crawford (no decision) threw six innings, allowing two runs on four hits with no walks and seven strikeouts.
Josh Winckowski earned the win with a scoreless inning, allowing no hits with two walks and three strikeouts.
Chris Martin notched his second save for the Red Sox with a scoreless ninth, allowing one hit with no walks and two strikeouts.
Brayan Bello is on the mound for the Red Sox as he makes his 27th start of the season.
Boston is 8th in offense (scoring an average of 4.91 per game) and 22nd in defense (allowing an average of 4.83 points to be scored against them per game).
Texas Rangers Analysis
Texas suffered a fourth straight loss as they wilted late against the Red Sox in the opening game of the series.
The Rangers entered Tuesday 82-68 and stood tied for second in the AL West with Seattle, 1.5 games behind the Astros for the top spot.
They were also tied with Seattle for the final wild card spot in the AL playoff picture.
Texas has a power ranking of 22 and are #3 for offense (scoring an average of 5.49 per game), #17 for defense (giving up an average of 4.48 points per game).
Boston went 0-3 in their last 3 matchups against Texas.
Jon Gray takes the ball for Texas as he makes his 28th start of the season in this contest.
Gray is 8-8 with a 4.05 ERA, a 1.295 WHIP, 53 walks and 134 strikeouts over 149 innings of work.
Red Sox and Rangers Race for AL Wild Card Position as Both Teams Struggle
Both teams have experienced difficulty recently, which is why they hold their current positions in the AL playoff race. The Red Sox let go of Chaim Bloom, seemingly assigning most of the responsibility for their struggles to him. Bello has proved to be an effective starter in his first season in the majors, and he has been successful in his two matches against the Rangers. On Monday, the Rangers saw Josh Jung and Adolis Garcia reinforce their lineup. However, pitching is the primary issue for Texas; Gray has exhibited inconsistency in his recent starts, and the bullpen underperformed once again on Monday. If the Rangers are to miss the playoffs, this could be their downfall. Bello's impressive performance should grant the edge to the Red Sox.
Sources: [ 1 ] [ 2 ] [ 3 ] [ 4 ] " target="_blank">[ 5 ]
Written by Georgew
Published on
Category: MLB Picks
About the Author: I employ a variety of handicapping techniques and fundamentals to spot value in betting odds. These methods are tried and true and my records back it up.
Sun, 3:05 PM
LA
SF
Sun, 3:10 PM
Minnesota
Colorado
Sun, 3:10 PM
Cleveland
Detroit
Sun, 3:10 PM
New York
KC
Sun, 3:10 PM
Chicago
Milwaukee
Sun, 3:15 PM
CIN
St. Louis