Wed Sep 20 12:35PM
5
3
|   | 1 | 2 | 3 | 4 | 5 | 6 | 7 | 8 | 9 | T | ODDS |
| --- | --- | --- | --- | --- | --- | --- | --- | --- | --- | --- | --- |
| MIN | 0 | 0 | 0 | 0 | 0 | 0 | 1 | 1 | 3 | 5 | 8.5 |
| CIN | 0 | 0 | 1 | 1 | 0 | 0 | 1 | 0 | 0 | 3 | -131 |
Preview & Predictions

Minnesota Twins vs
Cincinnati Reds
Minnesota Twins and Cincinnati Reds Prepare for Crucial Matchup to Decide Playoff Spot
The Minnesota Twins (79-72) will take on the Cincinnati Reds (79-73) in an important season series finale at Great American Ball Park on Wednesday, with the winner edging closer to clinching a playoff spot. The Twins are expected to have a strong finish and nearly certain of a place in the playoffs. However, the Reds will need a strong finish and an extra loss from one of the teams ahead of them to reach the postseason.
Game Info
When: Wednesday, 9/20/2023 @ 12:35pm EST
Where: Great American Ball Park Stadium
Twins vs Reds Betting Odds
Moneyline: Twins -105 | Reds -108
Spread: Twins 0 (-20) | Reds 0 (-11)
Total: Over/Under 9 (-110)
Based on the moneyline, the implied probability that Cincinnati will win straight-up is 52%.
Minnesota vs Cincinnati Score Prediction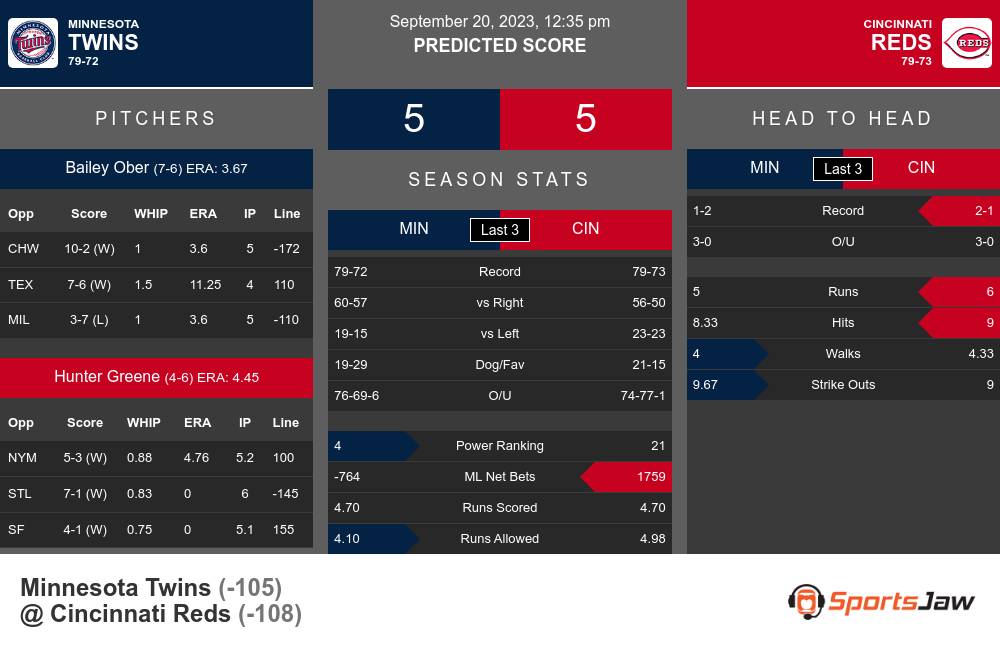 Minnesota Twins
Minnesota is five games away from an AL Central title and may be three games away once the next game starts.
The Twins are powered by their pitching, allowing an average of 4.10 points to be scored against them per game (one of the lowest in the league).
Bailey Ober will try to keep this momentum going with a strong outing on Wednesday.
Ober has had a rough showing lately, with an ERA of 6.27 since July 29.
The Twins have a subpar bullpen, largely relying on the rotation to get wins.
Offensively, September has been good for the Twins, averaging over six runs per game.
Minnesota also has MLB's worst strikeout rate, but are excelling at walks and clobbering homers.
They have an issue with baserunning and a low team batting average.
The Twins are ranked #4 in power ranking this season and are 79-72.
Cincinnati Reds Analysis
Hunter Greene (Cincinnati's pitcher) has 5.94 ERA at home and 17.0 innings and five runs allowed in his last 3 performances with Cincinnati's bullpen ranking #3 in WAR.
Cincinnati Reds: Overall -- 79-73, Offense -- #11, Defense -- #23
Minnesota: 2 - 1 against Cincinnati
Hunter Greene: 5.94 ERA at home; 17.0 innings, 5 runs allowed in last 3 performances
Cincinnati's bullpen: #3 WAR ranking
Hunter Greene Ready to Lead Reds to Victory Against Minnesota's Bailey Ober
Hunter Greene is set to continue his streak of impressive performances on Wednesday. With three consecutive victories under his belt featuring only three earned runs, he's ready to lead Cincinnati to another victory and hand the game to a powerful bullpen. The Reds will have an advantage against Minnesota's Bailey Ober; he has an ERA over 6.00 in his past seven starts, and has given up a homer in nine consecutive games. Cincinnati has found success in the long ball in their own home games, and should continue to hit well after Ober's departure. Minnesota's bullpen is also weak, giving the Reds an opportunity to extend their lead. With the home crowd behind them, Cincinnati is expected to come away with a win.
Written by Steved
Published on
Category: MLB Picks
About the Author: I apply a behind the scenes mix of technical analyze of stats, real-time news, and fundamental analysis that helps spot advantages to give me and my clients the edge.
Sun, 3:05 PM
LA
SF
Sun, 3:10 PM
Minnesota
Colorado
Sun, 3:10 PM
Cleveland
Detroit
Sun, 3:10 PM
New York
KC
Sun, 3:10 PM
Chicago
Milwaukee
Sun, 3:15 PM
CIN
St. Louis