Wed Sep 20 12:20PM
6
5
|   | 1 | 2 | 3 | 4 | 5 | 6 | 7 | 8 | 9 | 10 | T | ODDS |
| --- | --- | --- | --- | --- | --- | --- | --- | --- | --- | --- | --- | --- |
| PHI | 1 | 1 | 0 | 2 | 0 | 0 | 0 | 0 | 0 | 2 | 6 | 9.5 |
| ATL | 0 | 0 | 0 | 1 | 1 | 0 | 0 | 2 | 0 | 1 | 5 | -140 |
Preview & Predictions

Philadelphia Phillies vs
Atlanta Braves
Phillies and Braves Showdown for Final Game of Series in Tight Playoff Race
This Wednesday matinee between the Phillies and Braves features a pair of rivals in the midst of tight playoff races, meeting for the third and final game in their three-game series following Philadelphia's 7-1 victory Monday night and the outcome of the middle game Tuesday night. The Phillies are aiming for a series victory and a chance to solidify their hold on the top wild card spot while the Braves look to get back to top form in the finale.
Game Info
When: Wednesday, 9/20/2023 @ 12:20pm EST
Where: Truist Park Stadium
Phillies vs Braves Betting Odds
Moneyline: Phillies +124 | Braves -145
Spread: Phillies +1.5 (-162) | Braves -1.5 (+136)
Total: Over/Under 9.5 (-110)
Based on the moneyline, the implied probability that Atlanta will win straight-up is 59%.
Philadelphia vs Atlanta Score Prediction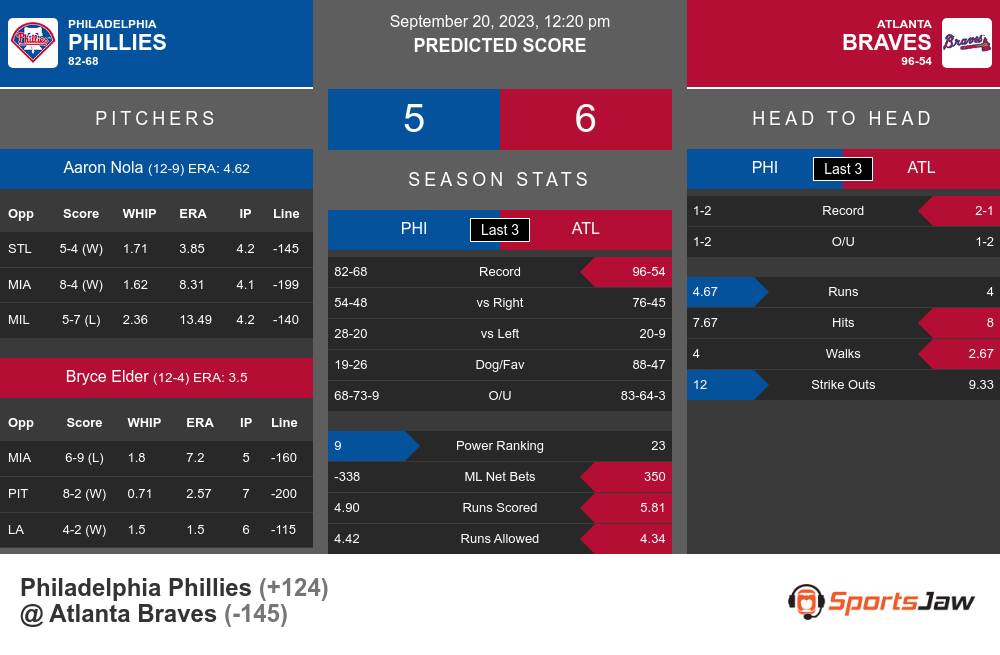 Philadelphia Phillies
Philadelphia defeated Atlanta in the opening game of this series, flexing its collective muscle with seven hits, including from Trea Turner (two) and five homers by Bryce Harper (his 18th), Kyle Schwarber (his 45th), Nick Castellanos (his 25th), J.T. Realmuto (his 19th) and Johan Rojas (his second).
Zack Wheeler (12-6) earned the win, throwing six innings and allowing one run on three hits with two walks and five strikeouts.
Aaron Nola is on mound for the Phillies, having had 12-9 record with a 4.62 ERA, 1.177 WHIP, 45 walks and 186 strikeouts over 181 innings of work on the year.
Philadelphia ranks 9 in offense (scoring an average of 4.90 per game), #13 in defense (allowing an average of 4.42 points to be scored against them per game) and are 82-68 this season.
Atlanta Braves Analysis
Atlanta suffered their fourth straight loss as they were victimized by the power game of the Phillies in the opening game of this set
The Braves own a 3.5-game lead over the Dodgers for the top record in the National League
Bryce Elder is on the bump for the Braves and is 12-4 with a 3.50 ERA, 1.219 WHIP, 54 walks, and 126 strikeouts over 167.1 innings of work
Atlanta has a power ranking of 23, #1 offense (scoring an average of 5.81 per game), #10 defense (giving up an average of 4.34 points per game)
Philadelphia went 2-1 in their last 3 matchups against Atlanta
Braves Attempt to Remain Healthy in Face of Phillies and High-Powered Ace Nola
The Braves are in no danger of dropping lower than second in the National League, providing an opportunity for Brian Snitker to give key personnel some rest in preparation for the postseason. With several players currently on the injured list, they will need to find a way to get up to speed prior to the playoffs. Meanwhile, the Phillies are currently holding the top Wild Card spot, and with their ace pitcher, Nola, having a good track record against the Braves, they have the edge in the upcoming matchup. Despite the Braves wanting to remain healthy for their push into the playoffs, the Phillies appear to have the stronger chance of winning this game.
Sources: [ 2 ] [ 3 ] [ 4 ] [ 5 ]
Written by Mrmister
Published on
Category: MLB Picks
About the Author: I've been betting on sports my whole life. I actually placed 4th in the Golden Nugget contest in Vegas in 2005, and placed 3rd in the Reserve Casino Contest in Vegas in 2002. Still enjoy handicapping and glad I found this platform to share my picks.
Sun, 3:05 PM
LA
SF
Sun, 3:10 PM
Minnesota
Colorado
Sun, 3:10 PM
Cleveland
Detroit
Sun, 3:10 PM
New York
KC
Sun, 3:10 PM
Chicago
Milwaukee
Sun, 3:15 PM
CIN
St. Louis