Tue Sep 19 7:40PM
1
14
|   | 1 | 2 | 3 | 4 | 5 | 6 | 7 | 8 | 9 | T | ODDS |
| --- | --- | --- | --- | --- | --- | --- | --- | --- | --- | --- | --- |
| PIT | 0 | 0 | 1 | 0 | 0 | 0 | 0 | 0 | 0 | 1 | 9 |
| CHC | 2 | 2 | 1 | 0 | 0 | 1 | 0 | 8 | 0 | 14 | -161 |
Preview & Predictions

Pittsburgh Pirates vs
Chicago Cubs
Divisional Series Begins as Cubs Look to Extend 9-1 Record Against Pittsburgh Pirates
The three-game divisional series between the Pittsburgh Pirates (70-80, 75-75 RL, 80-65-5 O/U) and the Chicago Cubs (78-72, 75-75 RL, 73-73-4 O/U) begins on Tuesday. The Cubs have a season record of 9-1 against the Pirates and are the bookmaker favorites, currently at -162, while Bailey Falter (ERA: 8.5) will be the starting pitcher for Pittsburgh and Javier Assad (ERA: 3.1) for Chicago.
Game Info
When: Tuesday, 9/19/2023 @ 7:40pm EST
Where: Wrigley Field Stadium
Pirates vs Cubs Betting Odds
Moneyline: Pirates +147 | Cubs -162
Spread: Pirates +1.5 (-138) | Cubs -1.5 (+118)
Total: Over/Under 9 (-110)
Based on the moneyline, the implied probability that Chicago will win straight-up is 62%.
Pittsburgh vs Chicago Score Prediction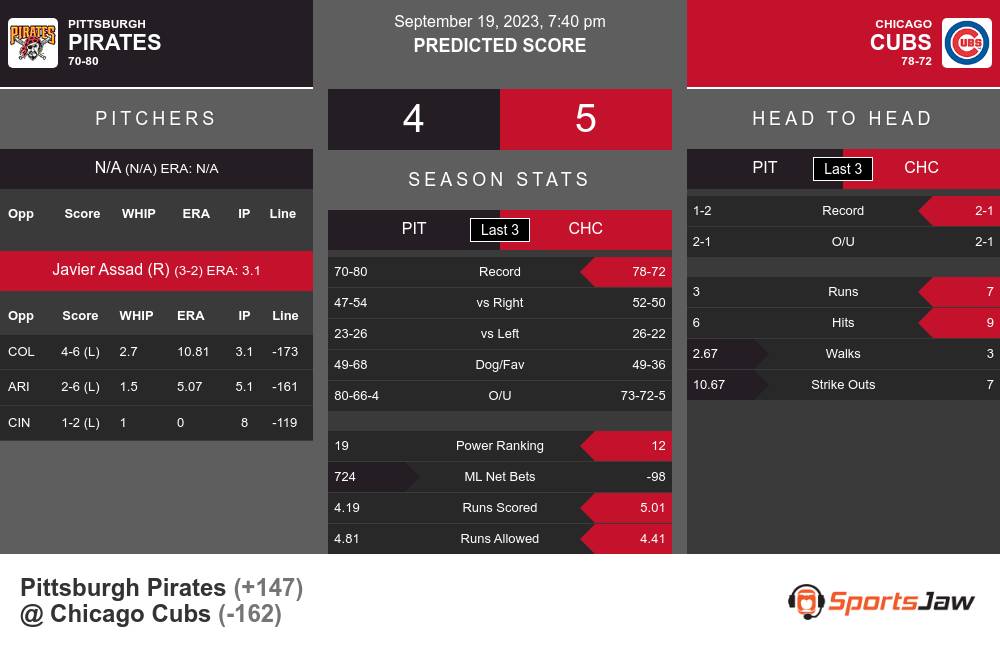 Pittsburgh Pirates
Bailey Falter was credited with the victory after conceding one run in six innings against the Nationals in his last time out.
He has a 4.40 ERA, 1.30 WHIP, and 2-8 record in 77.2 innings pitched.
Pittsburgh is 5-5 in their last ten games and has an overall record of 70-80.
Ke'Bryan Hayes has 59 RBIs and a .756 OPS. He has been struggling against the Cubs with only three RBIs and a .610 OPS.
The Pirates are ranked 24th in offense (scoring an average of 4.19 per game) and 20th in defense (allowing an average of 4.81 points to be scored against them per game).
A little assist from the bag never hurt anybody 😉 pic.twitter.com/t2a5xtrfyx

— Pittsburgh Pirates (@Pirates) September 17, 2023
Chicago Cubs Analysis
Javier Assad has been one of the Cubs' most consistent pitchers, with a 3.1 ERA and a 1.25 WHIP accompanied by a 3-3 record in 95.2 innings.
The Cubs are 2-8 in their last ten clashes.
Christopher Morel has bashed four homers with seven RBIs and a solid .830 OPS in September, with 23 homeruns, 67 RBIs and an .807 OPS on the season.
Chicago Cubs have a power ranking of 12, #7 for offense (scoring an average of 5.01 per game) and #14 for defense (giving up an average of 4.41 points per game) and 78-72 overall.
Pittsburgh went 2-1 in their last 3 matchups against Chicago.
Cubs take the lead! pic.twitter.com/1C7S2dcB51

— Chicago Cubs (@Cubs) September 17, 2023
Cubs vs Pirates: Cubs Dominate Season Matchups; Javier Assad Continues to Shine
The Cubs have had success in their 10 matchups against the Pirates this season, winning nine of them. The Pirates are not in contention while the Cubs are fighting for the wild card position. The Pirates have lost three of their last four road games and Bailey Falter's 10.13 ERA in his 15.1 innings of career pitching against the Cubs has been poor. Javier Assad has been resilient for the Cubs. He has a 2.48 ERA and 3.78 ERA in September, including holding the Pirates to one run in seven innings during their one meeting this season.
Written by Steved
Published on
Category: MLB Picks
About the Author: I apply a behind the scenes mix of technical analyze of stats, real-time news, and fundamental analysis that helps spot advantages to give me and my clients the edge.
Sun, 3:05 PM
LA
SF
Sun, 3:10 PM
Minnesota
Colorado
Sun, 3:10 PM
Cleveland
Detroit
Sun, 3:10 PM
New York
KC
Sun, 3:10 PM
Chicago
Milwaukee
Sun, 3:15 PM
CIN
St. Louis