Tue Sep 19 9:40PM
4
8
|   | 1 | 2 | 3 | 4 | 5 | 6 | 7 | 8 | 9 | T | ODDS |
| --- | --- | --- | --- | --- | --- | --- | --- | --- | --- | --- | --- |
| SF | 2 | 0 | 0 | 0 | 2 | 0 | 0 | 0 | 0 | 4 | 8 |
| ARI | 1 | 4 | 0 | 2 | 1 | 0 | 0 | 0 | 0 | 8 | -144 |
Preview & Predictions

San Francisco Giants vs
Arizona Diamondbacks
Giants vs Diamondbacks Go Head-to-Head in Low-Scoring Matchup with Arizona Slight Favorite
The total is set at 8.5 runs. The San Francisco Giants and Arizona Diamondbacks are set to face off in a two-game set at Chase Field in Phoenix, Arizona. Alex Cobb will be starting for the Giants (ERA: 3.62) and Zac Gallen for the Diamondbacks (ERA: 3.5). Arizona is the moneyline favorite opening at -145 and the current line is Arizona -144. The total is set at 8.5 runs. The Giants are 6-5 against Arizona this season.
Game Info
When: Tuesday, 9/19/2023 @ 9:40pm EST
Where: Chase Field Stadium
Giants vs Diamondbacks Betting Odds
Moneyline: Giants +127 | Diamondbacks -144
Spread: Giants +1.5 (-162) | Diamondbacks -1.5 (+140)
Total: Over/Under 8.5 (-110)
Based on the moneyline, the implied probability that Arizona will win straight-up is 59%.
San Francisco vs Arizona Score Prediction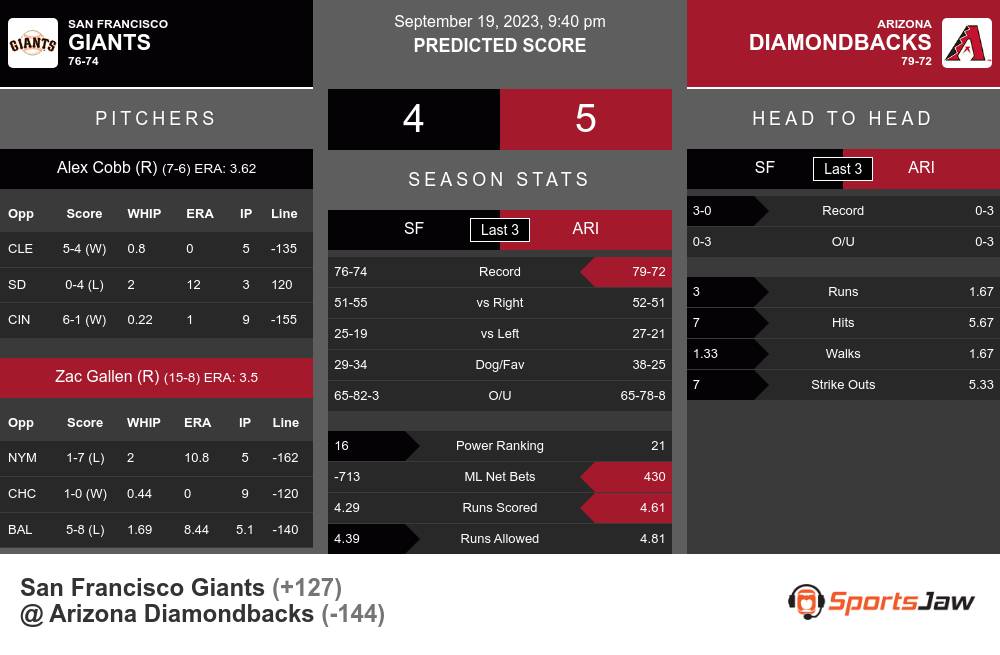 San Francisco Giants
• San Francisco Giants come off Sunday's 11-10 victory over Colorado Rockies, avoiding a series sweep in Coors Field, Denver. • Giants have gone 6-4 over last 10 games, scoring 56 runs with a .290/.372/.464 triple-slash and a 132 wRC+ • Pitching side of things, Giants have recorded a 3.53 ERA, 3.20 FIP, and 1.25 WHIP over last 10 outings. • Alex Cobb set to be on the mound Tuesday, with 7-6 record, 3.62 ERA, 1.30 WHIP in 27 starts (149.1 innings pitched). • Power ranking of 16, ranked #21 in offense (4.29 average points per game) and #12 in defense (allow 4.39 points per game).
Arizona Diamondbacks Analysis
Dbacks had 8 wins in the last 12 games and have scored 53 runs, .242/.327/.357 slash line and an 89 wRC+. Zac Gallen is 15-8 and 3.50 ERA and 1.11 WHIP and has faced San Francisco twice this season.
-Arizona Diamondbacks have a power ranking of 21 -#13 for offense, 4.61 average points per game -#21 for defense, 4.81 points per game -79-72 overall -San Francisco went 0-3 in their last 3 matchups against Arizona -8 wins in the last 12 games -Scored 53 runs and a .242/.327/.357 slash line and an 89 wRC+ -Zac Gallen: 15-8, 3.50 ERA, 1.11 WHIP, 2 starts against San Francisco this season
Diamondbacks Hold Slight Edge as Alex Cobb and Zac Gallen Go Head-to-Head in Low-Scoring Matchup
Alex Cobb and Zac Gallen will be facing each other in what will likely be a low-scoring game. Both teams have seen a decrease in offensive production as of late, so a wise betting strategy would be to stay away. The result could go either way, however the Diamondbacks have a slight advantage due to Gallen's superior performance. So far, the current Giants lineup have only achieved 34 hits with two home runs against Gallen, as opposed to the current Arizona team who achieved 30 hits with four home runs against Cobb.
Written by Mtgoldstein
Published on
Category: MLB Picks
About the Author: Retired sports writer with the Houston Chronicle, now have turned my passion into sports betting and handicapping NBA, NFL, and most major sports. Join me this season for insider picks you can't get anywhere else.
Sun, 3:05 PM
LA
SF
Sun, 3:10 PM
Minnesota
Colorado
Sun, 3:10 PM
Cleveland
Detroit
Sun, 3:10 PM
New York
KC
Sun, 3:10 PM
Chicago
Milwaukee
Sun, 3:15 PM
CIN
St. Louis