Tue Sep 19 7:45PM
7
3
|   | 1 | 2 | 3 | 4 | 5 | 6 | 7 | 8 | 9 | T | ODDS |
| --- | --- | --- | --- | --- | --- | --- | --- | --- | --- | --- | --- |
| MIL | 0 | 0 | 1 | 4 | 0 | 0 | 0 | 1 | 1 | 7 | 9 |
| STL | 2 | 0 | 0 | 0 | 1 | 0 | 0 | 0 | 0 | 3 | +116 |
Preview & Predictions

Milwaukee Brewers vs
St. Louis Cardinals
Brewers Aim to Clinch Division Title in Clash with Cardinals at Busch Stadium for Season Finale
The Brewers will look to improve on their 84-66 season record, while the Cardinals hope to build off their 67-83 record when they faceoff at Busch Stadium for their final match up of the season. The Milwaukee Brewers and St. Louis Cardinals will conclude their season rivalry in the upcoming match-up at Busch Stadium on Tuesday evening. The Brewers, with an 84-66 season record, will have Adrian Houser (ERA: 4.53) starting while the Cardinals, at 67-83, will counter with Drew Rom (ERA: 5.96). The Cardinals lead the season series 4-3 and the Brewers are the betting favorite opening at -125. Both teams hope to finish off their respective seasons on a high note.
Game Info
When: Tuesday, 9/19/2023 @ 7:45pm EST
Where: Busch Stadium Stadium
Brewers vs Cardinals Betting Odds
Moneyline: Brewers -125 | Cardinals +105
Spread: Brewers -1.5 (+130) | Cardinals +1.5 (-153)
Total: Over/Under 9 (-110)
Based on the moneyline, the implied probability that Milwaukee will win straight-up is 56%.
Milwaukee vs St. Louis Score Prediction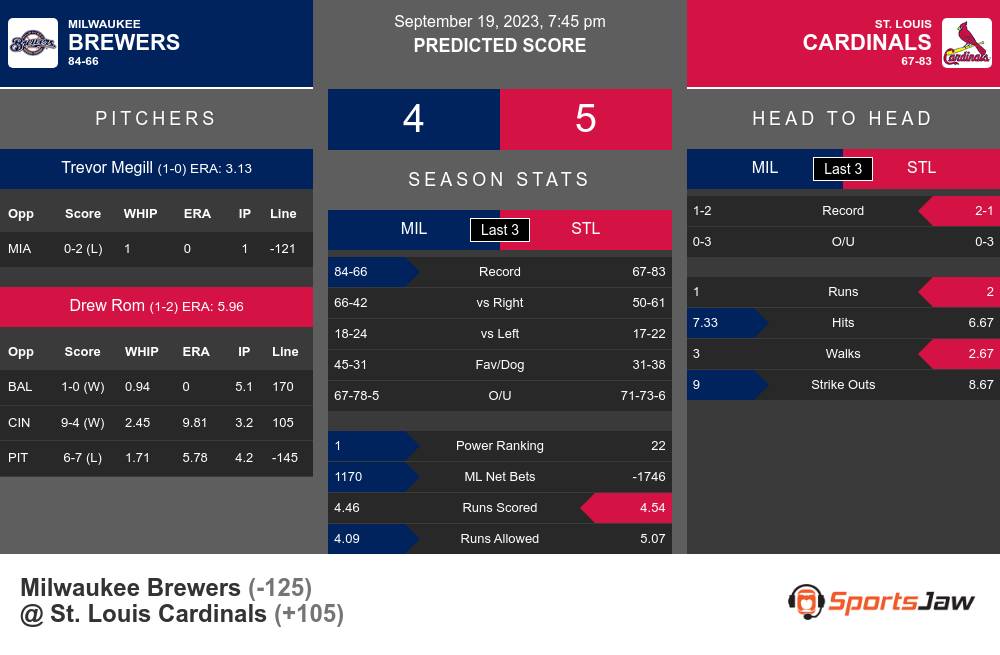 Milwaukee Brewers
• Adrian Houser will start on Tuesday night against the Cardinals • Houser has had an up and down season, with a 4.53 ERA and 1.46 WHIP • Posting a 3.19 ERA and 4-5 record in 59.1 career innings against the Cardinals • Milwaukee is 6.5 games ahead of the rival Cubs in the NL Central • Brewers have 7-3 record in last 10 games and are 84-66 on the season • Carlos Santana is leading the offense with 21 HRs and 76 RBIs • Team is 19th in offense (scoring 4.46 runs/game) and 4th in defense (allowing 4.09 points against/game)
MARK CANHA ARE YOU KIDDING?!

GO-AHEAD GRAND SLAM WINS US THE GAME!#ThisIsMyCrew pic.twitter.com/S8MpIHvhJb

— Milwaukee Brewers (@Brewers) September 17, 2023
St. Louis Cardinals Analysis
• Drew Rom has been acquired in late July and is making his first career meeting against the Brewers. His stats include a 5.96 ERA, 1.76 WHIP, and a 1-2 record in 22.2 innings. • Jordan Walker is the Cardinals' top prospect and has 16 home runs, 47 RBIs, and a .788 OPS in 104 games. • Nolan Gorman is currently on the IL. • St. Louis Cardinals have a power ranking of 22 with 16th ranked offense, 24th ranked defense, and an overall record of 67-83. • Milwaukee has gone 2-1 in their last three matchups against St. Louis.
JORDAN IS CLUTCH!#STLCards pic.twitter.com/9cCeFCJJBR

— St. Louis Cardinals (@Cardinals) September 17, 2023
Brewers Flying High in Division Title Race, Cardinals Struggling After Series Loss to Phillies
The Milwaukee Brewers are gaining strength in the division title race, as they have won seven of their past ten games. Conversely, the Cardinals have won only three of their last seven games after a series loss to the Phillies. Furthermore, Brewers pitcher Colin Rea has delivered a strong 3.29 ERA this month, while Cards rookie Drew Rom has struggled, with 17 runs in 22 innings on the year and only pitching more than five innings in two of his five appearances. This bodes ill for the Cardinals, especially in light of their bullpen's 4.53 ERA.
Sources: [ 1 ] [ 2 ] [ 3 ] [ 4 ]
Written by Johnmizner
Published on
Category: MLB Picks
About the Author: Information is what wins games, having the upper edge in ways of injuries, knowing who's starting, and the coaching philosophies are just a few key eliminates that go into each and every play I put out.
Sun, 3:05 PM
LA
SF
Sun, 3:10 PM
Minnesota
Colorado
Sun, 3:10 PM
Cleveland
Detroit
Sun, 3:10 PM
New York
KC
Sun, 3:10 PM
Chicago
Milwaukee
Sun, 3:15 PM
CIN
St. Louis