Tue Sep 19 9:40PM
0
2
|   | 1 | 2 | 3 | 4 | 5 | 6 | 7 | 8 | 9 | T | ODDS |
| --- | --- | --- | --- | --- | --- | --- | --- | --- | --- | --- | --- |
| COL | 0 | 0 | 0 | 0 | 0 | 0 | 0 | 0 | 0 | 0 | 7.5 |
| SD | 0 | 0 | 0 | 0 | 0 | 0 | 0 | 0 | 2 | 2 | -295 |
Preview & Predictions

Colorado Rockies vs
San Diego Padres
Blake Snell and Padres Favorites to Dominate Rockies in Petco Park Thriller
Tuesday marks the second game of a three-game set between the Colorado Rockies and San Diego Padres at Petco Park, with Ryan Feltner taking the mound for the Rockies and Blake Snell pitching for the Padres. The Padres have won six of their previous ten matches against Colorado this season. The Padres are the opening betting favorite at -250.
Game Info
When: Tuesday, 9/19/2023 @ 9:40pm EST
Where: Petco Park Stadium
Rockies vs Padres Betting Odds
Moneyline: Rockies +200 | Padres -250
Spread: Rockies +1.5 (-105) | Padres -1.5 (-115)
Total: Over/Under 8 (-110)
Based on the moneyline, the implied probability that San Diego will win straight-up is 71%.
Colorado vs San Diego Score Prediction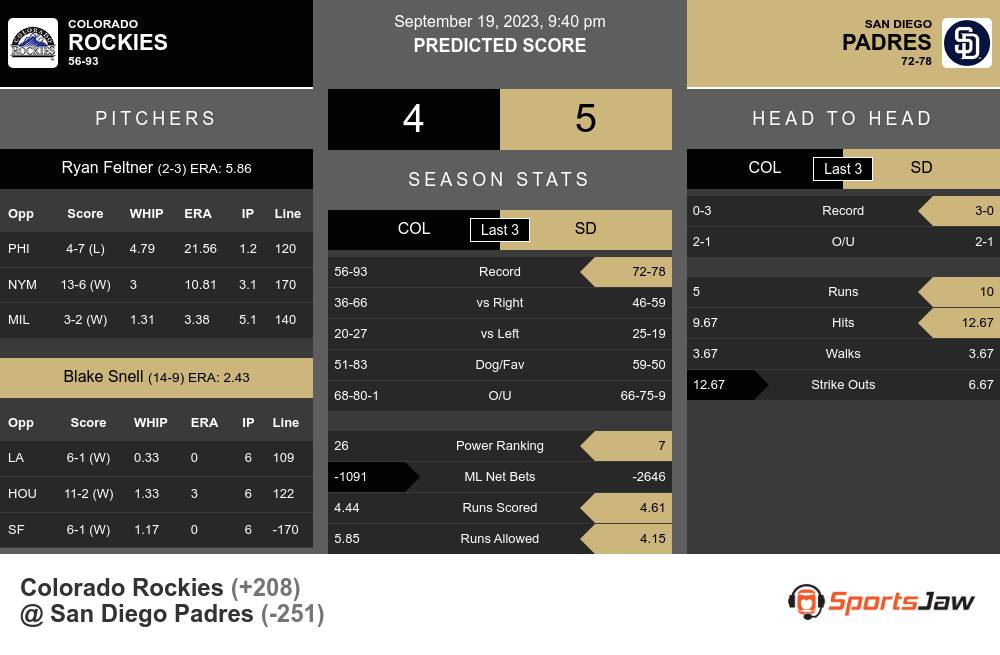 Colorado Rockies
• The Colorado Rockies had won five consecutive games prior to Sunday's 11-10 defeat to the San Francisco Giants. • Colorado had taken two out of three contests from the Chicago Cubs, and had won a four-game home set against the Giants in the 7-day period. • The team has slashed a sturdy .290/.357/.473 with 14 extra-base hits and seven home runs across 207 at-bats. • The Rocks have compiled a 4.33 ERA, 1.46 WHIP, and .269 batting average against during the 7-day period. • Karl Kauffmann is 2-4 with a 7.28 ERA, 1.62 WHIP, and 13/14 K/BB ratio in three starts and six relief appearances this season. • The Rockies bullpen has recorded a 4.95 ERA and 4.68 FIP over the last ten days and 40 innings pitched. • Power Ranking of 26, Colorado is ranked 19 in offense (4.44 points per game) and 30 in defense (allowing an average of 5.85 points to be scored against them per game). • The overall record for the season is 56-93.
San Diego Padres Analysis
• Swept a three-game series at Oakland Coliseum, extending winning streak to four games • San Diego is slashing .247/.347/.414 with 174 at-bats • Pitchers posted 3.68 ERA, 1.07 WHIP, and .214 batting average against • Power Ranking of 7 and #15 for offence, #6 for defense • Blake Snell is 14-9 with 2.43 ERA, 1.22 WHIP, and 217/93 K/BB ratio • Snell has 0.72 ERA and 2.18 FIP with .394 opposing OPS over 25 innings in last four starts
Blake Snell on a Mission: Padres vs. Rockies Set to be a One-Sided Affair
Blake Snell is on a mission. He appears to be a strong candidate for the Cy Young Award this season. He has faced Colorado twice in 2023, allowing four runs on nine hits and one walk in 11.1 innings. The current Rockies have an anemic 19-for-90 record against Snell, with four doubles and two home runs. The Rockies have struggled on the road, winning only two of their last 17 games. It seems unlikely that the Rockies will be able to get anything going against Snell. San Diego -1.5 is my best pick for the Rockies vs. Padres game.
Sources: [ 1 ]
Written by Steved
Published on
Category: MLB Picks
About the Author: I apply a behind the scenes mix of technical analyze of stats, real-time news, and fundamental analysis that helps spot advantages to give me and my clients the edge.
Sun, 3:05 PM
LA
SF
Sun, 3:10 PM
Minnesota
Colorado
Sun, 3:10 PM
Cleveland
Detroit
Sun, 3:10 PM
New York
KC
Sun, 3:10 PM
Chicago
Milwaukee
Sun, 3:15 PM
CIN
St. Louis