Tue Sep 19 7:40PM
6
7
|   | 1 | 2 | 3 | 4 | 5 | 6 | 7 | 8 | 9 | T | ODDS |
| --- | --- | --- | --- | --- | --- | --- | --- | --- | --- | --- | --- |
| CLE | 0 | 0 | 0 | 0 | 2 | 2 | 1 | 1 | 0 | 6 | 9 |
| KC | 2 | 0 | 2 | 0 | 3 | 0 | 0 | 0 | 0 | 7 | +138 |
Preview & Predictions

Cleveland Guardians vs
Kansas City Royals
Cleveland Guardians vs Kansas City Royals: Who Will Win the Final Clash?
Tuesday night will mark the last road game for Missouri-based Cleveland Guardians and the second-last game for Kansas City Royals in 2019. The Guardians and Royals are the two bottom teams in American League Central, currently with the Guardians ahead of the Royals in the standings.
Game Info
When: Tuesday, 9/19/2023 @ 7:40pm EST
Where: Ewing M. Kauffman Stadium Stadium
Guardians vs Royals Betting Odds
Moneyline: Guardians -162 | Royals +140
Spread: Guardians -1.5 (-104) | Royals +1.5 (-115)
Total: Over/Under 9 (-110)
Based on the moneyline, the implied probability that Cleveland will win straight-up is 62%.
Cleveland vs Kansas City Score Prediction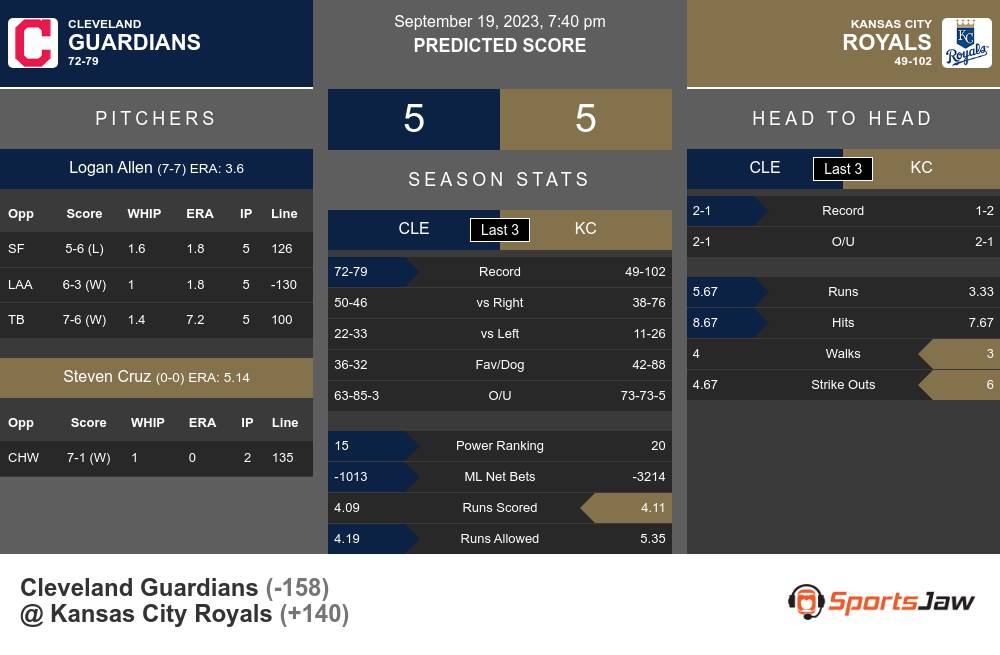 Cleveland Guardians
• 27th in runs per game for their offense • Fewest homers in the majors • Low strikeouts, lots of stolen bases, and a solid team batting average • Young arms, including Rookie lefty Logan Allen, showing up and delivering when called upon • Solid bullpen, capable of shutting down the Royals • Power ranking of 15, 72-79 this season • Defense ranks 7th, allowing an average of 4.19 points to be scored against them per game • Offense ranks 27th, scoring an average of 4.09 per game
Kansas City Royals Analysis
Offensive Record - 26th in runs per game -29th in walk rate - 28th in OBP - Bottom third in MLB for home run tally & slugging percentage - Plating 5.57 runs per game (6th) in September
Defensive Record -24th in groundball rate -25th in FIP - 27th or worse league-wide in WAR, ERA, & LOB% -Reliever Steven Cruz has tossed 6.1 scoreless innings
Kansas City Royals Eye Home Advantage for Crucial Match Against Cleveland
The Kansas City Royals have had a successful September, with their average of nearly six runs scored per game following Monday's 6-4 victory. Offence is a strong point for Kansas City, performing significantly better at home. In the last match against Cleveland, Logan Allen allowed four runs (four earned). With the game now at the K, the Royals should have the advantage due to their recent batting form. Nevertheless, the pitching staff must contain one of Major League Baseball's weakest offences. Steven Cruz's opener will be key in this task, able to limit the Indians' performance at the start. The Royals should come out on top for this home game.
Written by Mtgoldstein
Published on
Category: MLB Picks
About the Author: Retired sports writer with the Houston Chronicle, now have turned my passion into sports betting and handicapping NBA, NFL, and most major sports. Join me this season for insider picks you can't get anywhere else.
Sun, 3:05 PM
LA
SF
Sun, 3:10 PM
Minnesota
Colorado
Sun, 3:10 PM
Cleveland
Detroit
Sun, 3:10 PM
New York
KC
Sun, 3:10 PM
Chicago
Milwaukee
Sun, 3:15 PM
CIN
St. Louis