Tue Sep 19 9:40PM
7
2
|   | 1 | 2 | 3 | 4 | 5 | 6 | 7 | 8 | 9 | T | ODDS |
| --- | --- | --- | --- | --- | --- | --- | --- | --- | --- | --- | --- |
| SEA | 0 | 1 | 0 | 1 | 0 | 0 | 4 | 0 | 1 | 7 | 7.5 |
| OAK | 0 | 0 | 0 | 0 | 0 | 0 | 2 | 0 | 0 | 2 | +200 |
Preview & Predictions

Seattle Mariners vs
Oakland Athletics
Injuries To Consider Ahead Of Seattle Vs Oakland MLB Matchup
Injuries to Seattle 1B Evan White and C Tom Murphy and Oakland CF Ramon Laureano have to be taken into consideration.
Game Info
When: Tuesday, 9/19/2023 @ 9:40pm EST
Where: Oakland-Alameda County Coliseum Stadium
Mariners vs Athletics Betting Odds
Moneyline: Mariners -207 | Athletics +187
Spread: Mariners -1.5 (-115) | Athletics +1.5 (-102)
Total: Over/Under 7.5 (-110)
Based on the moneyline, the implied probability that Seattle will win straight-up is 67%.
Seattle vs Oakland Score Prediction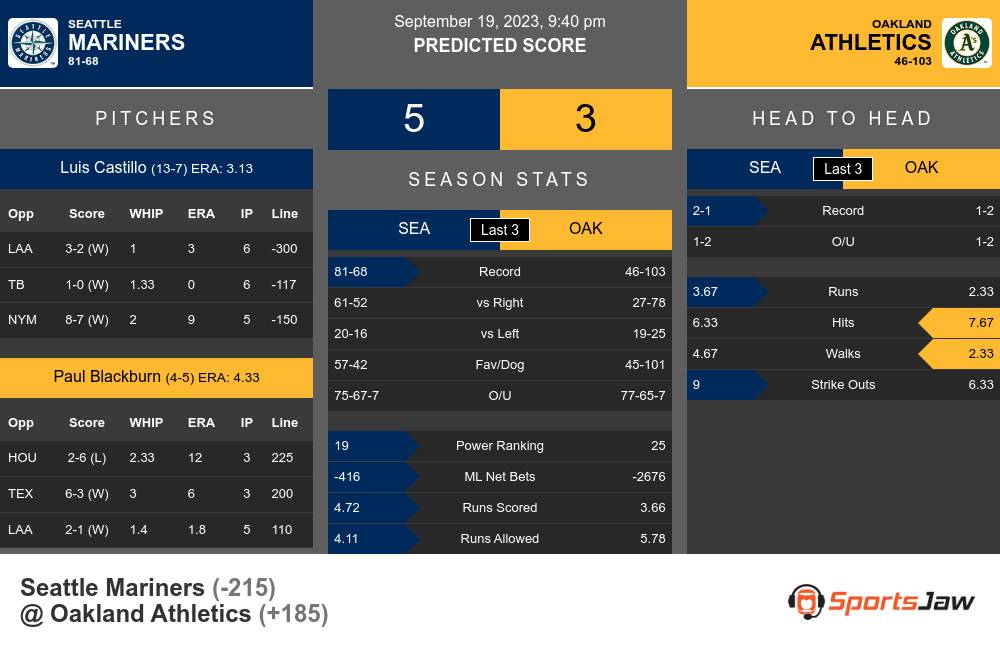 Seattle Mariners
• Seattle is in a downward spiral, having lost 7 out of 10 games • Team stats: Runs scored (10th - 4.72 per game), Hits (19th - .244 AVG), OPS (15th - .738), Home runs (12th - 195), Stolen bases (14th - 109) • Pitching staff stats: ERA (1st - 3.74), WHIP (3rd - 1.18), Quality Starts (2nd - 69) • Pitcher Castillo holds the Angels to two runs/three hits with eight strikeouts in six innings, shut out the Oakland A's with eight strikeouts in six innings on May 22 • Power ranking of 19, offense ranked 10 (4.75 runs per game), defense ranked 2 (4.09 points allowed per game), team record 81-68
Oakland Athletics Analysis
Oakland Athletics Summary: • Power Ranking: 25 • Offense Ranking: 30 (avg 3.68 runs/game) • Defense Ranking: 29 (avg 5.58 ERA) • Overall Record: 46-103 • Recent Matchup vs Seattle: 1-2
Mariners have 59% Winning Record Against Division Opponents; bet 5 units on Tuesday in Oakland
Castillo has been pitching effectively, allowing only 8 hits in 19 frames against his last four opponents. Additionally, 5 of 7 opponents have been held to 4 runs. The Mariners will need a quality start on Tuesday after having lost 4 of 6 games against the LA clubs. For the next opponent, Oakland, Seattle has a 23-16 record (59%) against division opponents this season. To take advantage of this stat, we suggest a bet of 5 units at -115 odds on the Mariners to cover the game on Tuesday in Oakland.
Written by Bjenkins
Published on
Category: MLB Picks
About the Author: Benny Jenkins is the most consistent handicapper across all sports that the industry has to offer. Consistently beating the books for the last 10 years.
Sun, 3:05 PM
LA
SF
Sun, 3:10 PM
Minnesota
Colorado
Sun, 3:10 PM
Cleveland
Detroit
Sun, 3:10 PM
New York
KC
Sun, 3:10 PM
Chicago
Milwaukee
Sun, 3:15 PM
CIN
St. Louis