Tue Sep 19 8:05PM
4
6
|   | 1 | 2 | 3 | 4 | 5 | 6 | 7 | 8 | 9 | T | ODDS |
| --- | --- | --- | --- | --- | --- | --- | --- | --- | --- | --- | --- |
| BOS | 0 | 0 | 3 | 0 | 0 | 0 | 1 | 0 | 0 | 4 | 9 |
| TEX | 0 | 1 | 0 | 0 | 1 | 2 | 2 | 0 | 0 | 6 | -153 |
Preview & Predictions

Boston Red Sox vs
Texas Rangers
Boston Red Sox Take on Texas Rangers in High-Stakes Series Showdown
The Boston Red Sox are in Texas for the second game of a three-game series against the Rangers on Tuesday night. The Red Sox were recently swept by the Toronto Blue Jays, while Texas lost three games to the Cleveland Guardians. Tanner Houck and Nathan Eovaldi will be the starting pitchers, with Texas being the betting favorite opening at -145.
Game Info
When: Tuesday, 9/19/2023 @ 8:05pm EST
Where: Globe Life Field Stadium
Red Sox vs Rangers Betting Odds
Moneyline: Red Sox +133 | Rangers -145
Spread: Red Sox +1.5 (-160) | Rangers -1.5 (+140)
Total: Over/Under 8.5 (-110)
Based on the moneyline, the implied probability that Texas will win straight-up is 59%.
Boston vs Texas Score Prediction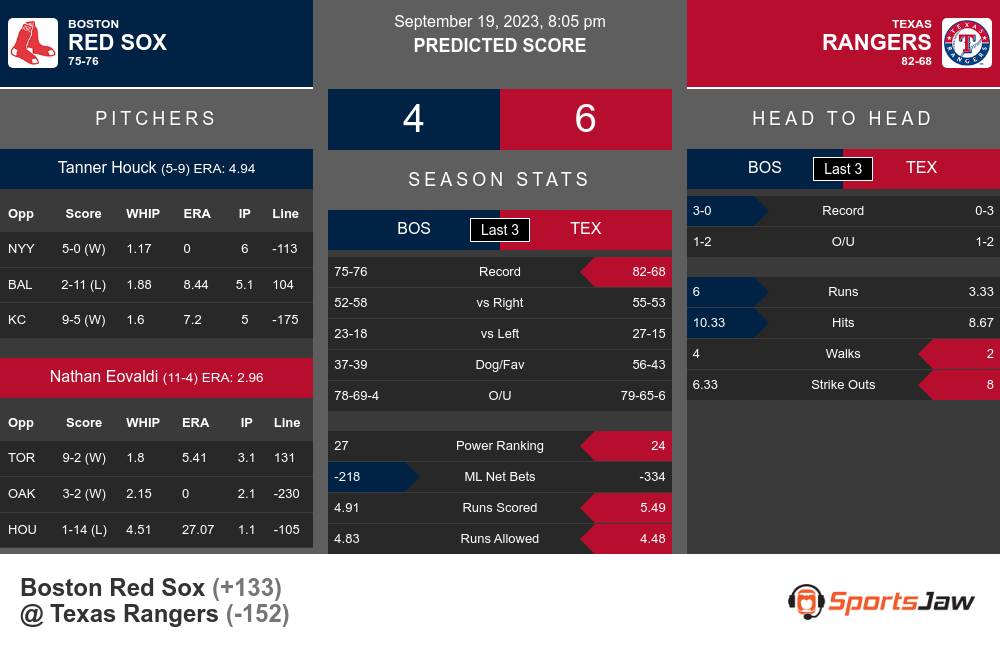 Boston Red Sox
• Boston enters the series against the Texas Rangers with a 74-76 record. • Offensively, Boston is slashing .261/.327/.433 which ranks third, 11th, and seventh in the majors. • In September, the Red Sox slash .235/.301/.390. • Red Sox will be starting right-hander Tanner Houck who's 5-9 with a 4.94 ERA. • In his last five starts, the righty is 2-3 with a 4.62 ERA. • Red Sox have a team ERA of 4.54 which ranks 21st. • Power Ranking of 27 and are ranked 8th in offense, 22 in defense.
Texas Rangers Analysis
• Texas is currently one-game ahead of the Seattle Mariners for the final Wild Card spot • Rangers will be starting right-hander Nathan Eovaldi on Tuesday who is 11-4 with a 2.96 ERA • Rangers have a team ERA of 4.32, ranking them 17th • Offensively, the Rangers are slashing .266/.338/.454 which ranks second, third, and third in the majors • At home the Rangers are slashing .274/.348/.492 • Texas has a power rating of 24 • #3 for offense scoring an average of 5.51 per game • #16 for defense giving up an average of 4.45 per game • On September, the Rangers are slashing .250/.333/.448 • 82-67 overall
Texas Rangers Appear Poised to Win Series at Home with Eovaldi on the Mound
Texas and Boston both come into this series after low-scoring sweeps; however, the Rangers appear the more likely victors at home with Nathan Eovaldi on the mound, even if he takes a limited three innings. Texas boasts a 38-24 record as a home favorite while Boston is 24-25 as a road underdog. Additionally, Texas' offense has shown marked improvement at home, making the edge for the Rangers even greater. Though Houck's last outing was admirable, he remains prone to being hit hard often. A moneyline bet on the Rangers appears prudent.
Sources: [ 1 ]
Written by Simonsays
Published on
Category: MLB Picks
About the Author: Sports writer and professional handicapper. You will find that I don't release a lot of plays, but the ones he does release win at an extremely high rate, which only a handful of experts can match.
Sun, 3:05 PM
LA
SF
Sun, 3:10 PM
Minnesota
Colorado
Sun, 3:10 PM
Cleveland
Detroit
Sun, 3:10 PM
New York
KC
Sun, 3:10 PM
Chicago
Milwaukee
Sun, 3:15 PM
CIN
St. Louis