Tue Sep 19 7:20PM
3
9
|   | 1 | 2 | 3 | 4 | 5 | 6 | 7 | 8 | 9 | T | ODDS |
| --- | --- | --- | --- | --- | --- | --- | --- | --- | --- | --- | --- |
| PHI | 0 | 0 | 0 | 0 | 0 | 3 | 0 | 0 | 0 | 3 | 8.5 |
| ATL | 1 | 0 | 0 | 2 | 4 | 2 | 0 | 0 | 0 | 9 | -220 |
Preview & Predictions

Philadelphia Phillies vs
Atlanta Braves
Phillies Take Central Matchup with Braves, Narrow Wild Card Race
Although they have gone 7-3 against the Phillies over the season, the teams split a four-game series in May, suggesting a competitive match-up. The game starts at 7:20PM EST.
Game Info
When: Tuesday, 9/19/2023 @ 7:20pm EST
Where: Truist Park Stadium
Phillies vs Braves Betting Odds
Moneyline: Phillies +194 | Braves -215
Spread: Phillies +1.5 (-110) | Braves -1.5 (-110)
Total: Over/Under 9 (-110)
Based on the moneyline, the implied probability that Atlanta will win straight-up is 68%.
Philadelphia vs Atlanta Score Prediction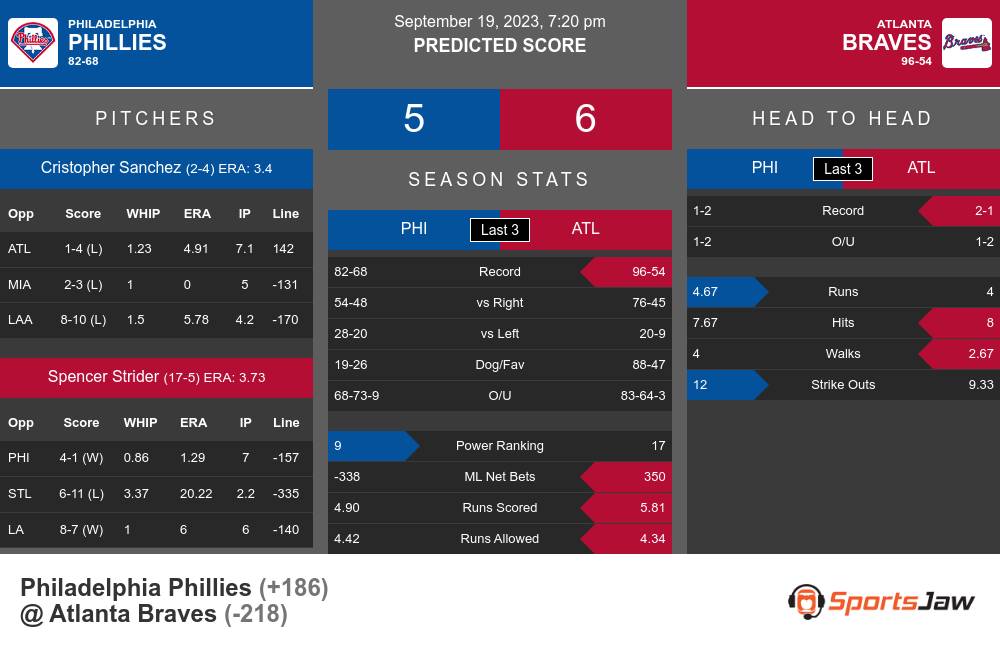 Philadelphia Phillies
•Philadelphia won two of three games vs. St. Louis Cardinals over the weekend •Offense scored five or more runs in each game of the series •Phillies sit in 1st place in NL Wild Card standings (3.5 game lead) •Enyel Sanchez has produced a 0-1 record, 3.71 ERA, 1.24 WHIP over previous three starts •No reported injuries that will affect the offense •Philadelphia ranked 9th in offense (4.90 avg. points per game), 13th in defense (4.41 avg. points against per game), and an overall 81-68 record this season
Bohm Run!#RingTheBell pic.twitter.com/OCGFa4J2Pf

— Philadelphia Phillies (@Phillies) September 17, 2023
Atlanta Braves Analysis
• Atlanta Braves have been swept by the Miami Marlins during a three-game road series, allowing 36 runs total • Charlie Morton was hit hard, allowing six earned runs on eight hits and five walks • The Braves are playoff-bound and resting certain starters, including Ronald Acuna, Jr, is day-to-day with a calf injury • Strider has a 2-1 record with a 6.32 ERA and 1.34 WHIP in his previous three starts • Atlanta are 17th in power ranking with an average of 5.83 runs per game and 8th for defense, allowing 4.26 runs per game • Philadelphia Phillies have 2-1 record in their previous three matchups against Atlanta
EDDIE!!!@eddierosario09 | #ForTheA pic.twitter.com/BoBrB94x6K

— Atlanta Braves (@Braves) August 20, 2023
Phillies Poised to Take Showdown with Braves at Truist Park, Narrow Wild Card Race
Sanchez has been highly efficient on the road this season, with a 1.29 ERA and 0.71 WHIP in his four starts. In 21 innings pitched, he's allowed only 12 hits and one home run. The Phillies have performed impressively in their past five road games, batting .284 with a .477 slugging percentage. Their record on the road is impressive as well, winning five of seven and three of four series. The Braves haven't been as successful, losing four of their last six, and two out of three series, including one to the Cardinals. Strider had a rough outing at home in his last start, permitting six earned runs in 2.2 innings. At this point in the season, the Phillies are four games ahead in the Wild Card standings and are alive in the race for a playoff berth. The trends suggest the Phillies are likely to take this game at Truist.
Sources: [ 1 ] [ 2 ] [ 3 ] [ 4 ] [ 5 ]
Written by Jtpham
Published on
Category: MLB Picks
About the Author: I apply several statistical and situational models to find the best probable winners with the highest percentage odds of winning and that offers the best chance of making a profit.
Sun, 3:05 PM
LA
SF
Sun, 3:10 PM
Minnesota
Colorado
Sun, 3:10 PM
Cleveland
Detroit
Sun, 3:10 PM
New York
KC
Sun, 3:10 PM
Chicago
Milwaukee
Sun, 3:15 PM
CIN
St. Louis