Tue Sep 19 7:05PM
3
4
|   | 1 | 2 | 3 | 4 | 5 | 6 | 7 | 8 | 9 | T | ODDS |
| --- | --- | --- | --- | --- | --- | --- | --- | --- | --- | --- | --- |
| CHW | 0 | 0 | 0 | 1 | 0 | 0 | 1 | 0 | 1 | 3 | 9.5 |
| WSH | 0 | 0 | 0 | 0 | 0 | 1 | 3 | 0 | 0 | 4 | -115 |
Preview & Predictions

Chicago White Sox vs
Washington Nationals
White Sox vs Nationals: Prediction and Stats for High Scoring Match Despite Struggling Teams and Unsuccessful Starters
The Chicago White Sox will face the Washington Nationals in Nationals Park on Tuesday in the middle of a three-game interleague series. The White Sox are coming off a 4-0 loss to the Minnesota Twins and have been eliminated from postseason contention, while the Nationals defeated the Milwaukee Brewers 2-1 on Sunday, snapping a five-game losing streak. However, with 12 games left in the regular season schedule Washington could be eliminated if they don't win this series. Washington is the betting favourite for the game, with Jose Urena and Jackson Rutledge set to start for the White Sox and Nationals respectively.
Game Info
When: Tuesday, 9/19/2023 @ 7:05pm EST
Where: Nationals Park Stadium
White Sox vs Nationals Betting Odds
Moneyline: White Sox -103 | Nationals -115
Spread: White Sox +1.5 (-193) | Nationals -1.5 (+170)
Total: Over/Under 9.5 (-110)
Based on the moneyline, the implied probability that Washington will win straight-up is 53%.
Chicago vs Washington Score Prediction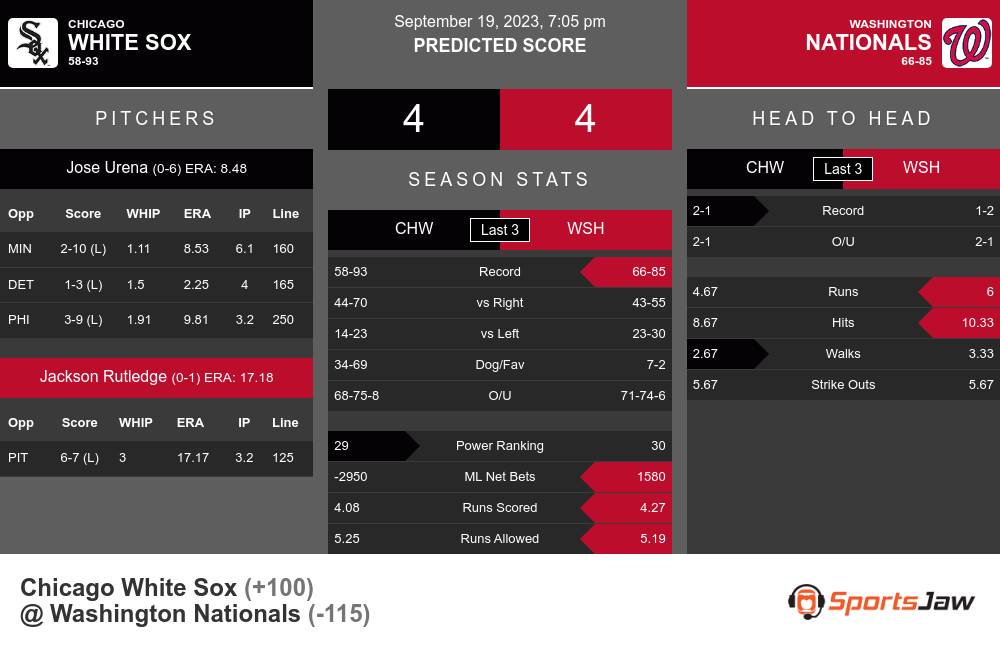 Chicago White Sox
• Team batting average of .239, ranking 24th • Slugging percentage of .367, ranking 26th • Runs scored of 612, ranking 28th • On base percentage of .293, ranking 30th • Luis Robert Jr leading in home runs with 35 and in RBI with 75 • Andrew Vaughn second in home runs with 20 and tied for lead in RBI with 75 • Jake Burger traded away with 25 home runs through 88 games • Batting average allowed of .250, ranking 20th • Quality Starts of 45, ranking 22nd • Team ERA of 4.93, ranking 26th • WHIP of 1.42, ranking 26th • Dylan Cease leading in victories with seven and strikeouts with 196 • Jose Urena 0-6 with ERA of 8.48 and 20 Ks • Power ranking of 29, ranked 28 in offense (scoring 4.08 points per game) and #27 in defense (allowing an average of 5.25 points per game) • 58-93 record this season
Washington Nationals Analysis
Washington Nationals Summary: • 18th in Quality Starts (48) • 27th in ERA (4.97) • 28th in WHIP (1.46) • 28th in Batting Average Allowed (.270) • 22nd in Runs Scored (641) • 12th in Team Batting Average (.253) • 23rd in Slugging Percentage (.392) • 66-85 overall record • #22 for offense (averaging 4.27 runs per game) • #26 for defense (giving up an average of 5.19 points per game) • Patrick Corbin has a team high 10 victories • MacKenzie Gore is the leader in strikeouts with 151 • Lane Thomas is the team leader in home runs with 25 • Joey Meneses is the team leader in RBI with 81
High Scoring Match Expected Despite Struggling Teams and Unsuccessful Starters
Chicago and Washington both have nothing on the line this game, which likely indicates a high scoring match. Both teams have shown recent struggle, with Chicago losing five of its last six, and Washington losing nine of the eleven against the White Sox. Jose Urena, Chicago's starting pitcher has had an unsuccessful season with no wins and six losses. Jackson Rutledge, Washington's starter, was not very successful in his debut, giving up seven runs in 3 ⅔ innings against Pittsburgh. All this points to a game mouse difficult to predict with not much hope for the starters' performances.
Written by Jtpham
Published on
Category: MLB Picks
About the Author: I apply several statistical and situational models to find the best probable winners with the highest percentage odds of winning and that offers the best chance of making a profit.
Sun, 3:05 PM
LA
SF
Sun, 3:10 PM
Minnesota
Colorado
Sun, 3:10 PM
Cleveland
Detroit
Sun, 3:10 PM
New York
KC
Sun, 3:10 PM
Chicago
Milwaukee
Sun, 3:15 PM
CIN
St. Louis