Tue Sep 19 7:05PM
7
1
|   | 1 | 2 | 3 | 4 | 5 | 6 | 7 | 8 | 9 | T | ODDS |
| --- | --- | --- | --- | --- | --- | --- | --- | --- | --- | --- | --- |
| TOR | 1 | 0 | 0 | 1 | 2 | 0 | 0 | 0 | 3 | 7 | 7.75 |
| NYY | 1 | 0 | 0 | 0 | 0 | 0 | 0 | 0 | 0 | 1 | -114 |
Preview & Predictions

Toronto Blue Jays vs
New York Yankees
Toronto Blue Jays Faceoff Against New York Yankees in Season-Defining Series
The first game of the three-game series starts at 7:05 p.m. ET on Monday night.
Game Info
When: Tuesday, 9/19/2023 @ 7:05pm EST
Where: Yankee Stadium Stadium
Blue Jays vs Yankees Betting Odds
Moneyline: Blue Jays -109 | Yankees -101
Spread: Blue Jays -1.5 (+150) | Yankees +1.5 (-170)
Total: Over/Under 8.5 (-110)
Based on the moneyline, the implied probability that Toronto will win straight-up is 52%.
Toronto vs New York Score Prediction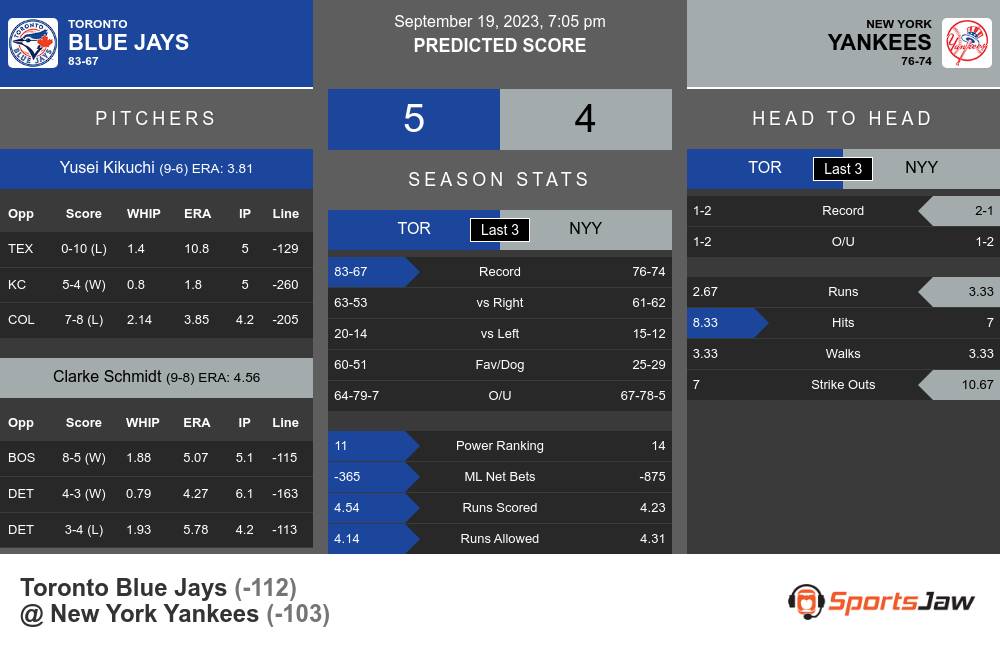 Toronto Blue Jays
• Lefty Yusei Kikuchi to start first game of series with New York • Coming away with no-decision last Friday in Blue Jays' 5-4 win over Royals • 3.24 ERA, 1.14 WHIP, and 41:9 K:BB through 33.1 innings in last month • Power ranking of 11, ranked 16 in offense (4.54 points per game) and #5 in defense (4.14 points per game) • 83-67 this season • Recently swept Boston Red Sox 3-2 after previously being swept by the Texas Rangers in a four-game series
New York Yankees Analysis
• New York will start Clarke Schmidt in the first game of this series Monday against the Blue Jays. • Yankees are 6.5 games back of the third and final wild-card spot, and although that spot is held by Toronto, they must sweep the Blue Jays in order to have a chance at the postseason. • Yankees power ranking is 14 and #23 for offense and #10 for defense. • Yankees have an overall record of 76-74. • Toronto went 2-1 in their last 3 matchups against New York.
Blue Jays Opt for Yusei Kikuchi as Yankees Remain in Hot Pursuit of Wild Card Spot
For this matchup, the Blue Jays have opted to go with lefty Yusei Kikuchi in the first game. He earned a no-decision in Friday's 5-4 victory against the Royals, yielding one run on three hits and one walk during five innings. Toronto swept the Red Sox over the weekend, countering their previous series against the Rangers. They currently hold a half-game lead over Texas for the third Wild Card slot. The Yankees remain 6.5 games behind, and while they can still make a play for the berth, they must sweep Toronto to remain in contention. Despite a youth-injected line-up, this analyst is expecting a win for the Jays.
Written by Jamescashiola
Published on
Category: MLB Picks
About the Author: Poker player and sports bettor. Cut my teeth working at Oddsboard.com writing picks content for a couple of old codgers. I've been betting on sports for over 10 years and last couple years I've won more than I've lost. NFL & College football are my jam.
Sun, 3:05 PM
LA
SF
Sun, 3:10 PM
Minnesota
Colorado
Sun, 3:10 PM
Cleveland
Detroit
Sun, 3:10 PM
New York
KC
Sun, 3:10 PM
Chicago
Milwaukee
Sun, 3:15 PM
CIN
St. Louis