Tue Sep 19 6:40PM
2
6
|   | 1 | 2 | 3 | 4 | 5 | 6 | 7 | 8 | 9 | T | ODDS |
| --- | --- | --- | --- | --- | --- | --- | --- | --- | --- | --- | --- |
| LAA | 0 | 0 | 0 | 1 | 0 | 0 | 0 | 1 | 0 | 2 | 8.5 |
| TB | 2 | 0 | 0 | 0 | 0 | 0 | 0 | 4 | 0 | 6 | -202 |
Preview & Predictions

Los Angeles Angels vs
Tampa Bay Rays
Rays Extend Winning Streak to 7 in Last 10 Games Against Angels
The Rays are 7-3 in their last 10 games against the Angels.
Game Info
When: Tuesday, 9/19/2023 @ 6:40pm EST
Where: Tropicana Field Stadium
Angels vs Rays Betting Odds
Moneyline: Angels +183 | Rays -201
Spread: Angels +1.5 (-120) | Rays -1.5 (+102)
Total: Over/Under 8.5 (-110)
Based on the moneyline, the implied probability that Tampa Bay will win straight-up is 67%.
Los Angeles vs Tampa Bay Score Prediction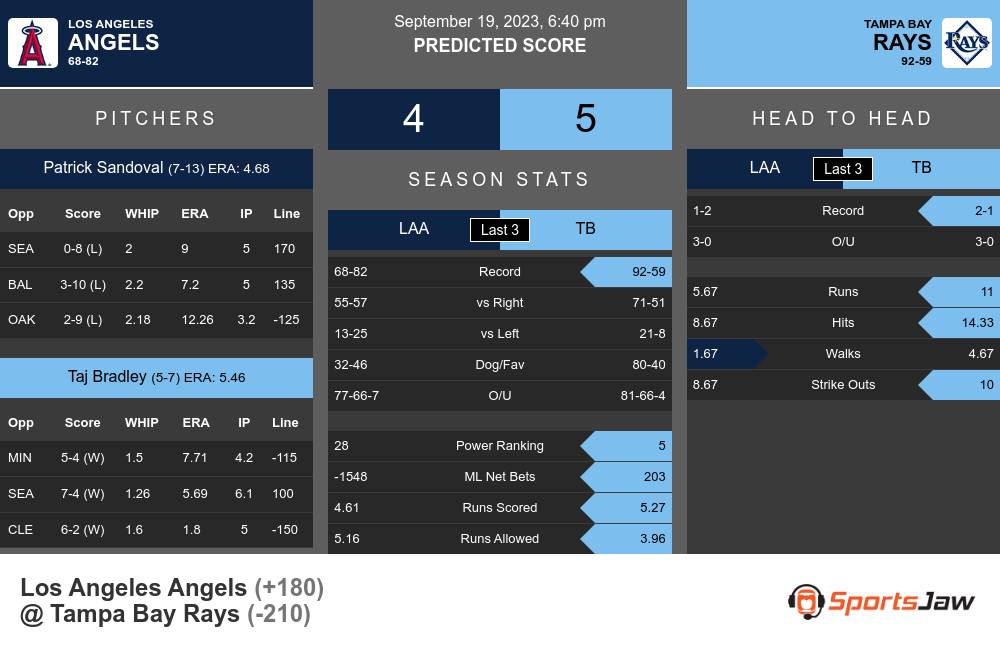 Los Angeles Angels
• Los Angeles Angels have lost five consecutive games and are trying to snap the streak with a win over rays. • Angels have an average of 4.60 runs scored per game and have a .246 batting average (18th), .318 on base percentage (18th) and .428 slugging percentage (8th) this season. • Shohei Ohtani has been the most consistent batter for the Angels with a .304 batting average, 44 homers and 95 RBIs, however he is shut down for the season due to an oblique injury. • Pitching has been an issue for the Angels, with opponents having an .253 batting average (23rd) and 4.70 ERA (23rd) against them. • Los Angeles has a power ranking of 28, is 68-82 this season and is ranked 14th in offense (scoring an average of 4.61 per game) and 25th in defense (allowing an average of 5.16 points to be scored against them per game).
Tampa Bay Rays Analysis
• Tampa Bay are two games behind the Baltimore Orioles in the AL East standings • Playoff spot already secured • Batting average of .257, seventh in the league; .329 on base percentage, seventh in the league; .444 slugging percentage, fourth in the league • Yandy Diaz leads the team with a .319 batting average • Isaac Paredes leads the team with 29 home runs and 89 RBI • Giving up an average of 3.97 runs per game; opponents have a .229 batting average against Tampa Bay, best in the league; 3.77 ERA, third in the league; 1.16 WHIP, best in the league • Power ranking of 5 with 92-59 overall record
Rays on Three-Game Winning Streak, Opponent Los Angeles Struggles Against Right-Handers
The Rays have gone 3-2 over their previous 5 games, and 5-1 at home. Over their last three games, they have put up 20 runs and won each game by at least two runs. Sandoval's recent starts have seen him give up 20 runs in three starts, and 14 runs in three road starts. Opponents Los Angeles have a seventh-ranked bullpen, and have lost 5 consecutive games and 5 of their last 6 on the road. Offensively, they have scored a mere 9 runs in their last three games. Bradley has given up 10 runs in his last three starts, but the Rays have scored enough runs to secure victories, as LA batters struggle against right-handers. Predictions point to a Tampa Bay cover, as their batting and consistency looks stronger.
Sources: [ 1 ] [ 2 ] [ 3 ] [ 4 ] [ 5 ] [ 6 ]
Written by Tweiskoff
Published on
Category: MLB Picks
About the Author: Tim Weiskoff is a Las Vegas regular, has made his living wagering on sports since 1990 and has been one of the top handicappers in the industry for more than 10 years.
Sun, 3:05 PM
LA
SF
Sun, 3:10 PM
Minnesota
Colorado
Sun, 3:10 PM
Cleveland
Detroit
Sun, 3:10 PM
New York
KC
Sun, 3:10 PM
Chicago
Milwaukee
Sun, 3:15 PM
CIN
St. Louis