Mon Sep 18 9:40PM
5
0
|   | 1 | 2 | 3 | 4 | 5 | 6 | 7 | 8 | 9 | T | ODDS |
| --- | --- | --- | --- | --- | --- | --- | --- | --- | --- | --- | --- |
| SEA | 0 | 1 | 0 | 2 | 0 | 1 | 0 | 0 | 1 | 5 | 8 |
| OAK | 0 | 0 | 0 | 0 | 0 | 0 | 0 | 0 | 0 | 0 | +155 |
Preview & Predictions

Seattle Mariners vs
Oakland Athletics
Mariners Streaking as They Look to Continue 9-1 Record Against Athletics Monday Night
Mariners have been playing well in the past 10 games against Athletics, their record in these games is 9-1. The game starts Monday night at 10:07 PM ET.
Game Info
When: Monday, 9/18/2023 @ 9:40pm EST
Where: Oakland-Alameda County Coliseum Stadium
Mariners vs Athletics Betting Odds
Moneyline: Mariners -168 | Athletics +145
Spread: Mariners -1.5 (+105) | Athletics +1.5 (-125)
Total: Over/Under 7.5 (-110)
Based on the moneyline, the implied probability that Seattle will win straight-up is 63%.
Seattle vs Oakland Score Prediction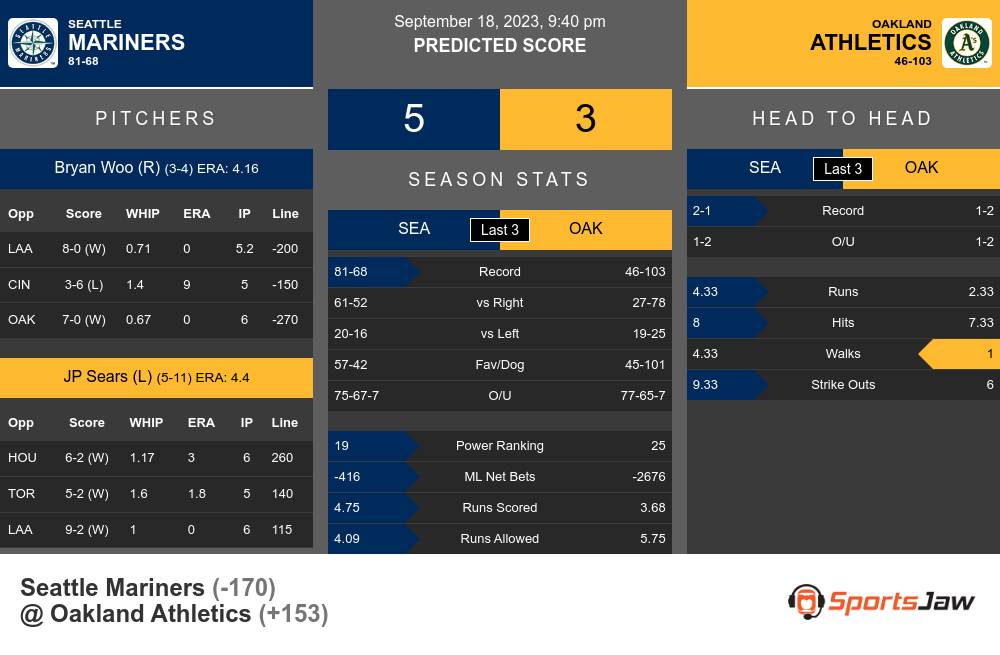 Seattle Mariners
• The Mariners dropped a three-game series to the Dodgers dropping them into fourth place in the AL Wildcard standings, one game behind Texas • Seattle is averaging 4.75 runs per game with a .244 batting average (19th in the league), .323 on base percentage (15th) and .417 slugging percentage (13th) • Julio Rodriguez leads the team with a .287 batting average, 30 home runs and 99 RBI • The Mariners' defense is outstanding, ranking fifth in the league with a .238 batting average against and leading with a 3.73 ERA and 1.18 WHIP • Seattle's power ranking is 9 with an 81-68 record this season
Oakland Athletics Analysis
Oakland Athletics' Recent Performance: - Lost four straight games - Averaged 3.68 runs per game with a .224 batting average, .300 on base percentage, and .373 slugging percentage - Esteury Ruiz leads the team with a .249 batting average, Brent Rooker leads with 26 home runs and 60 RBI - Giving up an average of 5.75 runs per game, with a .267 batting average against, 5.53 ERA, and 1.53 WHIP - Last start against Houston resulted in a 6-2 win and they will seek another solid start from Sears
Mariners Look Poised to Take Advantage of Struggling Athletics in Matchup
The Athletics have lost four consecutive games and five of their last six home games. Their offensive struggles have extended to their last three games, in which they scored a total of six runs. This performance is unlikely to improve, given their difficulty in dealing with right-handers and Woo's dominant pitching: he has given up five runs in his last three starts as well as a single run when facing the Athletics. On the other hand, Seattle has had trouble in their last five games, losing three. Offensively, they have recently scored six runs in their last three games. However, their lineup has historically fared well against left-handers, and Sears - who has given up nine runs in his last four starts - has been especially vulnerable in his past four home starts. With Oakland having the worst bullpen in the league, the Mariners are the more promising option to cover the run line.
Sources: [ 1 ] [ 2 ] [ 3 ] [ 4 ] [ 5 ] [ 6 ]
Written by Tweiskoff
Published on
Category: MLB Picks
About the Author: Tim Weiskoff is a Las Vegas regular, has made his living wagering on sports since 1990 and has been one of the top handicappers in the industry for more than 10 years.
Sun, 3:05 PM
LA
SF
Sun, 3:10 PM
Minnesota
Colorado
Sun, 3:10 PM
Cleveland
Detroit
Sun, 3:10 PM
New York
KC
Sun, 3:10 PM
Chicago
Milwaukee
Sun, 3:15 PM
CIN
St. Louis